Jeroen Tas, chief innovation and strategy officer at Philips, visits U of T, gives Exponential Impact Lecture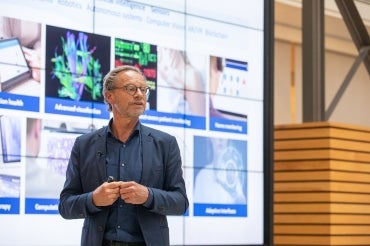 Seventeen years ago, Jeroen Tas got what he describes as "the phone call that every parent dreads."
He was told to rush to the hospital, where his daughter was in the emergency room. She had nearly died, doctors told him, but was revived just in time.
Only 12 years old, Tas's daughter was diagnosed with Type 1 diabetes.
Her life-changing diagnosis, and Tas's frustration with a health-care system that he found didn't revolve around the needs of patients like his daughter, motivated him to leave behind a successful career in financial services to work in health-care innovation with Philips, where he is now chief innovation and strategy officer.
Tas shared the anecdote about his journey as he opened the first U of T Exponential Impact Lecture at the University of Toronto's Rotman School of Management on Wednesday.
The newly launched lecture series invites industry innovation leaders to discuss how they leverage novel technologies and multi-disciplinary strategies to develop impactful products and services.
Tas discussed Philips's drastic transformation from a company synonymous with lighting and consumer electronics to one focused on health-care technology, and shed light on how the company is deploying emerging technologies to accelerate its mission to transform health care across the globe.
Prior to the lecture, Tas and senior executives from Philips Canada spent the morning taking in presentations from U of T researchers about their cutting-edge work in various realms of technology relevant to health care, and discussing potential avenues for collaboration.
Ted Sargent, U of T's vice-president, international, said Tas's track record of bold innovation – he was instrumental in launching internet banking services at Citibank in the mid-1990s and is credited with turning around Philips' health-care IT business – made him the ideal person to inaugurate the Exponential Impact Lecture series.
"Our vision for the lecture was to have people who are thought leaders come in and inspire our students, faculty and staff. We wanted to attract, for our first speaker in the series, somebody who represented the quintessence of the exponential impact that the series was named after," said Sargent, a University Professor in the Edward S. Rogers Sr. department of electrical and computer engineering.
"It was very clear to me from Jeroen's background that he was somebody who was building a vision that was mission-driven. It was really about societal impact – in this specific case, through health care."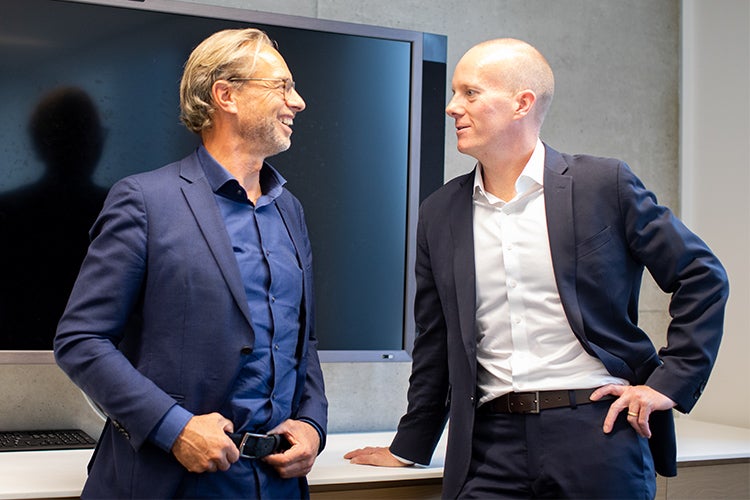 Tas (left) speaks with Ted Sargent, U of T's vice-president, international (photo by Johnny Guatto)
For his part, Tas said he was keen to visit U of T to deliver the lecture but also to have the opportunity to engage with university leaders, researchers and students.
"I heard about the vibrant ecosystem here. I heard about the MaRS Discovery District and what the university is doing in AI [artificial intelligence] and making that part of not only research and academia, but also bringing that into the startup world," said Tas. "I was curious about that and I think I got what I wanted with this visit."
Tas's interest in exploring U of T's expertise saw him engage with several researchers in the morning leading up to his lecture.
They included Sanja Fidler, assistant professor in the department of computer science, faculty member of the Vector Institute for Artificial Intelligence and director of AI at NVIDIA, who presented on data labelling and image recognition; Marzyeh Ghassemi, assistant professor in computer science and the department of medicine in the Faculty of Medicine and also a faculty member at Vector, who presented on applications of AI to improve health-care models; and Stephane Angers, professor and associate dean, research at the Leslie Dan Faculty of Pharmacy, who shared research pertinent to U of T's multi-disciplinary, cross-faculty Precision Medicine Initiative (PRiME).
Tas expressed interest in connecting the U of T researchers to counterparts in Philips to discuss how they can potentially pool their expertise and resources to work towards their common goal of revolutionizing health care.
"I was really impressed by the research presentations and the kind of work you do at U of T. I could clearly see that U of T goes truly multi-disciplinary in addressing some of the biggest challenges," said Tas.
"My role is to see whether this research is relevant to what we're doing at Philips – and I saw quite a number of areas of interest to us, especially in the intersection of AI, computer science, data science and the medical space."
In his lecture, Tas said it wasn't easy for Philips to divest its legacy lighting business and television division to focus on health care, but said the company needed to reinvent itself and its mission.
"Many of us are driven by genuinely wanting to improve the health-care system – not just for my daughter, but the billions of other people who don't even have access to normal care, let alone the kind of care that we're discussing today," he said.
"I think we're now a company with a real purpose and I personally believe it's important to have a purpose and have an impact."
That purpose, Tas said, is to use technology to evolve contemporary health-care models that he said are crippled with flaws – including a tendency to place the onus of care co-ordination and record-keeping on patients themselves, and the organization of health-care delivery around doctors, hospitals and clinics rather than around patients.
He pointed out that most Western health-care systems consider some 2,000 metrics to measure quality of care, but only seven per cent of those metrics are related to patient outcomes – and only two per cent are patient-reported.
"Apparently, the health-care system is not that interested in how you're doing, how you're feeling, whether you're getting better," he said. "So that needs to change, and it will change."
AI has a crucial role to play in that regard, said Tas.
He said Philips is leading the way in using AI to optimize intensive care unit (ICU) operations by measuring hospital capacities and prioritizing treatments on the fly, making it possible for a small team of nurses and intensivists (critical care physicians) to monitor and care for thousands of patients at a time.
Philips is also using AI to reduce drastically MRI scan times, which will allow the effective but expensive diagnostic machines to be used with more patients.
"We didn't change the machine at all," he said. "The machine is still the same. We just surrounded it with intelligence."
AI is also helping make image-guided surgery safer and more effective, in conjunction with related technologies such as augmented reality and advanced robotics.
Patients, too, stand to be directly touched by AI, with Tas saying we're not far from a time when it will be commonplace for elderly patients to use wearable monitors and voice assistants to receive remote monitoring at home rather than have to spend all their time in a hospital – something that studies show will boost patients' quality of life while significantly reducing the financial burden on health-care systems.
"Ultimately, what we're working on is creating a world in which health care is precise in understanding what drives health and disease, highly personalized – because the way disease manifests itself is hugely individual – and predictive, so that we can see things coming," he said.
To that end, Philips is engaging in research with universities across the world, Tas said, in addition to incubating scores of startup companies in the High Tech Campus research and development hub that it set up in the Dutch city of Eindhoven.
Following the lecture, Sargent noted the "incredible alignment" between the approaches and mission of Philips and U of T.
"We're both working on some of the same grand challenges, so the opportunities lie in linking our researchers as well as our entrepreneurship ecosystems," said Sargent, pointing out that U of T, too, has incubated hundreds of startups across its three campuses, many of which operate in the AI space.
Tas said he came away from his visit to U of T impressed and eager to explore pathways to working together in the future.
"To me, one of the biggest assets you can have as a university is that you're driving people's curiosity, and people are interested in pushing the boundaries and getting deeper insights. That's ultimately the key to what drives innovation."
UTC