Javed Mostafa named dean of U of T's Faculty of Information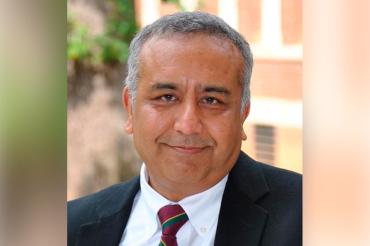 Javed Mostafa, an expert in information science, particularly information retrieval problems, has been named dean of the University of Toronto's Faculty of Information for a five-year term from Sept. 1, 2023 to Aug. 31, 2028.
He will also join the faculty as a full professor.
Mostafa comes to U of T from the University of North Carolina at Chapel Hill (UNC), where he served as a professor and the leader of an interdisciplinary informatics training program called the Carolina Health Informatics Program (CHIP) that oversaw collaboration among seven UNC academic units.
"It's a fantastic opportunity. I've known some colleagues at U of T for years and know the quality of their work and the passion they display – I'm excited to build something with them," Mostafa said.
"Information studies has much growth potential – for every challenge, I see an opportunity to grow and expand our field."
Mostafa's work focuses on multimedia information retrieval, personalization and user modeling as well as cyberinfrastructure for research and learning. He began his teaching career at Indiana University-Bloomington in 2000, where he also served as an associate dean of research and associate dean of academics.  He joined the University of North Carolina at Chapel Hill in 2007, where he was twice named as the Frances McColl Distinguished Term Professor and is jointly appointed at the School of Information and Library Science (iSchool) and the Biomedical Research Imaging Center (School of Medicine).
He currently directs a research laboratory and a training program with approximately 25 research faculty, staff and students and has active projects that focus on developing novel applications of machine learning, data visualization and equitable information services.
A strong proponent of diversity and inclusion, Mostafa led the creation of summer programs at CHIP to expand the participation of students from Historically Black Colleges and Universities (HBUCs), online programs to support engagement of non-traditional students and high-school pipeline programs.
"Professor Mostafa's academic leadership experience, research excellence, commitment to diversity and access in higher education, and his vision for the future of the field will be key to the continued success of the Faculty of Information in the years ahead," said U of T Vice-President and Provost Cheryl Regehr.
"I'm thrilled to welcome him to the University of Toronto."
With more than 105 peer-reviewed publications of his own, Mostafa has served in editorial roles for several prestigious journals in the field. He was the editor-in-chief of the Journal of the Association for Information Science and Technology, an associate editor for the journal ACM Transactions on Information Systems and currently serves as an associate editor for the journal ACM Transactions on Internet Technology.
He is also the co-founder of two U.S.-based companies: KeonaHealth and Cymantix.
Mostafa was born in Bangladesh and spent his childhood years in Libya. Upon completing his O levels at a Catholic boarding school in Malta, he moved to the U.S. to attend university. He describes his exposure to many cultures and countries as his most influential life experience – one that shaped his career-long focus on expanding educational opportunities, independent of the ethnic and social backgrounds of individuals. 
"I'm inclined toward a global view because I grew up like that," he said.
"I'm keen about opportunities for people around the world to attain higher education and advance – and I see Toronto as a perfect place to represent those different ethnicities and backgrounds, attracting people from all over. I'm looking forward to doing that with a world-class institution."
Mostafa will succeed current Faculty of Information Dean Wendy Duff, who will stay on until Aug. 31 to support the transition. Duff, whose teaching and research focus on archival access and social justice, including the emotional impact of archival work, was first appointed dean of the Faculty of Information in 2016.
As he prepares to move to Toronto and start in his new role, Mostafa says he looks forward to learning from his new colleagues and students.
"I'm going to strive to be a good facilitator – coming in to learn and grow together and be a catalyzer," he said. "One thing I am very excited about is the fact that U of T has three campuses, and they all have different characters and dimensions.
"As a team, we can help and complement each other, and I'm looking forward to getting to know all the campuses and bring people together."
UTC