'It is the chance of a lifetime': Internationally trained dentists come to U of T for a shot at a Canadian dental career
U of T program is the largest of its kind in the country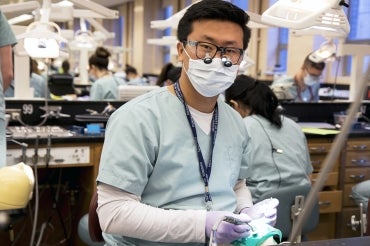 The path to dentistry school was a tough one for Khamsum Wangdu. Growing up in a Tibetan refugee camp in Nepal, college seemed out of reach.
He and his brother eventually got into a private dentistry school in Kathmandu, but before they could take a licensing exam to graduate, the world around them descended into chaos.
An earthquake hit Nepal in April 2015, killing nearly 9,000 people and injuring 22,000. Amidst trying to help with medical and relief efforts, Wangdu and his brother learned that Canadian authorities had expedited approval of the family's sponsorship application.
The family moved to Canada in June 2015 and reunited with their father who had come earlier as a refugee, but Wangdu's future as a dentist was left hanging in the balance.
It would take him 2½ years to finally get back on track to becoming a dentist. This past January, he was accepted into an accelerated program for internationally trained dentists at the University of Toronto, which will have him graduating from the Faculty of Dentistry in 2020. His younger brother was accepted into a similar dentistry program at Dalhousie University.
"Being accepted into the University of Toronto is not simply a dream come true, it is the chance of a lifetime," Wangdu says.
"At one point, when I was studying in a refugee camp, I felt there were no opportunities, potential for us. You feel inferior. We knew our reality was not an easy one. But now I can sit in class with so many people from around the world, including Canada, and that gives me a lot of courage to make a difference in the lives of others."

Students from around the world in U of T's International Dentist Advanced Placement Program (IDAPP) work in a simulation lab with second-year students at the Faculty of Dentistry
Next month, Wangdu, 29, will have completed the six-month dentistry program for internationally trained students, allowing him to join third-year students in the primary Doctor of Dental Surgery (DDS) program in September.
The University of Toronto's International Dentist Advanced Placement Program (IDAPP) for internationally trained students is one of the oldest in the country and the largest, with some two dozen students enrolled every year.
Students, many new immigrants, come from around the world – the Middle East, Far East Asia, Europe, South America – with varying skill sets to learn both the theory and practical aspects of modern dentistry so they can practise in Canada and the United States.
"The students that we pick, despite picking them very carefully, they still come with a wide variability of clinical experience," says Omar El-Mowafy, head of IDAPP. "One time in the same class, I had a student from a university in the Far East who told me that she was only taught how to pull teeth out and make dentures. In the same class, I had another student who was a specialist."
This summer, one of the program's graduating dentists, Ahmed Heider, is a well-known orthodontist from Egypt who also was an associate professor at Cairo University. After years working on braces, he needed to prep up on basic skills like crowns and root canals.
"Foreign-trained dentists can practise in Canada only if they pass the National Dental Examining Board of Canada equivalency process or if they take an advanced placement program in a Canadian dental school," Heider says. "To me, learning dentistry paene ab initio [almost from the beginning] and graduating from U of T was equivalent to being granted a seal of quality." 
El-Mowafy helped start the program, initially in the mid-1990s, as a continuing studies course to prepare internationally trained dentists for the boards.
"Back then, there was no mechanism in place to help internationally trained dentists who come to Canada to prepare for taking their licence exams," he says. "They were basically on their own, which was very difficult. When they attempted to do exams, the failure rate was fairly high because there was no means to train them and prepare them for these exams."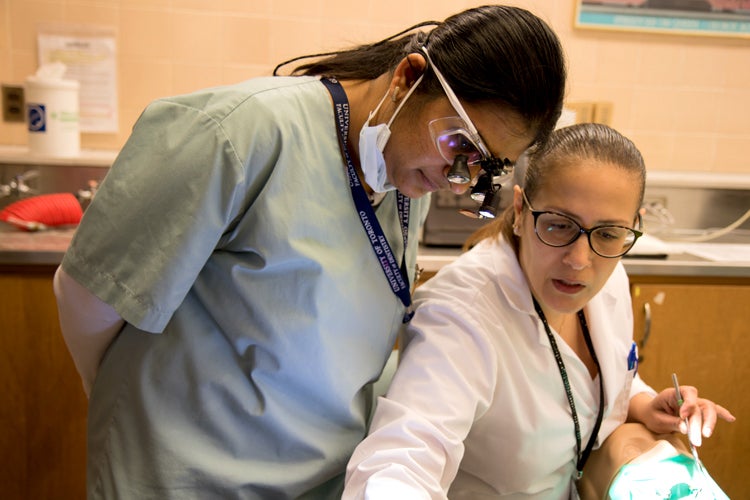 Shelly Bajaj (left) who was a prosthodontist in India, says she's learning that dentistry in Canada is more focused on diagnosis and prevention. Instructor Maria Hemsworth, who was trained in Venezuela, says many students have less experience in complex procedures because most people in the developing world only go to the dentist when a tooth needs to be pulled out.
In 1999, the program expanded to a two-year qualifying program where students received a certificate valid in most Canadian provinces. Seven years later, IDAPP was unveiled as a preparatory program to bring foreign-trained dentists up to speed so they could eventually join dentistry's degree-granting program. Graduates can work anywhere in Canada and the U.S.
"I think it's important for foreign-trained dentists to have access to something like this so that if they feel like the training they had back home was inadequate or did not cover the various aspects of dentistry in a comprehensive way, they have the option to go into the program and upgrade their skills," El-Mowafy says.
"It's important to have a mechanism in place to allow them to get a licence. They come to us with experience from their own country, and they can provide services to communities related to where they come from."
On a recent weekday, Wangdu sat in a simulation lab working on filling cavities on a mannequin head, carefully using his hand piece to prep the tooth. Around him worked other internationally trained dentists from India, Iran and Cuba. At the front of the room, 96 students in the second year of the mainstream dentistry program were tackling the same exercise. Instructors try to facilitate collaboration between the two, pairing up students in the two streams to become "buddies" and combining the two groups for joint labs and lectures.
As the instructor stopped the session for a quick pop quiz on how to apply a rubber dam for a cavity in an upper anterior tooth, both second-year students and IDAPP students raised their hands to answer.
Wangdu says there's a lot to learn. "The technology and techniques are very advanced here," he says. "But what I find here is that despite the advancement of technology, how to deal with a patient, the ethical issues like patient confidentiality are given high priority. Back in Nepal, it was not a big issue."
Wangdu has always wanted to be a dentist – since the time his grandfather died in a refugee camp in Nepal from an infection following a bad tooth extraction. After he arrived in Canada, it was an instructor at his former dentistry school in Nepal who put him in touch with another internationally trained dentist in Canada who had studied at U of T. That contact then helped him navigate his way through the various program requirements needed to qualify.
He sees himself one day returning to the Himalayas, maybe visiting the refugee camps he grew up in to teach children and their parents, not just about dental health but about pursuing higher education. He also hopes to run his own clinical practice in Canada, working with newcomers and refugees.
"I don't want to limit myself just for Tibetan refugees," he says. "I want to help everyone I can."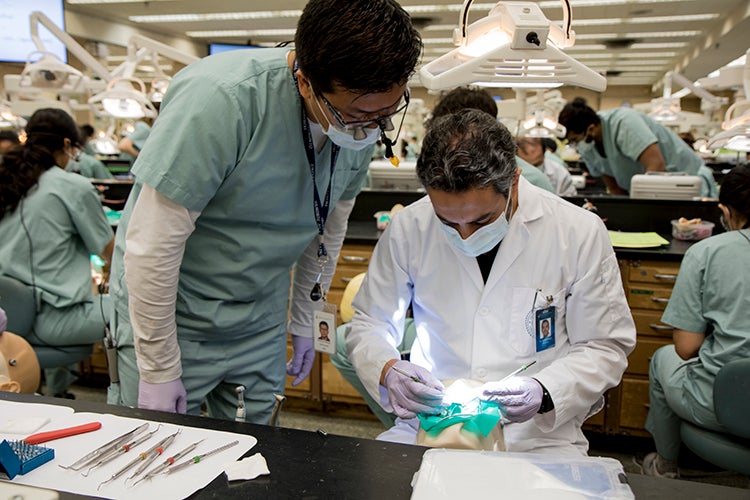 Khamsum Wangdu gets feedback from instructor Ahmed Alamri on his work prepping a tooth for a filling
UTC