Is it cake, or a sneaker? U of T grad and expert baker fools judges on Netflix baking show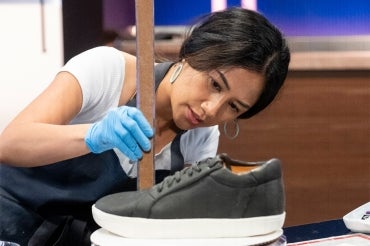 In the summer of 2020, two unrelated questions were on many people's minds: How long will the COVID-19 pandemic last, and is everything made of cake?
On social media, videos of bakers transforming desserts into red Crocs, rolls of toilet paper or potted plants went viral, prompting delight and disbelief in equal measure. 
April Julian, a graduate of the University of Toronto's Faculty of Arts & Science and long-time cake designer, was no stranger to making hyper-realistic cakes, having made some to look like Air Jordan sneakers and potted orchids.
Julian got a chance to show off her unconventional skills as the only Canadian contestant on Netflix's new hit baking show, Is It Cake?, which premiered this spring. She competed alongside other masterful bakers to create cakes so realistic that they fooled celebrity judges into believing they were something else – a vintage sewing machine, for example. 
"I was blown away," she says, recalling the unexpected invitation she received from Netflix's casting agency last summer. "I didn't believe it initially."
Before she knew it, she was flying to Los Angeles to film the series. Her competition was intimidating – some contestants had been on baking shows before, others had established bakeries – but Julian's nerves quickly faded.
"This is the most fun thing that has ever happened to me," she says. "It was just laughing for weeks on end. Of course, it was also hard work. We were baking pretty much nonstop for eight or nine hours straight. The challenges were really difficult, but it was so worth it."
In addition to making custom cakes and teaching cake decorating classes, she works full time as the director of education at the Canadian Civil Liberties Association (CCLA).
"I'm teaching learners of all ages about their fundamental rights and freedoms in Canada and to respect human rights and civil liberties," she says.
As an undergraduate student and member of Innis College, she studied economics and employment relations, areas she "felt could be transferable to a lot of different career paths.
"With labour relations courses, you look at legal issues related to labour and union disputes, so I had a bit of practice thinking about the law, employment rights and rights in general," she says.
She also has fond memories of U of T due to the friendships she made while in university. 
"I made my absolute best friends for life in that program," she says. "I met them in my first economics course, and we've been friends ever since. I'm grateful for my time there."
Julian says her roles as cake decorator and director of education are "very separate worlds," but she approaches them with the same mentality.
"No matter what I'm working on, I'm always putting my absolute best out there, and I got noticed for that effort and skill. At the CCLA, I'm now the director of the education program, but I started off as an intern. With the cakes, I was just doing it on the side, and now I'm on Netflix."
While Julian has always enjoyed baking, her interest in cake decorating began in 2007 when the celebrity Israeli-American pastry chef, Ron Ben-Israel, appeared on The Martha Stewart Show.
"He was making a sugar orchid for one of his very elaborate wedding cakes," Julian recalls. "I felt like I could do that, so I boldly wrote to him and said, 'I want to learn what you do' – and he was nice enough to write me back."
Ben-Israel offered tips on where to take lessons, and Julian started practising. A request for an Air Jordan high-top sneaker cake was her first foray into the world of hyper-realistic cakes.
"My husband happens to be a sneakerhead, and I wanted really badly to impress myself but also him by making it as realistic as possible," she says. "I dove into the challenge – made the shoelaces textured, shined up the patent leather on the shoe – and I got a great reaction from it. I was hooked from that point on. I'm observant and good at replicating details, so it's a good match in terms of my natural skill set."
Julian doesn't know where her cake-decorating journey will lead next, but after her Netflix debut, she's open to any possibility.
"It [being on Is it Cake?] forced me to do something different that I'd never done before," she says. "It's a risk that paid off huge for me, so it's taught me that maybe I need to take put myself out there a bit more and open myself up to other opportunities that normally I would shy away from."
She says current U of T students might benefit from stepping out of their comfort zones, too. 
"Don't close yourself off to just being a practical person. Follow the career path you think is going to lead to the success you desire, however you define that success, but allow yourself to make time for all the things you care about and are interested in, and then see where that takes you."
Arts & Science