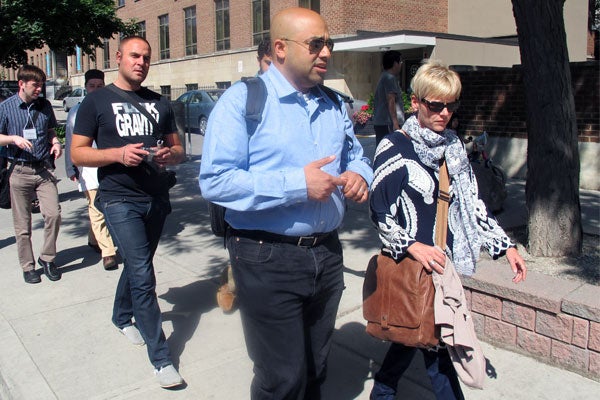 Islamic scholars at Faculty of Law Summer Institute visit gay and lesbian mosque
Most visitors to Toronto are not taken on a surprise trip to the city's only Islamic mosque for gays and lesbians.
This wasn't the case for a group of international Islamic scholars who recently attended a nine-day institute at the Faculty of Law's Connaught Summer Institute on Islamic Studies.
Faculty of Law professor Anver Emon says the Summer Institute introduces participants to Islam's diversity. His challenge to the visiting scholars was to be honest, upfront and engaged, noting the "theme of the Institute is belonging and difference."
Toronto offers a laboratory to explore Muslim diversity unlike any other in the world. Unlike most Muslim countries, Toronto's cultural masala attracts Muslims from all over the world, adding context to the study of Islamic diversity and its intersection with legal plurality, politics and the academic method.
The Summer Institute is conducted in collaboration with Emmanuel College and supported by a grant from U of T's Connaught Fund, which aims to foster new methods of research and innovation. It includes formal classroom about research design and method, informal small group discussion about each individual's research and site visits to mosques representing diverse approaches to the practice of Islam.
One of these is the El-Tawhid Juma Circle mosque, one of the very few in the world to minister openly to gay and lesbian Muslims.
Professor Mark Toulouse, principal of Emmanuel College at Victoria University, who co-designed the institute with Emon, says it was designed to "force the graduate Fellows to reflect on their own perspectives and experiences when they approach the field of Islamic studies."
As the scholars – who hailed from Bulgaria, Pakistan, South Africa, Germany, Canada, USA, Serbia and Indonesia – arrived outside the nondescript office building where the El-Tawhid Juma Circle mosque is located, several seemed ready to challenge their own assumptions.
Ayat Agah, a doctoral student at Claremont Graduate University in Southern California, says she encounters more and more Muslims who are struggling with the reality of "queers" in their community.
"They have this very human response: Someone is being harmed, denied their rights and they view that as a negative thing that needs to be addressed." Yet, at the same time, she says, this desire to address injustice is coming up against a lifetime of teaching that particular practices or actions are sinful. "How do I deal with that – and especially when I recognize what's going on as an injustice – how do I reconcile that with what I've just always been told growing up?"
To prepare for the prayer, co-Imams of El-Tawhid Juma Circle, Laury Silvers and El-Farouk Khaki add some Islamic touches such as prayer mats and a few hangings to the generic room, which is used for other purposes except on Friday afternoon when the community meets. Concerns about security and discretion mean challenges in finding a permanent full-time home.
Silvers, herself an Islamic Scholar at U of T, says the gender-equal, queer-friendly, and religiously non-discriminatory environment can sometimes be too much for visitors, who take one look and leave.
"When people come in here, some with short-shorts on or tank tops, our attitude is we want people to pray. There's one person who wears a thong you can see when she bends over. Instead of telling her to dress differently, we told people who are uncomfortable not to pray behind her."
Although Mustaghfiroh Rahaya, a scholar from Indonesia's Centre for Religious and Cross Cultural Studies, has gay friends at home and has led prayers in a mosque, she had never prayed beside a man.
"I was surprised. They break all the traditions that I have in my mind," she says. Initially hesitant about joining the prayer, she eventually decided to take part with the dozen or so members who arrived for Friday prayers. "It won't distract me from God."
For Mohammed Waqas Sajjad from Pakistan, the trip to a gay mosque wasn't as surprising as anticipated. Currently a PhD student at the Graduate Theological Union in Berkley, California, Waqas found the visit, "enjoyable in an academic sort of way" but says he will have to reflect on his feelings about the new experience of prayers led by a woman.
"As a scholar I need to be able to meet those people on their own terms and not come across as somebody who is studying them for the sake of criticising them," he says.
Emon says the community's broad invitation to pray, regardless of Islamic tradition was eye-opening.  Mosques have different rules about the prayer and who may participate.
"The prayer at El-Tawhid Juma Circle reflected a strong communal aspect of Islamic history, but how they organized their sacred space speaks volumes about how they imagine themselves as a distinct community," he says.
This article has been edited and condensed by Lanna Crucefix. Read the full version.