Chef James Piggott (left) breaks the news to Ailin Xi (third from left) that she won't be in the core squad for the inter-university Iron Chef competition. She is guaranteed a spot next year (photo illustration by Geoffrey Vendeville)
U of T chef James Piggott faces his "toughest decision" so far – cutting a student chef from the team
Chef James Piggott, coach of the University of Toronto's Iron Chef team, dished out some tough love on Valentine's Day.
At their Tuesday practice, he had to choose one student chef to cut from the team. The three remaining members will face McGill University, University of Ottawa and the University of Massachusetts-Amherst in a cookoff later this month. The fourth student becomes an understudy this year – but is guaranteed a spot next year.
It's the first year that U of T is hosting the inter-university Iron Chef culinary competition. U of T News is following the home team every step of the way from selection to the competition, including streaming the competition live on Feb. 25.
Piggott made the announcement at a long table in the New College cafeteria, where he and the students tasted the main course they had made that evening, a tea-smoked salmon with sweet pea puree on multigrain risotto with scalloped crispy parsnips and a lemon beurre blanc sauce.
"The toughest decision of the last few weeks is to pick the backup," he told them. "It came down to a question of cooking skills and experience. You've all got fantastic attitudes. You'd all be very successful at the competition."
Felipe Branco, Brettany Colette and Jordan Su made the cut.  Ailin Xi – the youngest student at 19 – was left out.

"They're telling me don't be sad. I was never sad about it in the first place," Xi told U of T News. "When I made the team, I knew there was a big chance I'd be the backup because they're so much more experienced."
She said she was flattered to be in the running this year, and that she's confident the team will triumph without her. At the competition Feb. 25, she plans to be U of T's lead cheerleader.
"I'm going to try to lighten the mood and tell them everything is going to be okay. It's very easy to stress out in a competition when there's a time limit," she said. "I'm definitely going to be there for my team." 
Xi won't be going for glory this year unless one of the others drops out but she will be the linchpin of next year's team, Piggott said.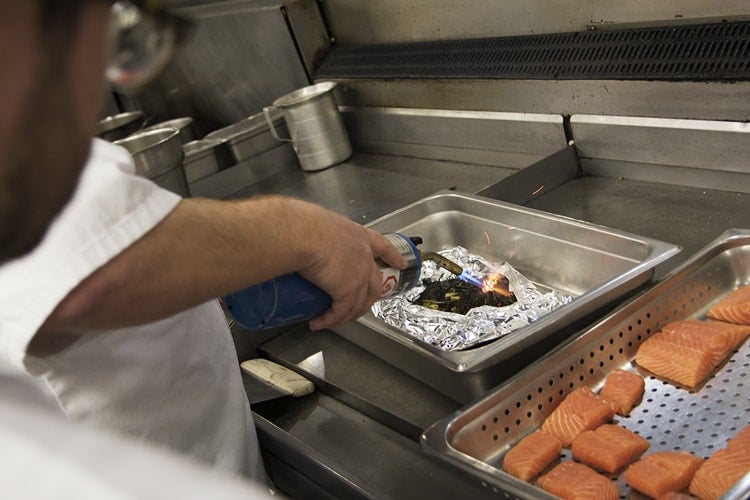 U of T Chef James Piggott shows student and Iron Chef team member Felipe Branco one step in the preparation of a tea-smoked salmon (photo by Geoffrey Vendeville)
Piggott told Xi he could sympathize with being left out of the first team of a culinary competition.
That's exactly what happened to him the first time he went to the IKA Culinary Olympics in Erfurt, Germany in 2000. He was a backup for the Ontario regional team that went on to finish in second place.
"I helped the team with everything, but I didn't get a medal because I was a backup," he said. "But I knew by doing that I was setting myself up for the next Olympics."
He went to the next three competitions as a full team member, he said.
At the end of Iron Chef, Piggott said Xi will join the rest of the team in celebrating what he expects will be a historic victory.
"We'll go to the awards banquet, and we'll rub it in a little bit," he said. "What have I said from the beginning? This is our house, and we don't lose in our house." 
With the competition less than a week away, U of T's director of culinary operations and executive chef Jaco Lokker says the home team is in good shape.
They've worked hard and made progress since the students first met three weeks ago, he said.
"They say a lot of things have been given to this generation but not here. They've all earned this," he added. "There are no short-cuts in the kitchen."