International Women's Day: U of T Libraries acquires rare manuscript by 'extraordinary feminist icon'
Christine de Pizan, one of the first women in the West to earn a living by her pen, is increasingly seen as one of the most important thinkers of her time.
University of Toronto Libraries recently acquired a rare 15th-century manuscript of the writer's Le Livre de Paix (The Book of Peace), announcing the new addition in the run-up to International Women's Day. 
U of T's copy, written on vellum around 1470, is one of just three manuscripts of The Book of Peace known to have survived. The other two are held at the Royal Library of Belgium and the National Library of France.
Described by one modern scholar as the "mother of humanist feminism," Christine was the only woman in her day to make a living through writing. ("De Pizan" is a toponym so the usual way of referring to her is "Christine.")
"She's a very unusual character, not only as a woman but as a writer in general," says Suzanne Akbari, a professor of English and medieval literature who is also the director of the Centre for Medieval Studies. Akbari is writing a book about Christine and Chaucer. 
Christine's work was widely circulated in her lifetime, and her fame lasted more than a century after her death circa 1430. But her writing fell out of favour until more attention was paid to female writers, women's history and literary canon building in the early 20th century, particularly in the 1970s, Akbari says.
Lori Walters, a visiting scholar at the centre and professor emerita at Florida State University, says Simone de Beauvoir led the way for Christine's re-discovery when, in The Second Sex, she credited the 15th-century woman of letters as being the first woman to have written a defence of her sex.
Unusual for the time, Christine was a skilled scribe and supervised the production of manuscripts of her works. "Christine's technical expertise and her determination to fashion herself according to her own ideas of what a woman should be make her an extraordinary feminist icon," Walters says.

Suzanne Akbari, director of U of T's Centre for Medieval Studies (photo by Geoffrey Vendeville)
Christine was born in Venice in 1364, but spent all but her earliest years in France. Her father was an astrologer and physician to King Charles V. Her life was upended by a quick succession of misfortunes: the death of the king, the death of her father and the death of her husband. To make matters worse, the heir to the throne, Charles VI, suffered a series of mental breakdowns, throwing the kingdom into disarray. Christine cultivated patrons and turned to writing to provide for herself, three children, niece and widowed mother, Akbari says.
"In her works, she has what you might call allegorical autobiographies in which she talks about her life in metaphorical terms," she says. 
"In one of them, she memorably describes how she was turned from a woman into a man in a time of hardship. It's a way of describing in a really vivid way how she had to take on certain kinds of roles and certain kinds of tasks in the world, very different from what most women would have to deal with."
The Book of Peace was written when factions vied to fill the vacuum left by Charles VI. The book, which Christine dedicated to the dauphin Louis of Guyenne, describes the princely virtues necessary for peace and good leadership. Karen Green, the co-editor of a modern English translation of The Book of Peace, says Christine "feminizes" virtues like justice, which gives her writing a flavour unique for the time.
Christine participated in public literary discussions that were typically off limits for women, Akbari says. "I think she was really interested in moulding a public persona for herself," she says. These conversations often happened through the circulation of bundles of letters or debate transcripts. 
In one debate, she criticized the objectification of women in Roman de la Rose, a popular 21,000-line poem that tells the story of wooing a maiden, symbolized by a rosebud. A 14th-century copy of the poem is one of the jewels of U of T's medieval collection.
"In a way that's very audacious," Akbari says about Christine getting involved in the discussion about Roman de la Rose. "There's no other woman writer doing anything like that."
U of T's copy of The Book of Peace opens with a vivid illustration adorned with gold leaf that depicts Christine presenting the manuscript to the dauphin.
Timothy Perry, a medieval manuscript and early book librarian at U of T, says the book was rebound in the early 19th century to be added to the royal library of Louis XVIII. That sale ultimately fell through. More recently, it belonged to Pierre Bergé, the long-time business and life partner of fashion designer Yves Saint Laurent.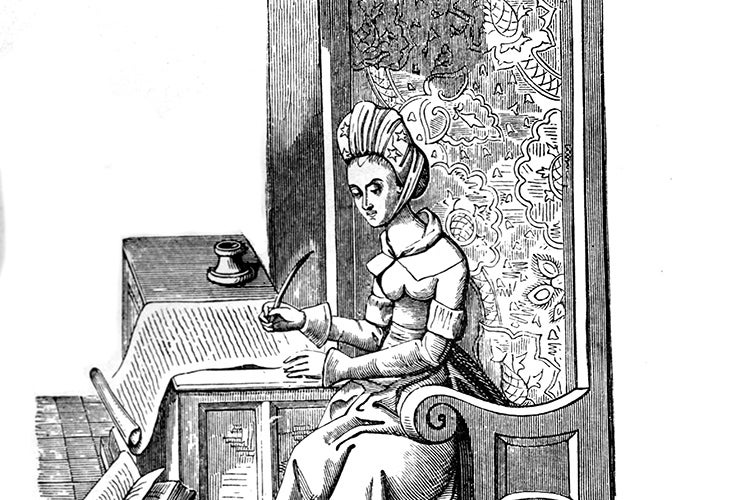 Christine de Pizan in a 19th-century version of a 15th-century manuscript illustration (photo via The Print Collector/Getty Images)
The acquisition from a bookseller in the U.S. was made possible thanks to the support of the B.H. Breslauer Foundation and Friends of the Fisher Library.
"One of the things we're excited about is that (the manuscript) can be used in such a variety of ways," Perry says. It offers something for scholars of medieval French literature, historians of female scholarship and art historians alike. 
Akbari sees the potential for symposia focused on the The Book of Peace or Christine's views on Roman de la Rose. The manuscript also lends itself to themes like freedom of speech and a writer's responsibility in times of political upheaval, she says.
It's fitting to celebrate Christine on International Women's Day, Akbari says – even if Christine is a significant writer in her own right and although she had some ideas that would be considered highly conservative today.
"It's easy for many of us to think we're in a post-feminist age," Akbari says. "But, on the other hand, we also see a lot of reasons to believe that we're wrong to imagine that," she adds, citing the rolling back of personal liberties for women in the U.S. and structural inequities like the gender wage gap.
"There's still a value in thinking about those kinds of issues, and so they're playing out in the public sphere in ways that Christine herself would have been really interested in and, I have no doubt, really engaged in," she says.
UTC