International Women's Day: U of T leads the conversation on girls and women in STEM and sports
U of T marked International Women's Day across its three campuses with advocacy and new initiatives promoting girls and women.
The annual rally kicks off at U of T's King's College Circle on Saturday – and, on March 8, faculties and scholars used the day to talk about how to encourage more girls and women to take up and then stick with careers in STEM and sports. 
A big part of inspiring girls and women to pursue science, technology, engineering and math, is teaching future teachers how to teach math, says Mary Reid, assistant professor, teaching stream at the Ontario Institute for Studies in Education.
She says mentoring future teachers to inspire female students will help boost the number of women in STEM.
"Studies show that from a young age, girls are more anxious about math and have lower confidence in their math abilities compared to boys," she said. "It's critical that teachers help diminish that anxiety in young female students and give them confidence at an early age."
Another crucial step towards STEM gender equity is to engage girls at a young age, she says.
"New parents, child-care workers and kindergarten teachers can spark the interest of STEM-related concepts for young girls."
At U of T's Faculty of Applied Science & Engineering, efforts to encourage more women to pursue careers in engineering have paid off.
This fall, the proportion of women in the faculty's first-year class reached 40.1 per cent, the highest figure among Ontario engineering programs. This brings the overall proportion of women across all undergraduate programs over 30 per cent.
"Diversity accelerates innovation, enhances the student experience and enriches the profession with different perspectives and ideas," said Dean Cristina Amon. "In the Faculty of Applied Science & Engineering, we are deeply invested in advancing diversity and fostering inclusivity within Engineering and beyond. These numbers show our tremendous progress, but there remains work to be done."
The faculty hosts many outreach programs throughout the year to inspire girls and young women, including hands-on programs for girls from grades 3 to 10, a program for girls to learn about the world of coding and software development, and the Girls' Leadership in Engineering Experience weekend for female high-school students who have been offered admission to U of T Engineering.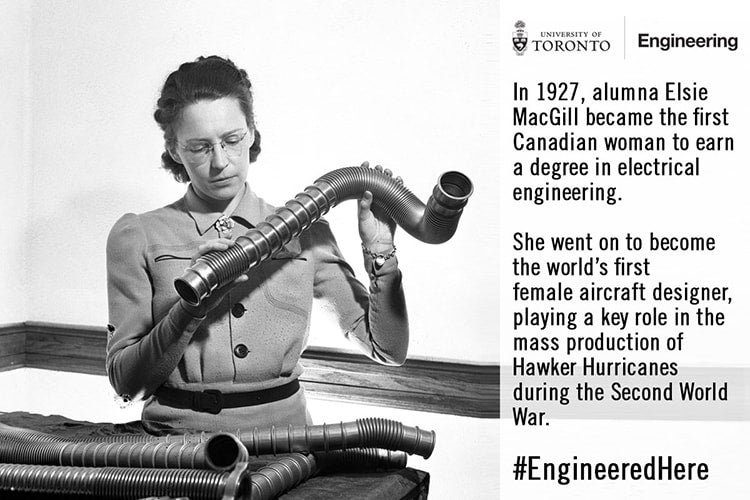 In the world of sports, Professor Bruce Kidd and his colleague Professor Peter Donnelly have been tracking participation and leadership by girls and women in university and international sport at U of T's Centre for Sport Policy Studies.
The U of T Scarborough Principal, who is a former Olympian, says in a recent blog post that more must be done to show girls interested in sports at a young age that there are career opportunities available for them as mentors and leaders.
"It isn't that women drop out," Kidd writes. "Many don't even have a chance to think about a career in sports. Promoting women as coaches, executives, officials, even sportscasters, is important for the culture of sport. We need to change the mindset about women and sports so girls can play the sports they love when they're young, and continue playing – and becoming mentors and leaders – later."
On Wednesday, Premier Kathleen Wynne and Tourism, Culture and Sport Minister Eleanor McMahon were at University of Toronto's Varsity Centre to announce increased opportunities for women and girls in sport, including initiatives for equal access to programs, training and coaching.
The government wants to provide funding for the Coaches Association of Ontario to recruit and train 250 women coaches and 90 women mentors, and they're hoping to develop a provincial action plan for equal opportunity in sport.
Kidd says that strong female leadership is needed to increase participation in sport by girls and young women in all communities – a lesson, he says, he learned from his feminist teammates and sisters. He says Ontario took "a giant leap" with today's announcement.
"Girls and women are participating in sports in record numbers," he says. "Canadian women have earned Olympic berths in roughly the same numbers as men for more than 20 years, and bring home even more medals. There isn't a sport that girls and women do not play, excel at or enjoy as spectators. But Canadian girls and women still do not participate in sports in the same percentages as boys and men and they are woefully under-represented in coaching or in leadership.
"The Ontario government gets it: If Canadian sport is to fully reflect Canadian society, we need to bring more voices, rhythms, and traditions into the field – especially those of female leaders."
UTC