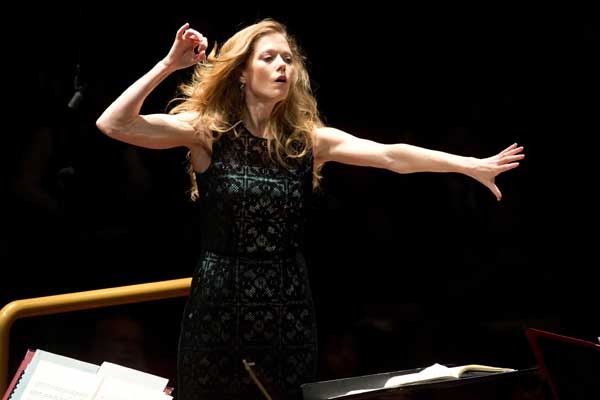 International soprano sensation and conductor revisits her U of T roots
Internationally acclaimed soprano to share her love of music with U of T
She's a singer, she's a conductor, she even sings when she conducts. Barbara Hannigan is an international soprano sensation known for her penchant for taking part in unique contemporary classical music in numerous ways.
Hannigan, a graduate from the University of Toronto's Faculty of Music, will be visiting U of T next week for a handful of free public events – a lecture, master classes, an interactive session and a concert with faculty and students – from Jan. 19 to Jan. 22 as the John R. Stratton Visitor in Music.
"The Faculty is proud to have Barbara as an alumna," says Dean Don McLean. "When she visits, she shares her gifts as an artist and mentor with our students and concertgoers. It's these kinds of experiences that transform the lives of the next generation of young artists."
Hannigan's stop comes between a highly praised run of Francis Poulenc's opera La Voix Humaine at the Paris Opera, performing Hans Abrahamsen's let me tell you, a Berlin Philharmonic commission of the Paul Griffith novella based on Ophelia from Hamlet with the Cleveland Orchestra, and an evening with the Toronto Symphony Orchestra later this month to present Henri Dutilleux's Correspondances – a song cycle referring to synesthesia and letters.
Hannigan has found worldwide success as a soprano and conductor in the opera, classical, contemporary and baroque genres. She has given over 80 world premieres, including let me tell you, which Abrahamsen wrote for her.
Her conducting debut at the Concertgebouw with Ludwig Orchestra won the Ovatie 2014 award for best classical concert of the year in the Netherlands. Last October, she made her North American conducting debut with the Toronto Symphony Orchestra. And recently, she was featured on the Birmingham Contemporary Music Group's recording of Gerald Barry's The Importance of Being Earnest, which was nominated for a Best Contemporary Classical Composition Grammy Award.
Hannigan is quick to credit her busy and exciting career as evolving from her time at U of T, only now she hops all over the world instead of making the rounds through the Toronto music scenes.
"As a young performer, I sang everything I had the chance to sing," says Hannigan. "In the following years, I became more tuned into what music moved and excited me, and my career choices became mainly repertoire-driven. I was not looking for the location, not even the conductor or orchestra, but the repertoire. Music is like food for me. I am willing to try new things, but it has to be good for me, and I need to enjoy it. I love to be in the kitchen."
This year, Hannigan will lead a lecture about living as an artist, master classes for opera and chamber vocalists, an interactive session with the gamUT contemporary music ensemble and a concert with students and faculty.
"I hope to help my younger colleagues to further develop their own ears, discover how and what they can give to this profession, realize that their mistakes are at least as important as their triumphs," says Hannigan.  "I will try and share with them my experiences as a performer and how I have been able to grow and develop over the years since I finished at U of T."
Second-year opera master's student Danika Loren, recently a new member of the Canadian Opera Company's Ensemble Studio, will be one of the performers in the opera master class.
"It's such an exciting opportunity because she is such an icon," Loren says. "Barbara is the perfect example of why we should all continue to push every boundary that is placed on us. Amazing art can happen when we're fearless."
Jessica Lewis is a writer with the Faculty of Music at the University of Toronto