Inspired by Northrop Frye, new student travels halfway around world to study at U of T
Apala Das applied for PhD in English after watching late literary critic Frye's lectures online
Students once came from far and wide to take courses with University of Toronto literary and social critic Northrop Frye. Those who were lucky enough to take his classes still rave about his lectures, which he gave without notes.
Nearly three decades since his death, the professor – who came to international prominence with his writings on William Blake and landmark 1957 book Anatomy of Criticism – continues to inspire young minds and bring students to the university. 
Apala Das, from West Bengal, India, discovered U of T through Frye's lectures on the Bible and literature, which are available online as videos with transcripts and notes. "It's always a pleasure to listen to professors like that because they are choosing their words so nicely," she says. In the lectures, delivered in 1980-1981, Frye analyzes the narrative and imagery in the King James Bible.
Alan Bewell, a professor in U of T's department of English, says Frye's major legacy for general readers and specialists alike is his work on literary criticism, including on Shakespeare, Milton and the Bible. He had an even greater impact on his students, like writers Dennis Lee, Eli Mandel and Margaret Atwood, Bewell added.
"For anyone who had the good fortune to have been one of his students, Frye was a legendary teacher," he says. "To have been in one of his classes was, for many, a life-changing experience, and the stories that his students tell of his classes are legion."
Frye's lectures led Das to do more research on U of T. Its high scores in international rankings and Toronto's reputation as one of the "most liveable" cities helped her make a decision. So did the so-called "Trump effect."
"I can't presume what's going on in the U.S., but then there's some general atmosphere of dislike or hatred of immigrants," she says.
She was accepted to U of T's department of English and flew more than 12,500 kilometres to begin PhD studies here. She starts classes at U of T 88 years after Frye did as an undergraduate (he originally came to Toronto from New Brunswick to compete in a national typing competition, placing second in the novice class.)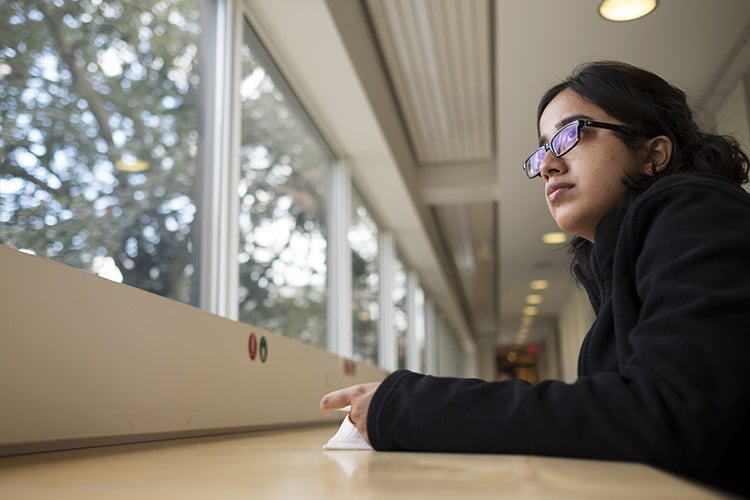 English PhD student Apala Das sits in Victoria College's E.J. Pratt Library (photo by Geoffrey Vendeville) 
Das needed a week to acclimate to her new surroundings. "Everything was different, including how people move on the road," she says. "Now after coming here I feel it's a very comfortable city and I'm very happy that I made this choice."
Das was awarded scholarships, including the Faculty of Arts and Science alumni & friends graduate scholarship for her first year, which have made her studies here possible.
At U of T, she plans to focus on the American poet Wallace Stevens and Modernist aesthetics. Her interest in literature goes back to the children's books she read in her native Bengali. In her undergraduate years, D.H. Lawrence's Sons and Lovers changed her perspective on literature and made her want to specialize in aesthetics. "This is the first book which showed me literature doesn't have to be telling you a story," she recalls. "The emotions of the characters are so beautifully expressed without it making it seem like the writer is directly telling you about it."
One day she hopes to teach English in university, maybe continuing in Frye's footsteps.
UTC