Innovations in teaching: Jonathan Rose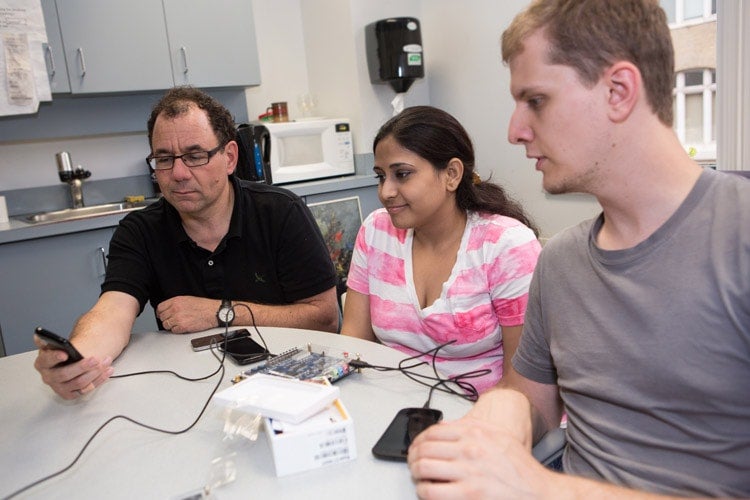 Jonathan Rose (left) and students examine an iPhone: his popular course brings together students from various departments (Sara Collaton photo)
The first question Jonathan Rose poses in his Engineering classes is often a head-scratcher: "Who has a last name beginning with a letter between A and Z, inclusive?"
After some sideways glancing, hesitation and throat clearing, all the hands go up.
"That's how I make it clear to students that their shoulders do work and that they can raise their hands," Rose said in his office in the Edward S. Rogers Sr. department of electrical and computer engineering.
Learning accelerates rapidly from this modest beginning, but always with the understanding that questions are allowed.
"It is clear that many students are often afraid to ask questions for fear of looking stupid," Rose writes in the nomination package that led to his being named one of three winners of the 2016 President's Teaching Awards. "I promise never to object to or ridicule a question."
Soft-spoken in person, Rose recalls experiencing such inhibition during his own student days at U of T, where he earned all three of his degrees. He has seen the fear at departmental meetings and in the business environment.
Then there is the opposite phobia, of answering questions, which is no less pernicious. "One way to activate student minds in a lecture is to ask questions and expect answers," Rose says. "And to create a culture in the class where it is easy and safe to offer those answers."
While all this questioning seems redolent of traditional Socratic dialogue – "I hope I am less annoying than Socrates was," Rose comments – there are other methods of more modern vintage.
From the world of improv comes Speaking With One Voice, a technique that encourages a simultaneous chorus of answers and allows Rose to gauge how many students are engaged and getting the answer right.
And yet more theatre: By way of illustrating computer circuitry Rose asks four students to create a "human shift register" at the front of the class and mimic connections by raising and lowering their arms.
"Typically, they will make a mistake, which the rest of the class, watching intensely, will catch," Rose says.
Another classroom exercise of wide interest is Rose's "teardown" of an iPhone, during which he explains the purpose of each chip in the popular device and its relation to course material. The process brings together students who might hail from different departments. It also makes clear the nexus of hardware and software.
Originally a pioneer in field-programmable gate arrays (FPGAs) – pre-fabricated chips that can be adapted to various uses – Rose has himself made the hardware-software migration.
"Even in the last five years, software has risen to become even more important than it was," he says. "I convey the message that every engineer can benefit from software literacy."
Not that his students are confined to the Faculty of Applied Science & Engineering. One of the most unusual graduate offerings by the Faculty is ECE 1778: Creative Applications for Mobile Devices, which is open to graduate students from all areas and departments.
This course links people from fields as diverse as anthropology, medicine, physics and psychology with ECE grad students, who must learn to communicate advanced principles of technology to a "lay" audience.
Students, for their part, are expected to explain their software projects in presentations. Among the apps that have emerged from ECE 1778 is a system for rendering Russian song and opera texts into phonetic English. A baritone from the Faculty of Music was responsible for this. (A selection of 2015 presentations can be found at http://www.eecg.utoronto.ca/~jayar/ece1778.2015/projects-and-videos.html.)
Rose's work has drawn high praise from students. "Professor Rose has been an incredible source of inspiration," says computer engineering undergraduate Nirav Atre, who has just finished his third year.
His colleagues are similarly impressed. "I have never met a professor more passionate about teaching and doing it well," says Kevin Truong, an associate professor appointed to the department of electrical and computer engineering and the Institute of Biomaterials and Biomedical Engineering.
All this might seem more than sufficient to merit the University of Toronto's highest honour for teaching, but Rose has also led the way in entrepreneurial thinking as the inaugural director of the engineering business minor – which in short order has become the most popular minor offered by the faculty.
Rose brings authentic experience to this assignment, having co-founded Right Track CAD, a FPGA manufacturer, in 1998 and served as senior director of the Altera Toronto Technology Centre in Toronto (which acquired Right Track in 2000). From 2004 to 2009 Rose was chair of the department of electrical and computer engineering. It is hard to imagine a person better qualified to serve as chair of the advisory committee of the Engineering Entrepreneurship Hatchery.
It seems that every day brings news of the creation of an entrepreneurship centre or institute at some university in North America. Are we drowning in entrepreneurship? Can the pace be sustained?
"It's huge fad right now," Rose conceded. "But I deeply believe that it shouldn't be a fad. It should always be part of any economy. There should be an entrepreneurial culture and universities should always be part of that.
"That is how economies grow. You can't just have the big companies. You have to have something brewing all the time."