Innis College principal recognized for excellence in film studies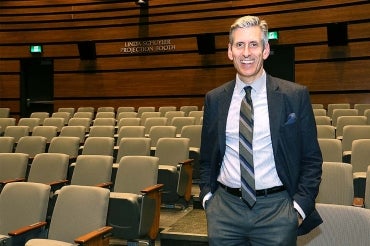 The spirit of mentorship and education has fueled the University of Toronto's Charlie Keil for many years – and now it's led to an award from a leading scholarly organization. 
The principal of Innis College is this year's winner of the Pedagogy Award from the U.S.-based Society for Media and Cinema Studies (SCMS), the world's largest organization devoted to the study of film and media.
Reflecting on his win, Keil says he feels honoured, but is more thankful two former students and mentees, Lee Carruthers and Charles Tepperman – both now at the University of Calgary – nominated him for the award.
"No one tries to teach effectively, no one helps students out when they're in a jam, no one gives advice long after you no longer have a student-professor relationship – you don't do any of those things [because] you're expecting a reward," said Keil, who is a professor of history and cinema studies.
"It's a vocation."
The pedagogy award recognizes a combination of outstanding achievement in instruction, publication and development of educational materials, as well as service and value added to media and cinema studies scholarship. Among his achievements, Keil helped grow programming at Innis College's Cinema Studies Institute. That included the introduction of new graduate offerings.
"It's a devotion to the discipline and trying to advance certain goals," he said.
An awards ceremony to celebrate Keil and other SCMS award winners will be held during the society's annual conference in Seattle in March.
UTC