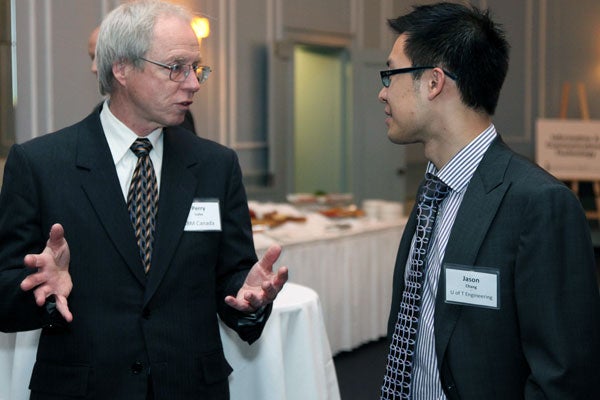 Industry partnerships: solving big challenges
Most people don't go looking for problems, but researchers at the University of Toronto – faculty and students– are the exception to that rule.
On November 21, Ted Sargent, vice-dean of research for the Faculty of Applied Science & Engineering, stood in front of a room of some 200 industry partners and faculty and asked them for more problems.
Sargent thanked representatives from companies ranging from telecom and software to biotech and sustainable energy for presenting some of their most difficult challenges to faculty and students.
"People from industry bring to us something that is incredibly valuable, which is problems that are important. They are societally relevant, they are important to health and to the environment," said Sargent, who is also a professor in The Edward S. Rogers Sr. Department of Electrical & Computer Engineering (ECE) and holds the Canada Research Chair in Nanotechnology.
"When you come to us with problems, we often end up making fundamental discoveries because we go off in directions we wouldn't have otherwise," he added. 
Meanwhile, Ken Stevens, manager of collaborative research at Dupont Canada, stressed that his company's research partnerships with U of T engineering have been a two-way street.
"We value collaboration to keep our pipeline of innovation full," said Stevens (pictured right). "I've been impressed by the multidisciplinary aspect of research here. This is where major things happen. It's a wonderful institution and one of the leading research-intensive universities in the world."
While Stevens spoke of Dupont Canada's long-term relationship with U of T engineering, others such as April Khademi, senior scientist at digital pathology company PathCore, were looking to establish new partnerships. PathCore is a two-year-old company that develops software to help pathologists make better and faster diagnoses.
"We want to give researchers access to our software so they can help us validate and refine it," said Khademi.
IBM contract advisor Perry Fuller said his company's technology incubation lab often calls on U of T engineers to help with the kind of refinement Khademi is looking for.
"We look at products we develop in the lab and ask if they have problems that bright minds at universities could work on. It not only gives faculty a good project, but it allows us to apply their solutions to our products."
Sharon Oosthoek is a writer with the Faculty of Applied Science & Engineering at the University of Toronto.