Industrial relations expert Rachel Aleks studies U.S. power dynamics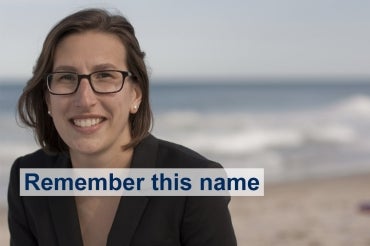 Canada's robust union environment – with an estimated 776 unions representing almost five million Canadians – is what got University of Toronto alumna Rachel Aleks interested in labour relations and led her to become an expert in her field.
"I was in a new country with different laws and, more importantly, with an organized and mobilized workforce," she said. "I regularly witnessed labour strikes and that definitely shaped my scholarly interests."
Aleks came to Canada from the United States initially to pursue an undergraduate degree at McGill University. After graduating, she worked for a labour union in the U.S. but decided to return to Canada to complete her PhD at the Centre for Industrial Relations and Human Resources at U of T. She's now an assistant professor at Cornell University's School of Industrial and Labor Relations.
Aleks is one of a new generation of thinkers, transforming research across the globe. They come from all corners of the world to do their PhD or postdoctoral research at the University of Toronto, drawn by the chance to work with the leading experts in their fields.
Where do they go from here?
In this fourth instalment of a new series from U of T News, we turn the spotlight on Aleks. Below, Aleks talks about how her fascination with power structures in the U.S. has taken her from inside labour unions to a maximum-security prison.
---
What was your time like at U of T?
During my time at U of T, I was involved in organizing with CUPE Local 3902, the union that represents graduate teaching assistants. This experience affected my research, some of which looks at how to organize professionals and how professional worker organizing differs from organizing non-professional workers. My involvement with CUPE 3902 helped me frame research questions to focus on.
I had the support of a great supervisor who encouraged me to focus my research on the issues that are important and interesting to me. He was very supportive of my desire to pursue classic labour relations issues in my dissertation, which allowed me to get the job that I have at Cornell. 
Where has your research taken you?
Cornell has been amazing. It's an incredibly supportive environment for an assistant professor. As a result of being at Cornell, I've added another stream of research – I'm teaching in a maximum-security prison close to Cornell through the Cornell Prison Education Program (CPEP). My work through CPEP has motivated me to look at power and voice within the prison environment. Power and voice are what unionization is all about for people who are outside of prison, but these ideas take a very different form within prison, which I am interested in researching.  
Has the shift in politics in the U.S. changed the way you've approached your research?
My current research focuses on various strategies for union revitalization.
Because of the shift in politics – that there will not be any major changes to federal labour law – I'm starting to take a more inward look at unions to see what sort of internal organizational practices facilitate or inhibit union success. I expect what we'll see in the coming months and years will create an environment that's hostile and difficult for unions. It'll be very interesting to see how labour unions and the labour movement respond and react to that. 
People generally – and not just union members – are taking to the streets in order to protest and make their feelings known. There's an opportunity to look at how labour responds and whether unions decide to join these groups by taking a more progressive stance on certain issues. 

UTC