Indigenous leaders, U of T researchers look to forge collaborative relationship through 'Two-Eyed Seeing'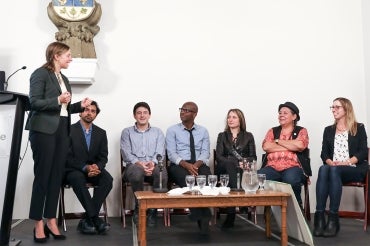 As Indigenous leaders and researchers at the University of Toronto seek to put their relationship on a new footing, they are looking to incorporate the Mi'kmaw concept of Two-Eyed Seeing, an approach grounded in mutual respect for one another's knowledge systems.
The Centre for Global Engineering Forum (CGEN), a cross-disciplinary research institute in the U of T's Faculty of Applied Science & Engineering, recently brought together Indigenous leaders and local researchers to underscore the importance of this a Two-Eyed Seeing approach to create sustainable infrastructure solutions for Indigenous communities across Canada. 
Elder Whabagoon, co-founder of Nikibii Dawadinna Giigwag, a U of T Access mentorship and employment program for Indigenous youth, led the opening and closing ceremonies.
Other presenters included Becky Big Canoe of the Chippewas of Georgina Island First Nation, a natural building designer, activist and founder of EnviroNative Training Initiatives; Jeff Kiyoshk of First Nations House; CGEN's Shakya Sur and Sonia Molodecky; Marianne Touchie, an assistant professor in U of T Engineering; Liat Margolis, an associate professor in architecture; Heather Castleden of Queen's University.
Jason Bazylak, an associate professor (teaching stream) in mechancial and industrial engineering, emceed the event.
The forum also reflected on the many ways systemic discrimination and misappropriation of Indigenous knowledge have marred past collaborations between Indigenous communities and researchers, specifically in the field of engineering.
"I think of my own ancestors, the Métis in Saskatchewan, and how their first encounter with Western engineers would have been British surveyors showing up on their homeland, not speaking the language, not introducing themselves, but proceeded to divvy up the land to give away to settlers. That's damaging," says Bazylak, who is the dean's adviser on Indigenous initiatives.
"Though damaged this relationship may be," he adds, "I believe we can reconcile and together move forward in a positive way as partners."
Deep collaboration, understanding and reciprocity will be the foundations of projects identified through CGEN's Reconciliation Through Engineering Initiative (RTEI), which launched last December.
RTEI will ultimately identify six projects to improve access to clean drinking water, food security, housing, health care, transportation and communication systems through a multi-disciplinary and holistic perspective.
Two projects, focused on housing and food security in northern Ontario have so far been identified.
Becky Big Canoe presented her vision for healthy housing in First Nations communities.
Housing insecurities and the spread of mould in residences are issues at the heart of Big Canoe's work in First Nations communities, where a lack of community consultation has resulted in failed attempts to address these concerns. "The solutions weren't sustainable, did not fit the environment or take into account high occupancies," she says.
During the forum, Big Canoe, Touchie, Margolis, Bomani Khemet, an assistant professor in architecture, and Jamie Fine, a post-doctoral fellow in mechanical and industrial engineering, discussed ways that they could support Big Canoe's vision and the challenges she identified. In close collaboration with Big Canoe and the Chippawas of Georgina Island First Nation, the project will lead to developing a holistic mould-mitigation framework for Indigenous housing.
As a natural building designer, Big Canoe has created a prototype of a land-based, multi-unit, high-occupancy house. She and the U of T researchers, who specialize in building science and design, will work together to incorporate those aspects into developing appropriate ventilation and building envelopes to control moisture accumulation.
"When I saw Becky's designs, I thought, 'This is incredible.' I look forward to learning a lot from this experience," says Touchie.
Molodecky, the RTEI program lead, hopes the event and RTEI's projects will continue the much-needed cultural shift in seeing Indigenous Peoples as experts, partners and leaders, in order to co-create truly sustainable solutions to infrastructure challenges.
"Two-Eyed Seeing encourages us to see from one eye, the best of Indigenous ways of knowing, and from the other eye, the best of Western science ways of knowing," she says, referring to the work of Elder Albert Marshall, who coined the term. "These two ways of knowing are actually complementary and will lead to deeper ways of researching that wouldn't have been possible if we looked at it from one perspective."
Engineering