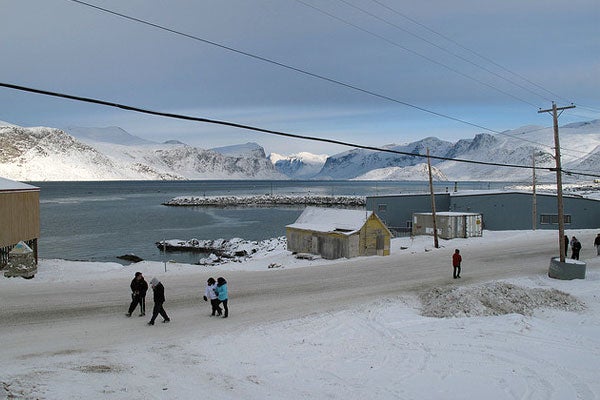 Indigenous health conference to address Inuit suicide
Professor Allison Crawford on a worsening crisis in the far north
When an 11-year old boy took his life in Cape Dorset, Nunavut, everyone felt the tragedy.
Allison Crawford, a professor of psychiatry in the Faculty of Medicine, arrived soon afterwards and found a community in great distress: teachers, parents and the RCMP brought many young people to her for mental health assessments. The boy had seemed fine, and people were on edge, worried they didn't know the warning signs. 
Tragically, suicide among teenage boys in Nunavut is now common. In small communities such as Cape Dorset and Pond Inlet, it has reached 40 times the national average (897 per 100,000).
Crawford works to understand the disproportionate rise in suicide among Inuit in Nunavut since the 1980s, and has joined with the national organization Inuit Tapiriit Kanatami (ITK) to develop a prevention strategy specifically for Inuit. She'll discuss her efforts at U of T's first-ever Indigenous Health Conference on November 20 and 21. 
Crawford regularly travels to Nunavut as part of the psychiatry outreach undertaken since the 1970s by the University of Toronto and the Centre for Addiction and Mental Health. In the course of her work she speaks to family, friends and neighbours of young people who have committed suicide. Her clinical findings, supported by recent research, show that Inuit suicides are driven by similar risk factors to those found all over the world. 
"With high-risk groups, such as Inuit youth, we quickly want to reach for alternative explanations, but studies show that the established risk factors remain important: depression, substance abuse, impulsivity, aggression and adversity in childhood," says Crawford. 
The sharp rise in suicide rates over the last decade, especially among adolescent males, suggests more than the usual risk factors are in play, however. 
"It's hard to find a health trend that's so marked," says Crawford (pictured left). "For something to really accelerate over such a short time span, you can't just look at the mental health of one person. At this point, it's a social phenomenon, and we have to look for broader reasons within our society, particularly historical factors, and ongoing contemporary social disparity.
"For Inuit, it's striking how recently they were exposed to colonization and moved off the land and away from more traditional patterns of living. Many Inuit have experienced huge changes to roles and families. It makes you wonder if men and women experience those rapid changes differently." 
While the rates of suicide among young Inuit women are also higher than the national average, they are lower than rates for young Inuit men.    
Exposure to suicide can increase risk for young people, she adds. Friends and relatives of the boy who took his life are now voicing more intense suicidal thoughts. Yet often, Crawford has noticed, the suicides appear impulsive, having to do with a recent crisis such as a breakup.  
Crawford points to the despair and hopelessness that can accompany modern life in the Far North.  
"I think there's so much less to do for kids in Nunavut," she says. "They have the potential to be bored, disengaged, restless. Young men are exposed to different kinds of social distress, and different avenues for expressing and resolving that distress, such as difficult events in childhood, and they have higher levels of substance abuse. 
"I met with one of the boy's friends, and he was talking about sniffing gas all summer," she says. "He was 10 years old, and the cutest, most charming little guy. He couldn't tell me why he was doing it."
Crawford believes solutions to the crisis must be a mix of proven anti-suicide strategies and partnerships from within Inuit communities. Interventions have to make sense and engage within the local, community and cultural context.  
Otherwise, she fears repeating the past, when education and health care were used to colonize Indigenous people and rob them of their culture.  She is equally concerned that all of the attention to suicide can detract from the resilience and creativity that also exist among Inuit youth and in communities. 
"Despite the hypervigilance and worry, we cannot treat whole generations of people and youth as if they are solely defined by being 'at risk'."
Educating health care workers on Inuit culture is also essential, Crawford believes. Even if some know aspects of First Nations tradition, this knowledge may not apply in the Far North.   
"There are so many well-meaning health providers who come from the South and bring their dream catchers," she says. "The medicine wheel is a foundation of Indigenous knowledge in many First Nations communities. But it's not a concept that is simply generalizable to Inuit culture. They have their own form of holistic and traditional knowledge, but the medicine wheel doesn't capture it." 
Heidi Singer is a writer with the Faculty of Medicine at the University of Toronto.