Indigenous designer in the spotlight after her dress turns heads at Golden Globes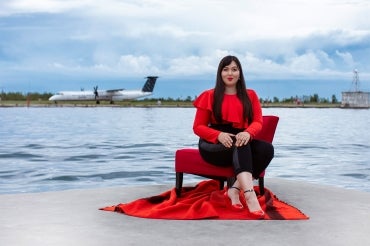 A gown designed by a U of T Mississauga alumna that turned heads at the Golden Globes earlier this month is so popular it's now sold out.
"I've never seen that type of large response translate into sales," says First Nations designer Lesley Hampton, who started operating the Toronto-based business that bears her name in 2016 while she was still in school. "This is super for a brand that's new and developing."
The celebrated dress was worn by etalk host Lainey Lui and was featured on publications' various best dressed lists, including Buzzfeed, The Hollywood Reporter, and The Telegraph.
Hampton, who is trying to get more material for the sold-out gown, has designed a number of dresses for red carpet events before, but this is the first time one of her creations was showcased at an event as large as the Golden Globes.
Hampton recalls watching the coverage of the event and seeing celebrities compliment Lui on her dress while being interviewed and, Lui, "being the great person she is, told them my name."
To hear the celebrity feedback, that took it to the next level," Hampton says.
The dress is part of Hampton's most recent collection, entitled Preface, after the preface of Reclaiming Power and Place: The Final Report of the National Inquiry into Missing and Murdered Indigenous Women and Girls. Hampton says she was inspired by a quote found in the report by Commissioner Michèle Audette: "We must know our past, understand it and accept it, if the future is to have meaning."
Using the theme of healing, Hampton created a collection with bright, romantic colours and romantic cuts. The dress Lui wore is a rosé/ombré pleated dress with a cape and peek-a-boo side cutouts. The piece is a conceptualization of a warrior woman, Hampton explains. The original dress is knee-length, but Hampton created a full-length version for the Golden Globes.
Hampton says she's since had celebrities reach out, with the most recent requesting a piece for the premiere of a NBC show.
The attention-grabbing dress is also making a broader impact, Hampton continues. "It's exciting to show the world what 2020 Indigenous fashion can be, and to show and inspire Indigenous youth," she says. "It's not a stereotype. It's not regalia or beadwork."
Hampton, who studied art and art history at U of T Mississauga before completing the fashion techniques and design program at George Brown College, takes a body-positive and inclusive approach to fashion, with visible representation on the runway. "I always want to represent what I see on the street and translate that onto the runway," she says, adding she wants to push boundaries.
She is currently working on an upcoming collection for Indigenous Fashion Week in Toronto, which takes place May 28 to 31. The concept, Hampton says, is rising up against cyberbullying, online harassment and lateral violence in the Indigenous community to break free and offer recovery and healing.
(photo of Lainey Lui by George Pimentel)
UTM