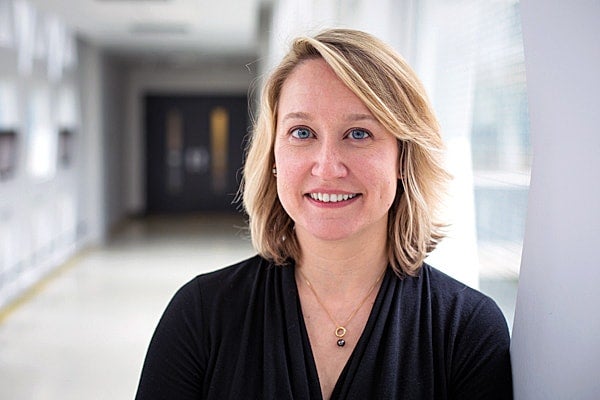 Increasing sleep just a dream for new mothers
New parents trying to find sleep strategies and tools to get a bit more shut-eye in the first 12 weeks postpartum will have to keep looking, says new research from Assistant Professor Robyn Stremler of Bloomberg Nursing.
The study, Effect of a behavioural-educational intervention on sleep in primiparous women and their infants in early postpartum: multisite randomised controlled trial, appears online in BMJ (British Medical Journal). It demonstrates that new parents use sleep strategies as advised by nurses but do not end up getting more sleep. 
Stremler's research focuses on ways to improve sleep and health outcomes in infants, children and parents, through pregnancy and beyond. She shares her latest findings, and what this means for postpartum sleep, with U of T News.
What do the results of this study mean for new parents?
Taking care of a newborn for the first time is an overwhelming experience, even for the most prepared parents. Many parents commiserate about the ongoing exhaustion they face and I wanted to determine if providing new mothers still in the hospital with sleep strategies and support would improve their sleep, and the baby's sleep, in the first 12 weeks of the baby's life.
The study showed that while the sleep advice and extra help from nurses was used and appreciated, there was no increase in sleep. While it might seem a bit disheartening for new parents and health care professionals that early intervention didn't improve sleep during that time there are still chances to develop healthy sleep habits later on in an infant's life. Parents have so much to learn about their baby in the first few weeks, they don't need to be hard on themselves about fostering maternal and infant sleep patterns this early on.
Were you surprised by the results?
It was a bit of a surprise but sleep in the first few months postpartum is quite complex. In our initial pilot trial, there were clear indicators that a sleep intervention, provided by a nurse, increased nighttime sleep for mothers and babies during the first six weeks postpartum.  Following up on that, we wanted to test our multimodal approach of in-hospital sessions with nurses, phone calls at one, two and four weeks after hospital discharge, and self-learning booklets to promote increased sleep in a larger, more diverse group of women and babies.
Participants appreciated the information and the follow-ups but unfortunately there wasn't a marked improvement in postpartum sleep. In the future, it will be important to test these types of interventions when infants are older or have been identified with a sleep problem, and for families that are socially disadvantaged. Our participants were older, with above-average levels of higher education and social support, and so they may have been better positioned to manage their sleep.
Why was the British Medical Journal interested in this study?
Many factors made this study interesting but I know it was quite unique in that we had a multisite randomised controlled trial that focused on first-time moms and their babies, rather than just infant sleep. Our study was also the first to use actigraphy [a wristwatch-like sensor that records sleep patterns and circadian rhythms]  to measure sleep outcomes. Traditionally, intervention studies have relied on parental reporting of infant sleep which, for a multitude of valid reasons such as parent fatigue, might not always be accurate. Using actigraphy for reporting meant data was as accurate and objective as possible.
For four consecutive days and nights, the participating moms wore an actigraph around the wrist and infants wore them around the ankle. These devices allowed us to detect and record movement across one-minute intervals which were then translated by a computer algorithm into sleep and wake times. 
How did you get interested in this field of study?
Starting out in my career, I was a postpartum nurse and saw first-hand how sleep deprivation really overwhelmed new families. When I would look for evidence-based advice to give these families, there wasn't much out there at the time so I sought out a post-doctoral fellowship in sleep research.
This is a fascinating field of research that's growing quite rapidly and parents are very interested in learning more about sleep from pregnancy to infancy through adolescence and into adulthood. Today, there is definitely more information available for parents on sleep but there are still many avenues we can explore in order to work towards optimal sleep, and ultimately, better health overall for families.
What advice do you have for first-time parents?
In the TIPS (Tips for Infant and Parent Sleep) booklet that I have complied, a few suggestions are:
• A brief, enjoyable bedtime routine, like a bath and a story or song can help baby wind down and get ready for the night
• Try to expose your baby to some natural outdoor light in the morning or early afternoon to help set their "internal clock"
• Remember that every baby is different and you'll get to know his/her patterns with time
• Be realistic about what household tasks need to be done; sleep should be a higher priority
• Try to reserve your bed for sleep, not screen time
• Missing out on sleep makes it harder to function–don't be too hard on yourself if you are not at your best.
I think more than ever people recognize that sleep is a key component to a healthier lifestyle. It's definitely an investment if you want to make changes to your sleep habits as a parent or promote positive sleep habits in babies. Making changes to sleep depend on what strategies a family is comfortable with but in those first weeks of postpartum, it's okay to take some time and get used to being a new family before working on developing sleep habits.