U of T's Citizen Lab implicates Canadian company in Bahrain Internet censorship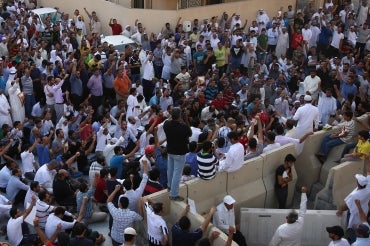 Researchers at the University of Toronto's Citizen Lab found detailed evidence that the Kingdom of Bahrain is censoring access to the Internet using technology from Canadian company Netsweeper, Inc.
Internet censorship is growing globally, and many countries now block access to large swathes of Internet content for their entire populations.  Some of these countries, like Bahrain, use Western technologies to filter the Internet, raising corporate social responsibility concerns about the provision of technology, such as that sold by Netsweeper, Inc.
"Bahrain is an autocratic regime, and one of the world's worst offenders of human rights," said Ron Deibert, director of Citizen Lab at U of T's Munk School of Global Affairs. "Provision of Internet censorship services to Bahrain helps aggravate the Kingdom's poor human rights record, and runs counter to the Canadian government's explicit support of human rights online."

Bahrain has been in a period of extended political crisis since a stifled uprising in 2011, and the Bahraini government has engaged in a series of repressive tactics against oppositional political figures and human rights activists, including torture, arbitrary arrests and the revocation of oppositional figures' citizenship. Internet censorship is another means by which the government limits access to information and stifles freedom of speech, not just for activists or human rights defenders, but to everyone else in the country.
Citizen Lab, which has been uncovering Internet censorship practices around the world and identifying the products and services used to undertake them, spent several months conducting the research, including a variety of in-country and remote network measurement and technical interrogation techniques. The group's latest report, entitled "Tender Confirmed, Rights at Risk: Verifying Netsweeper in Bahrain," provides evidence that Netsweeper installations are present on nine Internet Service Providers (ISPs) in Bahrain. Testing on one of these ISPs, Batelco, shows the Netsweeper installation is being used to filter political content, including content relating to human rights, oppositional political websites, Shiite websites, local and regional news sources, and content critical of religion.
"The sale of technology used to censor political speech and other forms of legitimate expression, to a state with a highly problematic human rights record, raises serious questions about the corporate social responsibility practices of Netsweeper, Inc," the report says. 
The installations appear to have become active between May and July 2016, a few months after the release of a public tender by Bahrain's Telecommunications Regulatory Authority in January 2016 indicating Netsweeper won a bid to provide a "national website filtering solution," according to the report. 
Netsweeper has a track record of providing Internet censorship services to countries with poor human rights records.  Prior research by the OpenNet Initiative (2003-2013), of which Citizen Lab was a part, identified the existence of Netsweeper's filtering technology on ISPs operating in the Middle East, including Qatar, United Arab Emirates (UAE), Yemen, and Kuwait. Citizen Lab also outlined evidence of Netsweeper's products on the networks of Pakistan's leading ISP, Pakistan Telecommunication Company Limited (PTCL), in a report published in 2013, and subsequently published research showing Netsweeper products were being used by three ISPs based in Somalia, raising questions about the human rights implications of selling filtering technology in a failed state. In a report on information controls in Yemen in 2015, Citizen Lab examined the use of Netsweeper technology to filter critical political content, independent media websites, and all URLs belonging to the Israeli (.il) top-level domain.
Included in some of these reports were letters with questions that Citizen Lab sent to Netsweeper, which also offered to publish in full any response from the company. Aside from a defamation claim filed in January 2016, and then subsequently discontinued in its entirety on April 25, 2016, Netsweeper has not responded to the Citizen Lab. Citizen Lab's letter to Netsweeper concerning the use of its technology in Bahrain is available here.