'If you have a dream, go for it': U of T alumna lands job at Google by prioritizing herself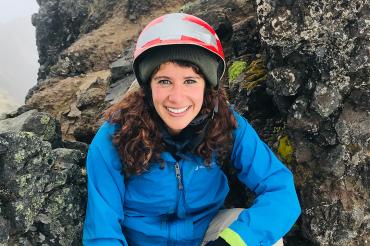 Marah Ayad believes in putting yourself first.
The alumna of the University of Toronto Scarborough's management program is now a technical account manager at Google.
She says the opportunity came about only after she left her previous full-time job at Microsoft to take some time to travel. But before she could leave for South America, she received a call from the search engine giant. Two months of studying new technical skills and six interviews later, she landed her dream job – and still managed to travel to Ecuador to volunteer as a hiking guide.
"If I had stayed [put] as everyone told me to, I would have never been able to prepare for my job at Google," says Ayad. "Listen to your body, mind and heart, and if you have a dream, go for it." 
Ayad graduated from the first cohort of the Management and International Business Co-op Program (MIB) in 2017. The program offers students fundamental management skills, combined with domestic and international work and study opportunities to network and learn the industry through a global lens.
She previously studied economics at University College London before landing an internship at the Aga Khan University Hospital in Nairobi, Kenya. She also completed two co-ops at Microsoft Canada, where she gained valuable work experience with non-cloud and cloud technologies.
As a communications facilitator in Kenya, Ayad worked at the hospital's provost office to obtain donations from private companies to assist families with the cost of health care. She credits the experience for preparing her to work in her current industry. 
"As a 19-year-old, I learned a lot about how to communicate and get people to hear you. To be a girl who can speak loud and have her voice heard is super useful, especially in tech and business, which is still a male-dominated industry."
During her years as a student, Ayad pursued extracurriculars that prioritized connecting communities and facilitating insightful conversations. This is what led her to TEDxUTSC – first as the director of speakers relations and later as chair. Under the role, Ayad organized their 2015 conference, Unleash Your Fantasy.
Despite a passion for public speaking, Ayad was not always comfortable with the idea. She credits a management communications course taught by James Howard, a sessional lecturer in strategy, as a launchpad that equipped her with presentation and leadership skills.
"It changed everything for me. The entire class was about being good at standing up in front of a group and speaking loudly and clearly to communicate meaningful points," says Ayad, who was Howard's teaching assistant for two semesters. "He helped us discover a side of ourselves that we always wanted to show."
Now in a position to help others, Ayad is a big believer the value of servant leadership, which focuses on supporting employees' professional and personal goals in order to nurture an inclusive, uplifting work environment.
"Servant leadership is key to having a diverse workplace – it allows someone to climb the ladder, the new parent to have stability, and the 22-year-old a chance to travel. It's non-negotiable in the future of the workforce," Ayad says.
Ayad encourages students pursuing any field to get certified in fundamental knowledge of the cloud ecosystem, coding languages and data science – all platforms that increasingly drive our everyday lives and decision-making.
She also wants to share her experiences and mentor business students who are considering the tech industry – particularly new immigrants, women and LGBTQ professionals.
"I will never question if it's alright to take time off. I won't have doubts about my employability with a gap on my resume. We need to let go of that mentality," she says.
"If you invest the time and effort and truly believe in yourself, you can achieve anything."
Ayad will be joining the management pathways IT career panel on Feb. 8 to share her career story and advice to students about breaking into the technology industry.
"There has been an increased demand for talent and growth in the technology industry for management co-op students from the BBA program," says Sischa Maharaj, assistant director, external relations and communications in the department of management.
"It's wonderful to have supportive alumni like Marah willing to help current students break into emerging technology careers."
UTSC