'I wanted to be a part of the mosaic of diversity': Students from Mexico on why they chose U of T
When University of Toronto President Meric Gertler led a delegation to Mexico City last year, he noted that international students at U of T encounter "new ideas, perspectives and approaches that in turn inspire mutual understanding and stimulate knowledge."
That's a perspective echoed by many of the Mexican students interviewed by U of T News reporter Cansu Aydemir, an international student herself.
"U of T makes you question a lot," says fourth-year student Eri Kimura, who left Mexico City to study at U of T. "Why did I take this for granted? Why did I think history was like this? Why did I think society was supposed to be like this?"
U of T has important ties with Mexico. They include partnerships with UNAM (Universidad Nacional Autónoma de México), Tec de Monterrey (Instituto Tecnológico y de Estudios Superiores de Monterrey), FUNED (Fundación Mexicana para la Educación, la Tecnología y la Ciencia) and CONACyT (Consejo Nacional de Ciencia y Tecnología) – not to mention the hundreds of research publications authored by U of T scholars with Mexican colleagues.
But the experiences of Mexican students across the university's three campuses offer a more intimate look at the relationship between the university and the country of more than 130 million.
Here are a few of their stories:
---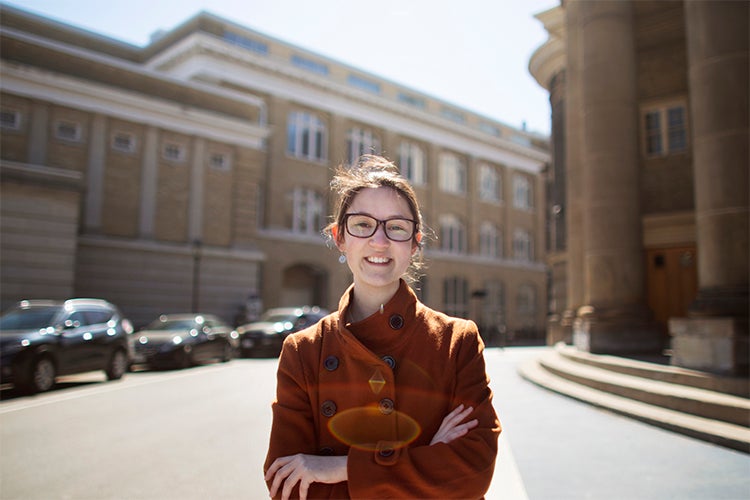 Mexico City's Adriana Diaz Lozano Patino got to know U of T when her brother was accepted into the Faculty of Applied Science & Engineering seven years ago.
Patino's brother was the first member of her family to study abroad. She says he cleared the path her.
"My brother loved it here, he stayed after his undergraduate studies and he did his master's here," she says. "Now he works in Toronto.
"He passed on that love to me I guess."
Patino says U of T's global reputation, its welcoming approach towards international students and its research opportunities were also factors that brought her to U of T.
Now in her first year studying engineering science, Patino says she is planning to major in biomedical engineering.
"I have been dreaming for a long time to become a researcher in the field," she says. "I picture myself in a lab, cloning molecules and whatnot."
A top student in high school, Patino won a Lester B. Pearson International Scholarship to attend U of T. She says she was aware she was entering a competitive environment. What she didn't expect was how much she would struggle with the language. 
"I remember coming to physics lab and people started talking about these concepts and I was like, 'Excuse me?'" Patino says. "Then I realized that I actually know the concepts, but in different words; I got used to the fact and built my own strategy within a couple of months."
Patino says she enjoys being a part of the engineering community.
"You don't have this feeling of unhealthy competition within the engineering community.  If you have a problem, you know people will be there for you."
For students who are considering whether to study abroad, Patino has some advice.
"For Latin American families, the idea of leaving the family at such a young age is frightening," she says. "But they should come. They shouldn't be scared – they are going to find amazing people, amazing professors.
"There is something here that is going to be for you whether you like dancing, whether you like writing or designing a Formula 1 car."
It's also important for students to remember that it is possible to "help your country even though you don't live there," she says.
"We can all help to rebuild what is being broken every day by pursuing your passion and you coming here, experiencing this world."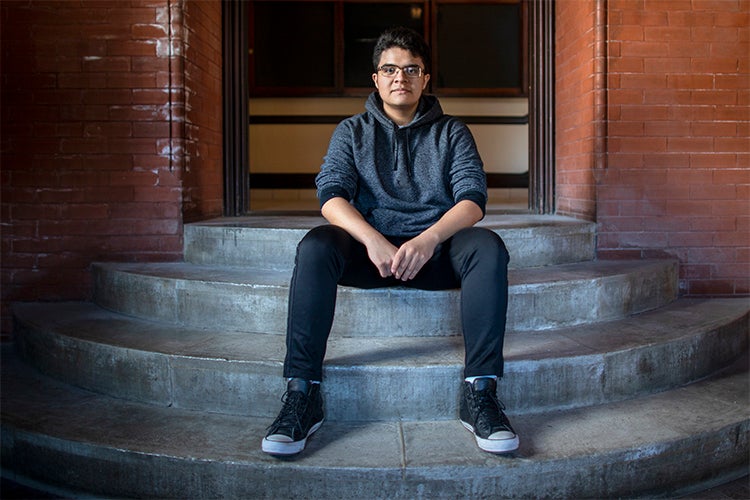 Home for Marcos David Madrigal Albores is the southern state of Chiapas's capital city, Tuxtla Gutiérrez. But Albores always wanted to see Toronto, the setting for Canadian author Bryan Lee O'Malley's Scott Pilgrim versus the World.
Albores loved the popular graphic novel so much that, when he started high school four years ago, he and his family planned a vacation to Canada's largest city.
Albores took a tour of the downtown Toronto campus and says he was impressed with the facilities and the programs offered.
"We were just joking that it would be great if I studied here at U of T," he says.
Four years later his wish came true: Albores is now a first-year engineering science student, hoping to specialize in machine intelligence.
Getting here wasn't easy.
"My state is not the richest in Mexico. It would be very hard to pay the tuition unless I got a scholarship," he says.
During the final days of the application cycle, he won the Engineering International Scholar Award, which partially covered his tuition. With the financial help and support of his family, he says, he had the chance to follow his dream.
Albores defines himself as a "global person" and says that it's the diversity that he likes most about Canada and Toronto. He also enjoys the scenery of the city.
"Tall buildings, blue sky, snow in the streets, the tiny communities like Greektown, Little Italy. I feel like they are all part of the city's character and I love it."
Albores says he hopes that one day his brother, 10, will also study at U of T.
"U of T is the number one school in Canada, among the top 20 in the world," he says. "The engineering program's level of detail and depth is much more than you could get in Mexico or other parts of the world."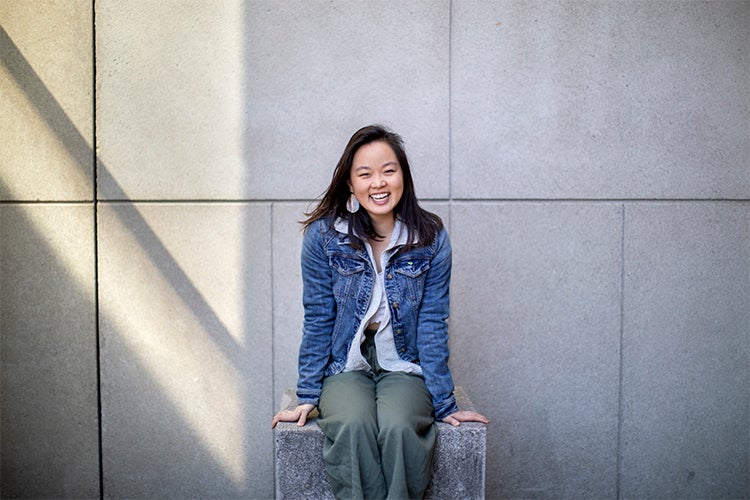 When Eri Kimura's parents told her she could leave Mexico City to study abroad, she immediately thought of Toronto.
Her sister had studied in the United States, but Kimura says Canada's approach to multiculturalism was more appealing.
"In sociology it is called the mosaic versus the melting pot," Kimura says. "My friends who have gone to the U.S. had to fit into the society – they molded into the society – but I wanted to be a part of the mosaic of diversity where I could still be me, still have my culture and also be able to explore others."
She chose New College for a similar reason: diversity.
"New College seemed like it was more multicultural: all their programs and initiatives were [about] equity and they wanted students to feel like they are in a community," she says.
"That really resonated with what I wanted."
After her first year at Rotman Commerce, Kimura says she realized she wanted to widen her studies.
Now in her fourth year of specializing in management at Rotman Commerce, she is also doing a major in international relations and a minor in economics.
"I see myself in international institutions and diplomacy," she says.
After the devastating earthquakes in Mexico in 2017, Kimura initiated a campaign to help the victims.
"I basically bought two jars, went out and started collecting money," she says. "Then I received very positive reactions and in the end we were 15 or 16 students trying to get help for earthquake victims."
Kimura believes that the way she thinks has changed dramatically at U of T.
"I am way more tolerant and way more conscious about how I treat others, or how I interact with others," she says. "U of T makes you question a lot. Why did I take this for granted? Why did I think history was like this? Why did I think society was supposed be like this? And it gives you all the tools to explore further."
For future students, Kimura recommends attending Step Up, the orientation program for international students.
"For me it was a game-changer," she says. "I met my friend group – we are from 10 different nationalities – and we are just very similar in so many different ways."
Kimura is planning to spend her summer after graduation in Toronto working with a professor on a G20 research project.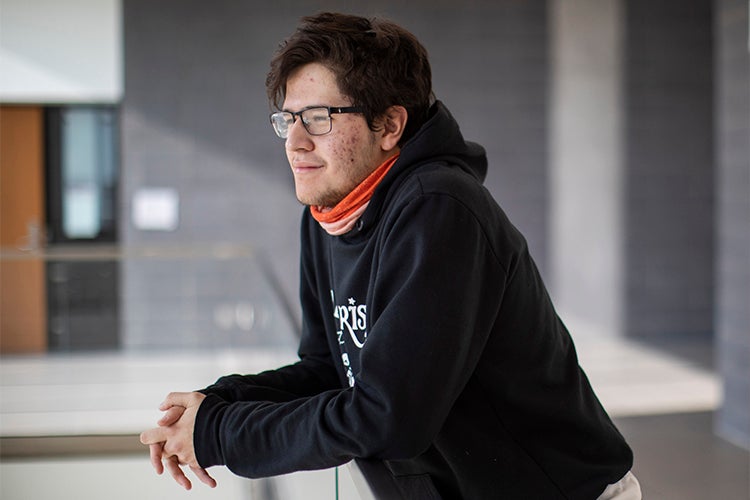 Mexico City's Luis Carlos Soldevilla Estrada knew he wanted to study abroad. One option was to follow his brother to the United States – but he didn't like the political situation there.  
"My whole family are immigrants," he says. "My father is from Peru and my mother is from Bolivia, and I don't like how the United States is going right now with Trump." 
Now in his first year studying computer science and mathematics at U of T Mississauga, Estrada says he chose U of T because of the "opportunities and the variety of programs."
Initially, Estrada wanted to major in economics. However, when he started doing research projects in mathematics in high school he changed his mind. He started programming and he found it "very useful and interesting".
Estrada chose to study in Mississauga because, after living in Mexico City, he wanted a different lifestyle .
"Mississauga is a little bit calmer," Estrada says. "You have your space, there are fewer people, nature is beautiful –  I wanted to try a new thing and that is very new for me." 
Estrada says the cozier atmosphere of Mississauga meant the social life on campus exceeded his expectations.
"It is easier to find friends here. If I see my friend in a classroom on Monday, I could see him the next day in the cafeteria," he says.
Estrada says he likes how "everything is well organized" in Canada and he appreciates the opportunities and aids the school provides for students.
"If I have some doubts about a course, I could approach academic advisors or faculty. The building is two minutes away from my residence – they are very approachable and it's easy to communicate."
In his mathematics club, Estrada says they work on challenging math problems and talk about recent research projects.
He also plays intramural soccer and is involved with the machine learning reading club.
 "Every week one person presents either an interesting subject in machine learning or anything they implemented," he says.
"If you choose U of T – any campus, doesn't matter, St. George, Mississauga or Scarborough – you are going to get a lot of great experiences and you will meet with many people from different countries."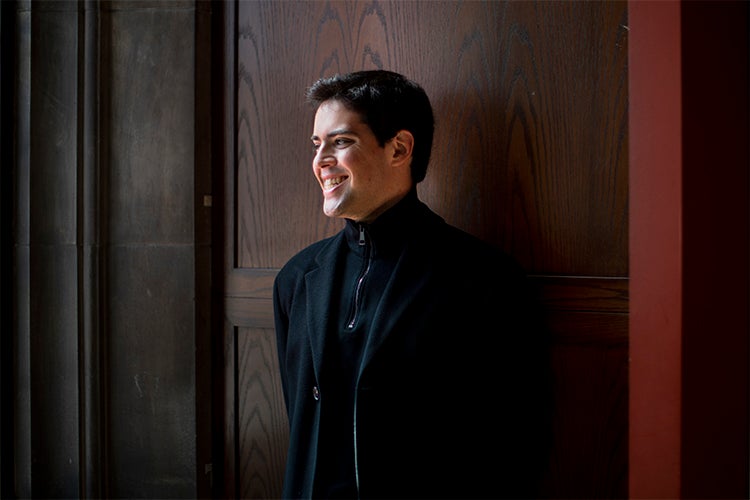 Born in Mexico City, Vinicio Corral Gutierrez attended high school in San Diego – so when it came time for university, his first thought was to try his luck with U.S. colleges.
Then a friend suggested Toronto.
"It was before the 2016 election and my friend said Donald Trump is going to win, we should apply to Canada," Gutierrez says. "I didn't know much about Toronto, but I said, 'Sure,' because I knew that it would be a clean slate."
After spending time in Toronto, he says he really likes the multicultural structure of the city.
"There are so many people from everywhere," he says. "When you go outside, you hear a lot of different languages – I hear a lot of Spanish which is nice."
Now, Gutierrez is in his second year, studying anthropology in the Faculty of Arts & Science, at University College.
He says he chose his college randomly, but is happy with how things worked out.
"University College is really nice," he says. "I really like the people I have met there, and it is one of the best dining halls in campus." 
Finding the right academic focus was more challenging than choosing a college, Gutierrez adds. He began by majoring in physics and mathematics in his first year, but soon realized he needed to make a change.
"I realized that I am very bad at math; I was good at high school math, but not at university math," he says.
He switched to anthropology when he realized his interest lies in human interactions. He hopes to build a career in public relations.  
"I thought that anthropology would be good because it is the study of people, so I got to study all these different cultures and all these different backgrounds which I can apply to my work later on." 
­­­­­­­­­­­­­­­­­­­­­­­­­­­­­­­­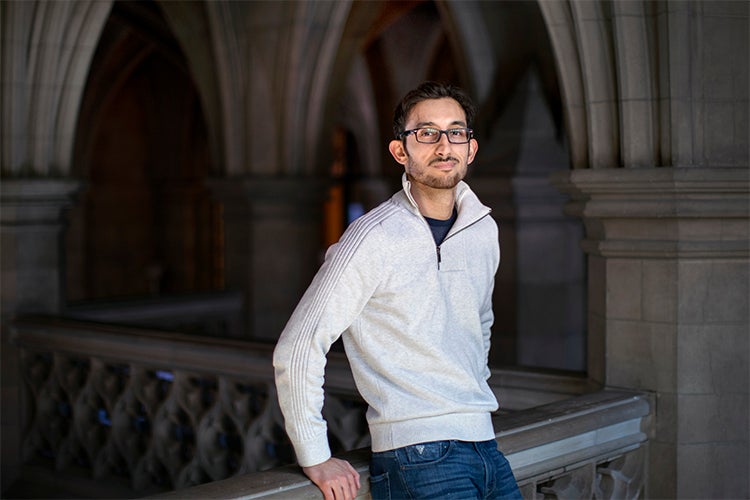 A scholarship from the CONACyT program, supported by the Secretary of Energy in Mexico, brought Arturo Reza Ugalde to U of T for his PhD in mechanical engineering.
Ugalde, whose research is in sustainable energy, completed his undergraduate and master's degrees in Mexico City. At U of T, he works on composite materials for electrochemical applications and the reduction of carbon dioxide into synthetic fuels. 
"Environmental impacts of sustainable energy are something we see everywhere in the whole world," he says.
Ugalde adds he could have chosen to study anywhere in the world with the scholarship, but selected Canada and U of T for very important reasons.
"Mexico is trying to do something about clean energies because Mexico City is one of the most contaminated cities in the whole world – and Canada is really good at [clean energy research]," Ugalde says. "I love everything related to clean energies. I am passionate about it."
He adds that U of T's global rankings helped seal the deal.
Ugalde visited Toronto before making a decision and liked the people and the city. While he knew Toronto was diverse, the level of multiculturalism in Toronto still surprised him once he got here.
"For some reason, I imagined that I was going to be surrounded by Canadian people – but then when I came here, I realized that Canadian people are people from all over the world," he says. "You can go to a restaurant and, all of a sudden, you start hearing six, seven languages at the same time."
Ugalde says U of T provides a variety of options and opportunities to graduate students. 
"We have access to a lot of resources, labs have a lot of good equipment and we also have access to any other department – so that makes easier to work in any type of research," he says.
For any students of any age planning to attend U of T, Ugalde has some advice.
"We Mexicans are really tied to our roots, families and home and that is what makes it harder for us to emmigrate to another country, but when you are here you feel very supported by others – your colleagues and professors – and it makes things easier," he says. "I would love others to experience what it is [like] to be in a world-class university with pretty much unlimited access to resources and equipment.
"Here, for example, students start doing research and internships during undergrad – and I would like Mexican students to experience working in the industry, and really experience research from a very early stage."
Ugalde says he is considering a post-doctoral position at U of T in the coming year.
"I am pretty sure whatever I do here – all the research – it will be really, really beneficial for Mexico when I go back."
International student Cansu Aydemir is an intern at U of T News. Originally from Turkey, she has lived in Toronto since 2012 and is now in her fourth year of studies at U of T where she is specializing in history and minoring in diaspora and transnational studies
UTC