'I've always wanted a degree': One U of T employee's 10-year journey to reach her goal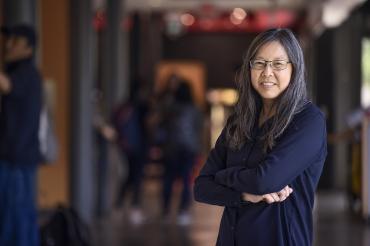 Ten years ago, Marilyn Kwan decided to fulfil a life goal and enrol as a part-time student at the University of Toronto.
Kwan, who works in human resources at U of T Scarborough, already had a diploma from Seneca College and had once started to study at Ryerson University, but left because of family responsibilities. 
But, she says, "I've always felt like that was something left undone. I've always wanted a degree and I've always loved learning."
This week, after a decade of part-time studies, she got her wish, graduating with a bachelor's degree in arts, studying English and history. 
"It's such relief," says Kwan, who is the senior HR consultant and staff development co-ordinator at U of T Scarborough.
"It has been a long 10 years, but I really enjoyed every course that I took."
Kwan says she learned how to juggle all her responsibilites, and working at the university certainly helped.  "If work didn't allow me to eventually take courses during the day and shift my hours, I couldn't have done this," she says.
Many of the courses were at night. "I would leave work at five, race home, make dinner, make sure everything was in order and race back for a seven o'clock class," she recalls. "The class would end at 10 and I'd go home and make sure everything was cleaned up and ready for the next day."
Being a mature student didn't come without challenges. Kwan says it took her a couple of years to strengthen her essay-writing skills, but she received help from the Academic Writing Centre.
But she got through it with help from her manager, colleagues and family, including her two children. For the past four summers, she has made the dean's list. 
 "I think the calibre of the teaching here is excellent," she says. "I've had nothing but good things to say about all of the professors who have taught me. They just had so much to give to every class.
"Everyone's support in my learning was invaluable."
UTSC