'I think the time is right': U of T's Kelly Hannah-Moffat on corrections reform and her new role as special adviser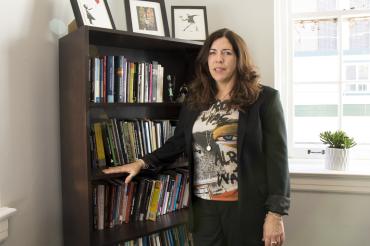 For the last 25 years, Kelly Hannah-Moffat has been researching human rights issues in the correctional system.
The University of Toronto criminology professor's work has taken her to some of the world's most notorious prisons and solitary confinement cells.
Here in Canada, she has testified as an expert witness in the coroner's inquest into the 2007 death of Ashley Smith, the teen whose self-strangulation in custody became a symbol of the justice system's inability to treat the mentally ill.
She has testified in the case of Adam Capay, which made headlines in 2016 after it was revealed that the young Indigenous man had spent more than four years in solitary confinement awaiting trial.
A new role as special adviser on the adult corrections system will allow Hannah-Moffat, who also serves as U of T's vice-president of human resources & equity, the opportunity to tackle reforms head on. The Ontario Ministry of Community Safety and Correctional Services tapped her and Justice David Cole to explore how the province can improve services and conditions in solitary confinement, especially for those with mental health issues.
Hannah-Moffat believes there may be enough momentum now to drive corrections reforms, with high-profile cases emerging in the last few years of people – some with mental health issues, others from marginalized populations – dying or suffering in solitary confinement.
"I think the time is right," she says. "You've got some really high-profile litigation that speaks to the damaging effects of solitary confinement. You have the Ontario Human Rights Commission that is very aware of these issues. You have civil liberties organizations calling for change. You have the public that is appalled by the treatment of some individuals in custody.
"And you have a government right now that is willing and responsive to the need for change."
The appointment comes on the heels of a joint agreement reached earlier this year between the government and the Ontario Human Rights Commission, following the 2013 settlement in the case of former inmate Christina Jahn, who was kept in segregation for 210 days despite suffering from mental illness, addictions and cancer.
"The work of the Ontario Human Rights Commission has been essential and pivotal in driving change, particularly in terms of this appointment and this decision," Hannah-Moffat says.
In the last three to four years, a number of legal cases have been brought through the B.C. Civil Liberties Association and the Canadian Civil Liberties Association that have called for restrictions on the use of solitary confinement, better oversight, more accountability and transparency.
The Jahn settlement led to the Human Rights Tribunal of Ontario in January issuing a consent order requiring that the Ontario government not use segregation for individuals with mental illness in correctional facilities, except under exceptional circumstances.
The order requires the province to take steps including implementing a system that identifies individuals with mental health issues, tracking segregation and monitoring the health of people placed in confinement. The province was also required to appoint an independent reviewer to monitor compliance, and collect and publicly report data on segregation of inmates to ensure that no one slips through the cracks.
Justice Cole will act as the independent reviewer, with a final report expected from him by September 2019. Hannah-Moffat will act as an independent expert on human rights, imprisonment and correctional policy reform for the ministry.
"So part of this role is actually an attempt to ensure that there is more transparency and data available to the public on correctional practices in Ontario," Hannah-Moffat says. "This also happens on a broader context of Ontario looking to make some fundamental changes in corrections and to ensure that a human rights approach is considered alongside correctional concerns about safety and security."
Hannah-Moffat, who worked as a policy adviser on the Arbour Commission inquiry into Kingston's Prison for Women while she was working on her PhD in the mid 1990s, says she became interested in correctional issues after learning about the wrongful conviction of Steven Truscott for the murder of Lynne Harper.
Early on, she had worked in prisons as a recreation officer, and had volunteered with community organizations working with women behind bars.
"It made me very aware of the monumental effects of incarceration on people's lives and not just those who are incarcerated but those who love people who are incarcerated like families and friends," she says.
She also became interested in conflict resolution, mediation, tackling systemic issues leading to high incarceration rates for marginalized populations, and finding alternatives to custody and solitary confinement. She has published three books, numerous articles, served several years as president of the Elizabeth Fry Society and is co-editor-in-chief of the journal Punishment and Society.
"The experience of solitary confinement for many people is it causes a lot of emotional and psychological harm, and it's not particularly effective at maintaining institutional safety or security," she says. "It can lead to depression, loneliness, anxiety, aggression, a wide range of negative effects. It can exacerbate existing mental health issues.
"We really need to invest in thinking outside of the box and finding alternatives and really relying less on such punitive interventions that produce harm."
She adds that people in incarceration have the same human rights as everyone else, yet because prisons are "out of sight, out of mind," we have very little knowledge of what takes place inside.
"A lot of my work has been about accountability and oversight in these institutions because I think prisons need to be vigilant about the rule of law, and they need to be vigilant about the protection of human rights issues because when you're in custody, you're more likely to need those protections," Hannah-Moffat says.
"The human rights afforded to people in custody are the exact same ones afforded to you and me. People can make terrible choices that have terrible consequences, but that doesn't mean they don't still retain the capacity to change."
UTC