'I saw there was a need': U of T grad Entisar Yusuf founded Black Graduate Students Association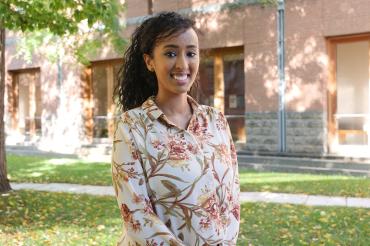 The fall of 2018 was a period of awakening for Entisar Yusuf. That was when she first arrived at the University of Toronto, looking to interact and engage with other Black students. 
Yusuf, who graduates next week with a master's degree in education from the Ontario Institute for Studies in Education (OISE), initially set out to find colleagues that looked like her, starting with the U of T Black Students Association (BSA).
But she says there was something missing for graduate students who might be a little older.
"I felt a little disconnected, a little isolated," she says. "And even though I saw Black people on campus, there was no communication or connectivity – even simple smiles. I didn't know what was happening."
Yusuf's solution? Drawing on her own experiences and her academic work in educational leadership and policy, she founded the Black Graduate Students Association (BGSA) during her first year of graduate studies. The student group provides space and support to graduate students and engages with issues and experiences facing the Black community at the university.
Yusuf says she initially floated the idea of forming a graduate branch within the BSA, but utlimately decided to build her own graduate student-focused group from the ground up.
"I decided to take it upon myself to just put up posters around campus," she says. "And so, I looked up all the graduate programs on campus and I found out there are 19 graduate and professional schools at U of T. I did my best to put up flyers in all the buildings in the downtown area."

She received 12 emails on the first day. "That pushed me," she says. "I saw there was a need, even if it was just 12 people." 

She kept going, putting up more posters and reaching out to graduate student groups. There was plenty of interest. Many of the students she encountered were the only Black students in their programs, cohorts or classes and were feeling isolated – both socially and intellectually.

"The isolation may feel heightened as an international student because you most likely have no one in Toronto – no friends or family outside of campus," says Yusuf. "I was very happy to fill the void."

After seeking group recognition from Student Life, Yusuf called for an inaugural meeting to call for executive committee elections. It was a big moment. About 80 students attended – all passionate about coming together. Yusuf was elected the group's first president.

Fast-forward to today and the BGSA now boasts seven executives and 192 members across the three U of T campuses. It organizes programming for students on and off campus, including panels discussing issues such as representation in politics and STEM. The group has worked with the Toronto Black Film Festival and Big Brothers and Big Sisters.

Yusuf and BGSA's efforts to create a new community on campus hasn't gone unnoticed.

"She takes initiative and tirelessly works to create positive change in her communities," says fellow master's student Iman Togone, who met Yusuf as equity committee chair for the OISE Graduate Student Association.

"The leadership Entisar shows is not small. Through her work she has created an executive team that have provided panels on important topics such as Black mental health as well as workshops hosted by Black professors for students to connect with."

Prior to the BGSA, Yusuf says she never thought of herself as a leader and wasn't active on campus in the same way during her undergraduate studies at Western University.

"It taught me I could be a leader in what I think is a small way," she says. "I am making a difference – as long as it's benefiting others and that following is there."

The experience also enhanced her academic work.

"Leadership was a large component of what I was learning about and it was fascinating," she says. "It was fascinating to read about different ways of leadership and the BGSA gave me some sort of context as to what to apply my learning to. My academic and social stances were kind of intermingled, if that makes any sense."

Yusuf poured herself into everything she did at OISE. In addition to working with the OISE Graduate Students' Association, she served on the Master of Teaching Racial Inclusion Committee (MTRIC) – which works to create a more racially inclusive experience for Master of Teaching students – increasing the proportion of students in the program from historically under-represented communities with a focus on Black and Indigenous students.

MTRIC faculty lead Arlo Kempf, assistant professor in the department of curriculum, teaching and learning, praises Yusuf's work on the committee. "She was a really important part of the MTRIC committee who worked as both an individual and as a student leader and representative to contribute to the development of the report, the activities of the committee and the overall process of understanding and advocacy around racial inclusion in the Master of Teaching program," he says.

"She is amazing."

Togone, a master's student in OISE's department of leadership, higher and adult education, saw Yusuf become a leader and connector for others.

"I have been very impressed by Entisar's continued commitment to providing leadership in equity, diversity, and inclusion," Togone says.

Ann Lopez, an associate professor, teaching stream, at OISE and Yusuf's graduate supervisor, says Yusuf's commitment to learning, equity, social justice and challenging anti-Black racism in education made her stand out as a student.

"I wish Entisar well in whatever path she chooses for the future," Lopez says. "I encourage her to keep on with her advocacy and activism in the fight for justice."

That is the plan. While Yusuf does not know where she will end up post-convocation, she says she has a calling.

"I believe my purpose is to support students to achieve the best possible education," she says. "My purpose is to remove barriers for students, specifically Black students, so they can achieve their education and life goals.

"This will allow students to follow their chosen career path and build safer communities."
OISE