'I'm ready to get started': Two incoming students share why they decided to pursue careers in nursing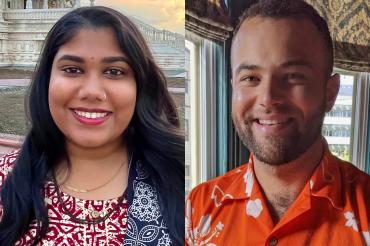 Jinal Patel never imagined she would become a nurse.
While she knew she wanted a career in the health sciences after studying biomedical science at Toronto Metropolitan University, Patel says she was unsure of what that might entail – that is, until she volunteered at the Hospital for Sick Children.
There, Patel says her interactions with patients and nurses soon set her on a path that led her to the University of Toronto's Lawrence S. Bloomberg Faculty of Nursing.
"That environment in the hospital and seeing how the nurses worked caring for their young patients made me want to apply to the nursing program at U of T right away," she says. "So many of those nurses are graduates of this program – and I felt it was absolutely the right choice for me.
"I want to be a nurse. I'm ready to get started."
Patel is one of several first-year U of T nursing students who are beginning their accelerated two-year bachelor of science in nursing (BScN) program this fall – a time when the nursing workforce is facing considerable challenges ranging from staff shortages to the pressures of the ongoing COVID-19 pandemic.
In Patel's case, she says her decision to pursue nursing also stemmed from another part of her life: a keen interest in serving others, inspired by her role model His Holiness Pramukh Swami Maharaj, the fifth spiritual successor and guru of the BAPS Swaminarayan Sanstha.
"Growing up my parents wanted me to experience my religion and culture, and when I went to the BAPS Swaminarayan Mandir in Toronto, I grew inspired by the relief work that H.H. Pramukh Swami Maharaj had done and his selflessness and humility in those acts of service," says Patel. "That is something I want to bring to the forefront of my work as a nurse."
The BScN program at Bloomberg Nursing stood out to Patel for many reasons, including the varied types of learning opportunities offered within the program – from working closely with top-tier research faculty to taking part in hands-on learning in the simulation lab and highly sought-after clinical placements.
While she says she is most excited about working with pediatric patients in acute care settings, Patel is open to the many possibilities available through the program and its placement partners. She is most looking forward to pursuing her studies amid the diversity of downtown Toronto and working, as well as networking, with people from all backgrounds.
Incoming nursing student Conor Chiasson is similarly eager to make a difference in in the lives of patients – particularly people who are HIV-positive, unhoused or who identify as queer or racialized  youth.
He says his decision to pursue nursing stems from a series of life experiences, including studying in U of T's bioethics program. That's where he met his mentor Professor Elizabeth Peter, an ethicist and scholar at the Lawrence S. Bloomberg Faculty of Nursing.
"Professor Peter really encouraged me to bridge my interest in ethics and women and gender studies with nursing and community care," says Chiasson. "I thought that as a humanities student, nursing was not for me – but she saw my initiative and work ethic, and said, 'I think you would be a great nurse.'"
Chiasson's interest in ethics complements his desire to make an impact and to be a leader in community health. He says he has witnessed first-hand the impact of the opioid crisis in Toronto and in rural Ontario. He adds that harm reduction has long been an interest, and that he hopes to continue to provide harm reduction care throughout his career as a community health nurse.
"I want to ensure that any patient I give care to has informed consent, which is of particular importance in harm reduction," says Chiasson. "I want them to understand what the treatment is, where it is going and how it will affect their life goals.
"It is really about encouraging autonomy for these patients in addition to providing care."
Looking forward to his community health placement, Chiasson says he wants to help provide both face-to-face healing and upstream health-care solutions, including in the realm of policy. Upon graduation, he says he plans to work at a safe injection site or community health outpatient clinic, and is also considering travel to Nunavut and the Northwest Territories to learn how he can support care in these communities.
Nursing