A former boxer and fitness trainer, U of T grad finds his calling in academic research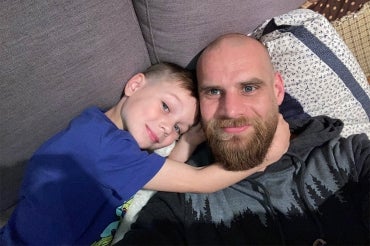 Kyle Farwell devoted most of his 20s to amateur boxing, hoping to one day qualify for the Olympics.
"It consumed my life," he says. "It was all about getting in the boxing gym before work, after work, on the weekends." 
He qualified for the Commonwealth Games, but eventually decided not to pursue a boxing career further. Instead, he turned to personal training, which occupied the next 13 years of his life – and ultimately led him to study kinesiology at the University of Toronto.

"I was still working as a certified personal trainer full time when I started my undergraduate degree," says Farwell, who graduated this week from the Faculty of Kinesiology & Physical Education (KPE). 
He says wanted to learn more about the knowledge and research that underpinned his industry.

"I worked really hard to be good at my job and felt rewarded when my input was required to assess clients and train new staff, but I always wondered, 'Why are we doing things this way?' For example, if somebody's knee goes, how do we know that it's this muscle that's failing, that we need to strengthen? The fitness industry can sometimes speak in absolutes."

On top of having an inquisitive mind, Farwell had personal reasons for going back to school. After undergoing back surgery several years ago, he decided working in a gym wasn't helping his recovery. He also had a young family to think about: a wife and son. 

"Coincidentally, the Ontario government was starting to supplement OSAP (Ontario Student Assistance Program) with more grants towards mature students," Farwell says. "I didn't want to ask myself later in life – or have my son ask me – 'What were you doing when they were giving away free education?' I wanted to have a good answer for that."

So, he applied to kinesiology at U of T and never looked back – even applying to do research over the summer months. 

"I had such a great time in my first year that I didn't want to just take two months off or work over the summer," he says. "I knew I would miss being on campus, so I jumped at the opportunity to apply for undergraduate research."

He worked with Associate Professor Katherine Tamminen from KPE's Sport and Performance Psychology lab to explore athletes' emotional responses to injury. Not only could Farwell personally relate to the research, he says he was soon "hooked on it" and credits Tamminen for helping to launch his academic research career. "I love running into Professor Tamminen and telling her that when I see her," he says. 

Another highlight: a cadaver anatomy dissection project with Assistant Professor David Frost that was co-supervised by Associate Professor Judi Laprade from U of T's Temerty Faculty of Medicine, KPE Assistant Professor Timothy Burkhart and Tyson Beach, now a lecturer in biomechanics at the University of Waterloo. 

"That was an incredible experience," says Farwell. "I was literally working with spines every day. There was so much to take in."
(Image via University of Toronto)
Beyond his coursework and research, Farwell has fond memories the three years he spent living in Student Family Housing on Charles Street. 

"It was such a cool time in our life," he says. "My son Logan had daycare across the hall from one of my classes, so I'd bring him to daycare and then just walk across the hall to my class and everybody got to meet him and talk to him and give him high fives."

The only challenge during his studies was time, "but there's nothing unique to that," he says. "It was hard to balance everything, but the [KPE] offers tremendous resources – you just have to use them." 

His advice to students coming behind him? "Do ordinary things really well. There's nothing unique to me, but what I did well is I showed up to every class. I don't think I missed a class in undergrad. I sat in the front row. I asked questions when I had them. I didn't care what people thought of me, even though everybody was great. I did the readings. Anybody can do that.

"This is a good program and everybody worked hard to get here, so don't take your foot off the gas now that you're here."

Farwell certainly didn't. He's already working on a master's degree in kinesiology with Frost as his supervisor.

"I'm loving it," he says. "Because of the research I did in my undergrad, I already have some data to back up some of the things that I plan to investigate for my master thesis – specifically, how certain constraints affect different movement features in an individual.

"I love the research process, but my real interest is in applying that knowledge to the general population in a meaningful way."
KPE