'I'm just a hard worker': U of T dentistry student Chris Dare scaled the 'seven summits' in his spare time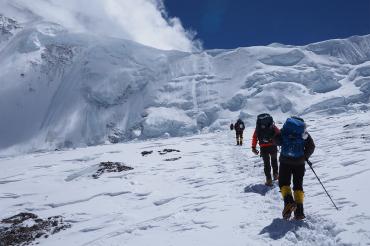 What do climbing the world's highest mountains and practising dentistry have in common? Ask Chris Dare, a periodontology graduate student at the University of Toronto who has scaled the "seven summits" – the tallest peaks on each of the seven continents. 
A third-year MSc candidate, Dare says the parallel between mountaineering and dental school is that you can accomplish anything if you can dream it and work hard.  
"A lot of people think things are too hard and give up too soon," says Dare. "I'm not superhuman – I'm just a hard worker. If you really want something, you have to put everything you have into it – all hours of the day. I believe anyone can do that."
Dare, who grew up in Victoria, wasn't always planning on a career in dentistry. He attended the Royal Military College of Canada from 2001 to 2005 and went on to become an army communications officer for five years, including a 10-month deployment to Afghanistan.
In 2009, his mother came to visit him in during a posting in Quebec City.
"My mom was complaining about missing a few teeth and the discomfort it was causing her," Dare says. "She had tried dentures and other options. She wanted implants, but they were too expensive.
"As she was telling me these problems, I realized I couldn't help her. From that moment, I decided I wanted to be able to help her and other people by becoming a dentist myself."
Dare, who was also working toward a master's degree in business at the time, changed gears and began the doctor of dental medicine program at the University of British Columbia. Following his graduation, Dare worked in the Canadian Armed Forces as a dentist and then began his MSc in periodontology at U of T's Faculty of Dentistry in 2019.
In between his studies, Dare did something only a few hundred people have accomplished worldwide: climbed the seven summits.
He says his passion for mountaineering was ignited during his time in Afghanistan. After working for weeks around the clock, Dare had a two-week break that he used to travel. He had heard about Mount Kilimanjaro and decided it would be a great adventure and challenge to do with his best friend. After conquering his first mountain, he was hooked.
"When I got back to Afghanistan, I thought about all of the things I had accomplished and how amazing it is to test the limits of the human body," says Dare. "You can push yourself and feel like you've got nothing left to give, and then you can squeeze out a little more."
Chris Dare working on MV Asterix, a naval supply ship (photo courtesy of Chris Dare)
Dare says his time spent both in mountaineering and in dentistry have been extremely rewarding. Each experience has taught him the importance of good communication skills, compassion and the need to help others.
"In dentistry, it's essential to have strong communication with colleagues and patients, and compassion to help understand where patients are coming from," says Dare. "It's the same for mountaineering – you require compassion to see yourself in another person going through something extremely challenging. In each situation, the most rewarding feeling is being able to help another person, whether that be a patient or a friend."
Dare says his ability to balance his studies and adventurous lifestyle stems from his belief in making time and squeezing every extra ounce of the day. He notes this sometimes comes at the cost of sleep, which helped prepare him for yet another challenge: becoming a new father. 
Which of his pursuits did he find the most difficult? 
"A new baby, because you can't prepare for that no matter how much you want to. Dentistry and mountaineering is on me, but with a baby, it's another person and a whole different ballgame. It doesn't matter how tired you are, you have a baby and a partner to care for."
Dentistry