'I can't wait to see it': U of T expert helps Ontario prepare for next year's total solar eclipse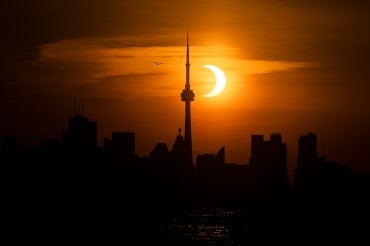 Staff at the University of Toronto are playing a critical role in preparing for the total solar eclipse slated to occur in Central and Eastern Canada on April 8, 2024.
The Ontario Eclipse Task Force, chaired by Ilana MacDonald at the Dunlap Institute for Astronomy & Astrophysics, is working to provide Ontarians with detailed information about eclipse events and safe viewing practices for this rare celestial occurrence.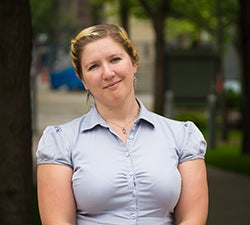 "The physical experience of watching the sun being totally covered is apparently life-changing," says MacDonald, Dunlap's outreach co-ordinator who earned her astrophysics PhD from U of T's Faculty of Arts & Science in 2013.
"I've seen videos of people screaming with excitement when they see a total eclipse. I'm hoping to experience that level of joy this time around."
If the skies are clear, MacDonald will fulfil that dream next spring during what could be the most viewed total solar eclipse in Canadian history. The path of totality soars over major urban centres, tiny towns and empty fields across Ontario – and it won't happen again in the province until 2099.
The task force's primary goal is education around safe viewing. It's a major concern next spring because kids will be just getting out of school when the eclipse begins. In one solution, Dunlap teamed up with Discover the Universe and the Trottier Family Foundation to distribute thousands of eclipse viewers to classrooms across Canada.
"Astronomy outreach is one of Dunlap's main pillars of purpose, and public education is embedded in the institute's DNA," says MacDonald, who as a student won a Fieldus Award for Excellence in Leadership and Research from the David A. Dunlap department of astronomy and astrophysics.
"Outreach has always been important to the Dunlap family and that's a major reason why they've been such prolific donors and champions for U of T."
Other considerations for the 2024 eclipse include community safety and travel. Thousands of people will flock to the best eclipse viewing areas that day, so don't be surprised if there's a traffic jam on Highway 401.
"I could try renting a boat," says MacDonald. "Maybe I'll just sail four kilometres south from the Toronto waterfront – that would be a nice view of everything."
Growing up in rural Quebec, MacDonald was inspired by her father's amateur stargazing. From the first time she gazed upon Saturn's rings through the lens of his telescope, she knew the path she wanted to follow.
While earning her PhD, MacDonald studied ripples in spacetime triggered by two black holes about to crash into each other – otherwise known as gravitational waves. Her research was based on theories prior to the first detection of a gravitational wave in 2015.
She has a tattoo of that wave reading – like a wild cosmic heartbeat – proudly displayed on her right arm, paying tribute to the interstellar discovery.
MacDonald can't say if next year's eclipse will elicit a similar sentimental response.
"The sky gets very dark, and all the stars are revealed," she says. "The birds go quiet because they think it's nighttime. The temperature suddenly falls, and you can see the sun's gases radiating from its horizons. Apparently, total eclipses are a whole other ballgame, and I can't wait to see it."
Arts & Science