Hundreds receive their Canadian citizenship at Convocation Hall ceremony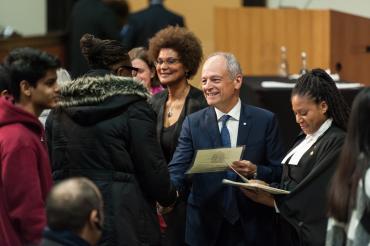 For Professor Maydianne Andrade, speaking at a citizenship ceremony at the University of Toronto over the weekend was a reminder of her own family's experience coming to Canada.
She moved here from Jamaica with her family when she was three years old, and she acquired her citizenship at eight.
"Know that the children around the room are thinking, 'Is this ever going to be over?'" she told the crowd of about 500 people at the ceremony in Convocation Hall on Saturday. "But someday, they'll come forward and say thank you so much for the bravery and the courage it took to come to Canada and become of Canada."
Her parents didn't go to university, Andrade said, but they valued higher education. When people asked why they moved to Burnaby, B.C., her parents pointed to the Simon Fraser University campus on the hill and said their kids would go there one day.
Many years later, Andrade did. She acquired her bachelor's of science, writing a thesis on the effect of artificial selection on behavioural variation within clones of the pea aphid. The self-described "bug nerd" now runs a lab focused on integrative behavioural ecology of mating, chiefly in black widow spiders. She also promotes diversity and inclusion at U of T Scarborough as vice-dean of faculty affairs and equity.
In her lectures on evolutionary biology, she teaches students about adaptation and the benefits of having different types of traits. The same might be said for Canada, she told everyone at the citizenship ceremony. "Different ideas, different cultures, the ability to think in new ways about problems – this is what makes us strong as a nation and as individuals," she said.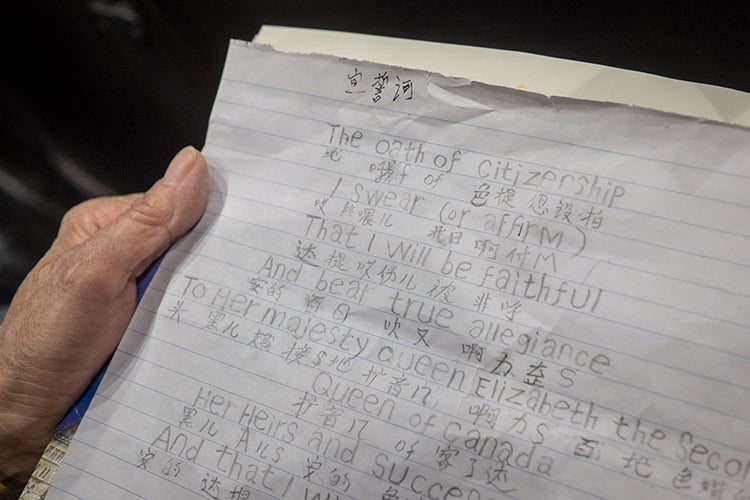 A woman studies the oath of citizenship with a Mandarin translation (photo by Geoffrey Vendeville)
Being a member of the platform party was also personal for Sandy Welsh, U of T's vice-provost, students and a professor of sociology. She came to Canada from the U.S. and got her Canadian citizenship about a decade ago. "The citizenship ceremony was a wonderful experience to share with all the new Canadians," she told U of T News. "All walked into Convocation Hall with different life experiences and they walked out with something they shared – being a Canadian citizen."
After the birth of her second child, she realized that Canada wasn't only her kids' home, it was hers too. Welsh told U of T News she wanted to become a Canadian citizen so her children saw the importance of voting. "We wanted our kids to see us voting and participating in democratic society," she said.  
U of T President Meric Gertler, federal Immigration Minister Ahmed Hussen and U of T Chancellor Rose Patten joined Andrade and Welsh in welcoming the new citizens to the stage when their names were called.
"On this momentous occasion, and reflecting on the turmoil and uncertainty in the world, it is easy to be reminded of how fortunate we are to be Canadians and to live in this wonderful country," President Gertler said. "At the same time, I want to emphasize how fortunate Canada is to welcome all of you as citizens."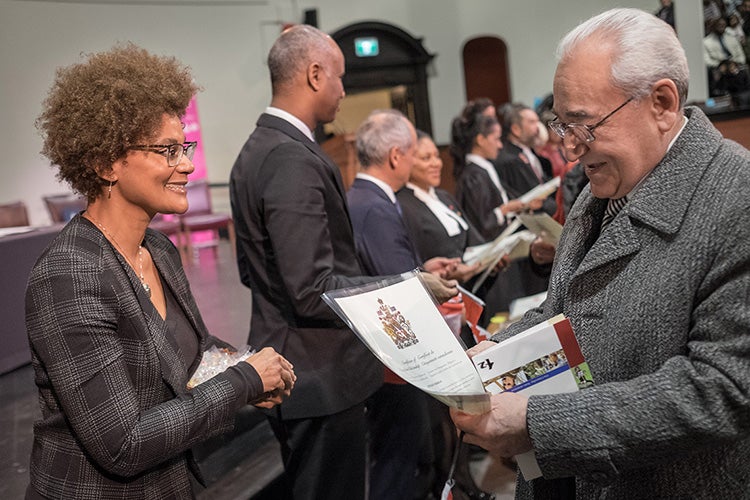 Professor Maydianne Andrade, in the department of biological sciences at U of T Scarborough, was part of the platform party for the citizenship ceremony in Convocation Hall on Saturday (photo by Geoffrey Vendeville) 
Patten, who spent three decades working at the highest levels on Bay Street, said her career took her around the world, giving her a special perspective on Canada.
"In my experience, Canada and Canadians are more than a place and a people," she said. "We are an idea brought to life by diverse communities spread across a vast landscape.
"We have built an inclusive and harmonious society that combines opportunity and prosperity with fairness and compassion."
Among the new Canadians in the hall Saturday were Sue Murphy, from the office of the vice-provost, faculty and academic life, and her husband Cormac. They moved to Canada eight years ago, and it feels like home, Murphy said.
"I most definitely feel a sense of being Canadian after being integrated and being welcomed into this city and culture," she said. 
She's retained her Irish lilt, though she's adopted some Canadian words and expressions. She's substituted "sidewalk" for "footpath," and "garbage" for "rubbish bin."
Going into the citizenship ceremony, she didn't know what to expect. The more than century-old venue added a feeling of grandeur that suited the occasion, she said. She was happy to see familiar faces among the platform party. 
And when she returned to work on Monday, she discovered a little surprise at her desk: Her co-workers had decorated it with maple leaf flags. 
---
U of T News spoke to several other Canadians at Saturday's ceremony about what the day meant to them. 
Muntasir Hossain
From the United Arab Emirates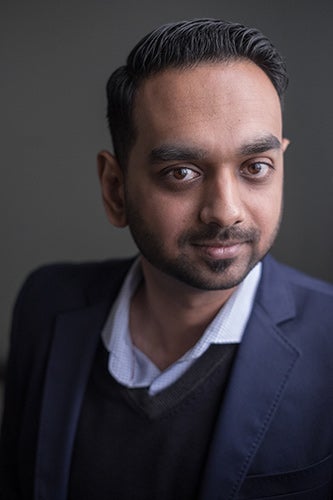 "I had a few friends who had come to Toronto before. They said it's a very nice place, it's multicultural, there are people accepting everywhere. And there are tons of food options. I love Toronto, I love the vibe it has. Go Raps go! 
"I have the right to vote now. That makes a difference... before I wasn't too inclined to research the people who were campaigning. Sure, you hear about them on the news, but now I will invest more of my time to see which candidates align with how I feel. I think that's a huge part of being in a community."
Cara Du Boulay
From Saint Lucia
"I came in here not knowing what to expect. My emotions were all over the place. When I went up to receive my certificate, it made me feel more complete.
"I feel like now I can use this to impact society with whatever skills I have, and to push forward with confidence."
Vandad Akhtarkhavari
From Iran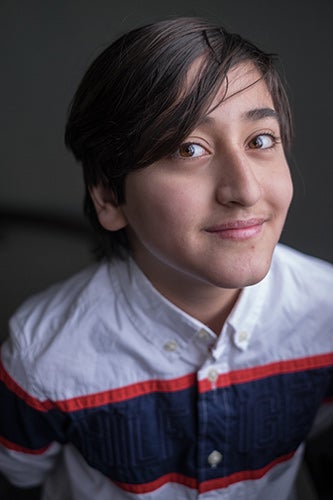 "I don't feel any different now – well, kind of. I don't know how to explain this. It's just exciting and it feels really good.
"This is probably never going to happen but I want to be quarterback for the Patriots or, like, a lawyer."
Demetria Q. 
From St. Vincent and the Grenadines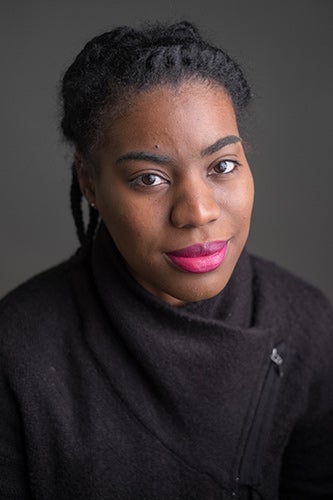 "I had already considered myself Canadian but this was the last step to finally finish the process. I think for me it's really important because every time I travel I'm the odd one out in my family. Everyone has a Canadian passport ... Now that I'm going to be legally Canadian, I won't feel as much like an outsider."
Mike Doherty 
From Ireland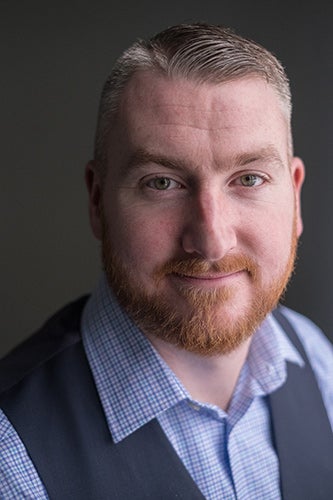 "It means a whole lot to me ... In Ireland there was the recession and all of that. I came here to get a better life for myself. I met my wife here and now I have a daughter, born seven months ago so she's a Canadian. For me to be a Canadian and have us all as a family of Canadians is really good."
UTC