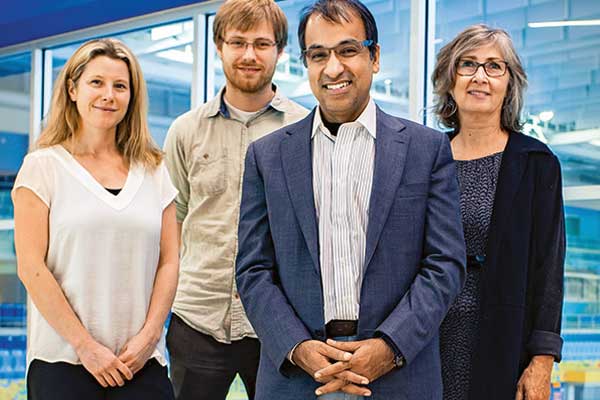 How U of T students, researchers and alumni are working to promote mental health
As U of T responds to a rise in mental health needs, a powerful source of help emerges: students themselves
On Jan. 27, Canadians marked the country's unofficial mental health day – Bell's Let's Talk Day – part of a campaign launched in 2010 to get people talking about mental health.
University of Toronto Chancellor Michael Wilson is one of the country's leading proponents of mental health.
And U of T researchers and faculty members are working to improve understanding of mental health issues and strengthen services and supports both here at home and around the world. 
For example, at the Faculty of Kinesiology & Physical Education, researchers are examining the links between exercise and mental health. One of their most exciting findings so far? Walking for as little as 20 minutes a day can help stave off depression.
Dr. Clare Pain is an associate professor in the department of psychiatry and director of the psychological trauma program at Mount Sinai Hospital. She heads up the Toronto Addis Ababa Academic Psychiatry Program (TAAPP) and has spent the past several years wortking to improve screening and treatment for mental health disorders in Ethiopia.
Dr. Lisa Andermann of the department of psychiatry also works with TAAPP – and spends three weeks each year providing psychiatric care to residents in Baffin Island through the university's Northern Psychiatric Outreach Program.
But it's not just faculty who are leading the way. Students are also creating new programs and initiatives to support their own mental health across the university's three campuses.
With the help of about two dozen student volunteers, University of Toronto Scarborough undergrad Karen Young launched Minds Matter Magazine.
"Really, our magazine is a form of social medicine," says Young. "It's broadening the conversation and looking at mental health from a multi-disciplinary perspective, a multi-faceted perspective, and in years to come, a multimedia-oriented magazine.
"Ultimately, I just wanted to create the right environment for me and for other students on campus."
Grad students are also working to improve their own mental health: a workshop jointly organized by the Ecology and Evolutionary Biology Graduate Student Association and the School of Graduate Studies worked on solutions to mental health challenges faced by grad students such as isolation, competitiveness and imposter syndrome.
And in some cases, alumni and students are coming together to work on mental health. On the downtown Toronto campus, alumni from Trinity College, led by Anne Steacy, raised more than $1.75 million to provide on-site mental health counselling and support services for students. And students themselves authorized an annual student fee to help the College pay for an embedded counsellor.
"That sent a strong message that this is incredibly important to our community," says Rhodes Scholar Kaleem Hawa, who served as chair of the College's student government in 2014-2015 and as undergraduate representative on U of T Provost Cheryl Regehr's Mental Health Committee. 
"This is an amazing example of how the student voice can work in conjunction with administrative champions like Provosts [Mayo] Moran and Regehr to serve as a catalyst for improving mental health service delivery on campus. This will have an impact on Trinity's students for years to come." 
Interested in reading more about mental health research and programs at U of T? The university's new mental health strategy and programs such as the University of Toronto Scarborough's Flourish are all explained in the winter edition of U of T Magazine.
Writer and alumna Cynthia Macdonald interviews Lucy Fromowitz, U of T's assistant vice-president of student life, mental health activist and alumna Erin Hodgson and more.