How U of T's computer science dept. scrambled to give students from Ukraine a 'normal summer'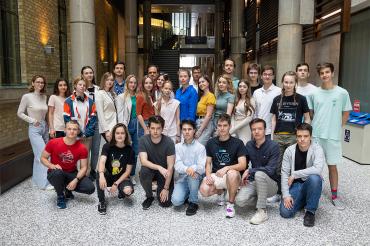 Yuliia Kholodetska's computer science studies at Lviv Polytechnic National University were interrupted on Feb. 24, 2022, but this time it had nothing to do with global pandemic – Russia had invaded Ukraine, throwing daily life into disarray. Similarly, Roman Burakov, a computer science student at National University of Kyiv-Mohyla Academy (KMA), was awoken in Croatia by an early morning call from a friend in Kyiv who reported that missiles were striking across the country.
"It was quite a shock," Burakov recalls. "It's really impossible to imagine that you're here, it's good. But somewhere in Ukraine, your relatives are under attack."
Thousands of kilometres away, faculty members, researchers, students and staff across the University of Toronto's three campuses immediately began working on ways to help. In the computer science department in the Faculty of Arts & Science, faculty members, post-doctoral researchers and graduate students stepped into action by strategizing about ways they could play a role in helping students like Kholodetska and Burakov whose studies were interrupted by the invasion.
Professor Michael Brudno envisioned a program built on the structure of the department of computer science's long-running Undergraduate Summer Research Program – the program's application and matching systems could be repurposed relatively easily and faculty members were eager to contribute by supervising students and contributing their own research funds.
A collaborative effort was soon underway. The computer science department and Vector Institute for Artificial Intelligence agreed to provide additional financial backing. The Centre for International Experience advised on immigration-related considerations. Innis College co-ordinated housing. And graduate students and post-doctoral fellows in the department of computer science interviewed more than 80 student applicants over the course of two weeks, selected from over 200 applications.
"In three months, we were able to pull this off," says Brudno. "It was really a huge amount of work for lots of people across the university to actually make it happen."
Students admitted to the program began to arrive in May, with 21 undergraduate and five graduate students participating in the program. The computer science effort was one of several initiatives at the university focused on supporting students from Ukraine. U of T Mississauga also ran a summer program, the Faculty of Arts & Science led an exchange initiative with (KMA) that was supported of a $3.2-million donation by the Temerty Foundation and U of T supported many of the displaced students with Scholars at Risk awards.
As for Burakov, he joined a wearable robotics group headed by Alex Mihailidis, professor in the Temerty Faculty of Medicine's department of occupational science and occupational therapy and the Institute for Biomedical Engineering, who is cross-appointed to the department of computer science. In that group, Burakov worked closely with post-doctoral researcher Brokoslaw Laschowski, a Ukrainian-Canadian scientist who was also involved in the effort to develop the summer program.
"Imagine you have someone who lost their leg and needs a prosthesis. Our goal is to make prostheses simulate a healthy leg," Burakov says.
Kholodetska, meantime, joined the lab of Professor Marsha Chechik, former chair of the department of computer science and acting dean of the Faculty of Information, to work on a software engineering project related to bonded satisfiability checking.
In addition to conducting research with a faculty member, students in the program also received instruction in professional English speaking and writing and participated in a range of social events. That included a camping trip to Algonquin Provincial Park, where students got an introduction to canoeing and exploring the Canadian wilderness.
"One of the bigger goals was to give the students a normal summer – or at least as normal as possible, given the situation," said Brudno.
Kholodetska concurred.
"We can feel how it is to be a student – to go to university, to attend lecture – because COVID and war have destroyed this ability for us," she says.
Despite having landed in a safer place to continue their studies, Burakov and Kholodetska say the safety of their families and friends still looms large.
Kholodetska receives a push alert on her phone every time an air raid siren is activated where her loved ones reside. She and Burakov both message their families daily.
"At one point, I hadn't heard from my mom for three weeks straight," Burakov says, citing telecommunications outages in Ukraine.
Looking toward the future, Brudno says there's interest in using the model of this year's program to serve the needs of students in other parts of the world who experience similar interruptions to their studies.
"While our program was spurred by the acute crisis in Ukraine, we are re-working the program to be accessible to students displaced by conflict anywhere in the world," he says. "This is not just a moral imperative, but also benefits our community – we get introduced to talented students and researchers, and we can build strong new collaborations with top universities around the world."
Most of the students who came through the summer program are staying in Toronto, including both Kholodetska and Burakov. Ten students have been admitted into the department's graduate program, and many others are continuing as exchange students, taking classes at U of T and continuing their research.
"The program turned out very productive both for my partner and me," says Burakov. "Despite the short time frame, my colleague Alex (also from the program) and I achieved great results from our research, which resulted in the paper submission to the most prestigious robotics conference: ICRA 2023."
Arts & Science