How a U of T researcher discovered a lost Mesopotamian queen – without leaving the library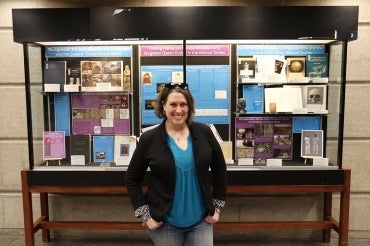 The memory, and remains, of Queen Hama were effectively lost – until the University of Toronto's Tracy L. Spurrier "found" her in a tomb that may have since been destroyed by the Islamic State.
But rather than unearthing the 3,000-year-old Mesopotamian queen on an archeological dig in Iraq, Spurrier, who is working on her PhD in the department of Near and Middle Eastern civilizations, helped identify Queen Hama by poring over old historical texts in a U of T library.
Keen to share Hama's story – and her own – Spurrier created the exhibit on the first floor of Robarts Library after U of T Libraries named her one of four recipients of the inaugural Graduate Student Exhibition Award.
She named it "Finding Hama: On the Identification of a Forgotten Queen Buried in the Nimrud Tombs."
"I felt so special – it's not every day that you win an award," says Spurrier, while seated by the display. "The librarians, I could see their faces were so happy for me, and happy that this project got such a good turnout.
"I teach, and I talk a lot, but it isn't about me – it's about Mesopotamia, ancient mythology, about these stories." 
The award recognizes work, based on papers and projects, that demonstrate an effective use of library resources. Graduate students from all three U of T campuses are eligible, regardless of their discipline.
Two other exhibits, on display until the end of February, were also created as a result of the awards. Sandhya Mylabathula, who is working on her PhD at the Faculty of Kinesiology & Physical Education, was recognized for "Concussions: The 'Impact' of Injury." The exhibit takes a look at the science behind concussions, concussion policies and the recovery experience.
The other winning entry focuses on artificial neural networks in health-care organizational decision-making. It was put together by Nida Shahid and Tim Rappon, who are both graduate students at the U of T Institute of Health Policy, Management, and Evaluation. Their exhibit looks at how health-care organizations are using artificial intelligence to provide more patient-centred, efficient, and cost-effective health care.
"We are proud to showcase the excellent research of the winning students to the thousands of people who visit Robarts every day," says Larry Alford, U of T's chief librarian.
In the case of Spurrier, Alford says the research exemplifies why libraries preserve materials for the future cultural and scholarly record.
"Even if the original monuments are lost, they remain discoverable through researching in our collections," he says.
With a combination of colourful posters and objects, Spurrier's exhibit walks onlookers through the story of Queen Hama's discovery. The left side includes an introduction that explains the scope of Spurrier's research and images of the original tomb, first discovered three decades ago in the ancient Mesopotamian city of Nimrud – near present-day Mosul.
"These are some of the excavation reports of the ancient city of Nimrud, as background," explains Spurrier, as she pointed to a borrowed Mesopotamian sculpture on the top shelf.
Spurrier's curiosity about Hama began when she came across a rarely studied book in her department's rare book archive that was brought to U of T from Baghdad by another professor. The book, published in 2000, contained dense tomb information.
"I was looking through the shelves and I thought 'What is this book? I've never seen this book – Robarts and most libraries don't have it,'" Spurrier says. "I started going through that book and other books and the paleo-pathology report, and I started putting together hints about this one coffin that the report said has a woman and a child buried in it."
By cross-referencing with other reports, including texts in German, Spurrier verified the sarcophagus contained a crown, and that there was no child – most of the bones actually belonged to the woman.
In the middle of the display, Spurrier explains that the queen's body dated back to King Assurnasirpal II in the Neo-Assyrian Period, around 3,000 years ago. Below the text is the republished report on the findings from the tomb's initial discovery – with a cover image of Hama's crown, a golden piece with floral details and winged female genies.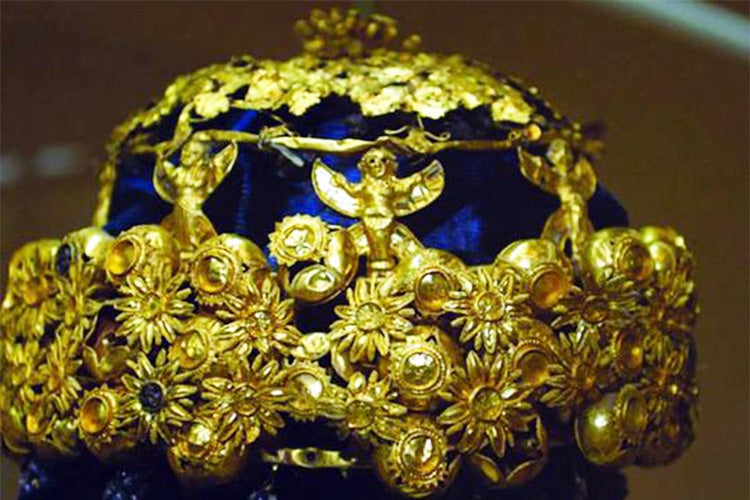 The jeweled gold crown found on Hama's head depicts pomegranates, grapes, leaves, flowers and female genies (photo by Sgt. Noreen L. Feeney, 318th Public Affairs Operation Center, US Army)
Hama's tomb was barely touched because of a curse inscribed on the tomb, with the gold and artifacts rivalling the tomb of King Tutankhamun in Egypt, according to Spurrier.
"I feel very lucky, this is fabulous," says Spurrier, who also teaches at U of T Scarborough. "I have found something amazing in this research that I can share with the world – that I can put my name on."
With modern-day Iraq and Syria embroiled in ongoing regional conflict, Spurrier says she felt a call of duty to uncover the region's past: "Screw ISIS. They think they're erasing this history, but I've already proven you don't need to be at this site to make new discoveries, to find new things. They're trying to anger us."
There are still questions that remain unanswered about Hama, including how she died or why her coffin was placed in this particular spot. But Spurrier was nevertheless glad her exhibit helped to make sense of the findings.
"This has to be more understandable to a general audience," she says. "That's my thing, you have to make things more approachable to the public."
UTC