How a researcher at U of T's Citizen Lab helped ID Capitol Hill rioters: Toronto Star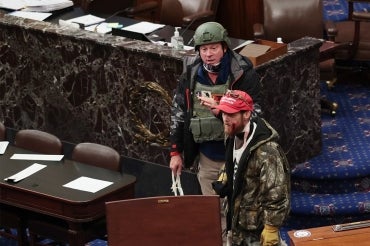 After a mob stunned the world last week by laying siege to Capitol Hill in Washington, D.C., the University of Toronto's John Scott-Railton sought to identify the masked men and women behind the violence.
Scott-Railton, who works for Citizen Lab at U of T's Munk School of Global Affairs & Public Policy in the Faculty of Arts & Science, has been using photo enhancement techniques, open source search techniques and public tips gathered from social media to identify members of the violent throng that sought to overturn the results of the U.S. presidential election, according to a profile of Scott-Railton in the Toronto Star.
In collaboration with the New Yorker magazine, Scott-Railton determined that one individual was a U.S. Air Force combat veteran. Scott-Railton notified the FBI of his suspicions after piecing together the man's identity through the insignias adorning his helmet and body armor, the New Yorker piece said.
Scott-Railton's Capitol Hill project – which has drawn interest from media outlets in the U.S. and around the world, including CNN, USA Today, the Independent and Germany's Bild online –  is part of his broader Citizen Lab work, which focuses on malware, phishing, online disinformation and other digital threats to civil society.
Scott-Railton told the Star that he has been overwhelmed by input from the general public.
"The volume of tips and information now is unlike anything I have ever seen," he said.
UTC