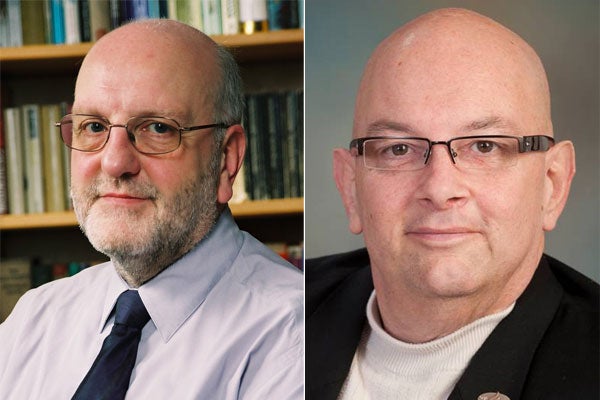 How nurses are shaping the future of health care
Nursing week panel discussion tackles nursing's role in health policy
Nurses are key players when it comes to a patient's health care. And their roles are shaped—and shaping—the politics of medicine in Canada and around the world.
U of T's Bloomberg Faculty of Nursing will mark National Nursing Week 2013 with a free panel discussion by two leading experts in health care on the evening of May 7. 
Sioban Nelson, dean of the Faculty of Nursing, will moderate a discussion on how politics, policy and leadership are shaping nursing across Canada and around the world. (RSVP online here)
Tom Keighley, Frances Bloomberg International Distinguished Visiting Professor will discuss international issues and trends in health care policy and the implications for nurses and the care they provide. Michael J. Villeneuve, Bloomberg Nursing lecturer will focus on the Canadian context and the issues confronting the profession and the future of health care. 
Keighley and Villeneuve spoke with U of T News about their take on the future of nursing.
Can you describe some of the positive elements of nursing's role in politics and health care policy?
TK: One element tying the nursing profession together internationally is a common desire to better the system to benefit patients and their families. Nurses see first-hand the impact of policy and politics on their patients, and are a valuable voice in bringing attention to where the system is thriving and also when it's failing.  
MV: Canadians place an enormous level of trust in registered nurses (RNs); to the envy of every other profession.  Canadians know that nurses have a massive impact on their health, care, safety, quality.
What would you consider to be negative elements?
MV: The flip side is that while Canadians trust nurses, we could do a much better job really engaging and making the best use of those in the nursing profession. We're graduating highly qualified individuals who have drive and passion for their career. What Canada needs to do is effectively deploy, employ and compensate nurses, while encouraging nurse leadership, to continue moving the system forward.
TK: Nursing has always been perceived as a profession strictly involved with compassion and care. In my experiences, nurses never felt they could be political, or that politics had no role in nursing and that couldn't be farther from the truth. Our nursing leadership in Europe is strong but could be even more formidable if nurses had a clearer understanding of the nature of political imperatives and breadth of policy agenda.
Do you think it's possible to change the current direction?
TK: Change is always possible - now more than ever with our nursing professionals recognizing the importance of policy and politics in their everyday work. The stronger the connection between these elements, the better the chance that our nurses will have more professional recognition outside of Europe, and can bring their considerable expertise to transforming health care systems internationally.
MV: For the sake of Canadian health care, we have to keep working on change. Canadians want and deserve exceptional health care and we produce the nurses who are able to do that. It doesn't make sense to invest in creating these highly-skilled professionals without creating the opportunities for them to use that knowledge in the transformation agenda to generate better health, better care and better value.