How the new USMCA strengthens Canada in future trade deals: U of T expert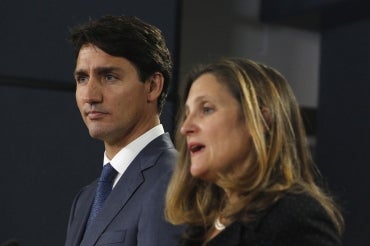 Now that the threat of the NAFTA-pocalypse has lifted for Canada, the Monday morning quarter-backing is well underway on whether the new United States-Mexico-Canada Agreement (USMCA)  is better or worse than trade pact that preceded it.
But beyond the negative headlines, the USMCA probably leaves Canada stronger than it was going into the negotiations when it comes to future trade negotiations.
Three components of the deal, however – those surrounding dairy, the non-market economy clause and the new sunset provision – are worth reviewing for how they change Canadian trade politics both domestically and globally.
Dairy
Canadian dairy farmers have long been largely untouchable politically. That may now be changing, and they should expect to have their market access further eroded in future trade agreements.
In the short run, U.S. President Donald Trump was probably the best thing that ever happened to them. His disdain for Canadian dairy caused Canada to close ranks to support supply management even though it was already under intense scrutiny domestically as well.
An important turning point came with a seminal 2012 research paper. In the report, author Martha Hall Findlay argued that the 1970s version of supply management was outdated, unjustified, was enriching dairy farmers on the backs of middle-class and low-income consumers and interfering with our trade agenda.
When Trump demanded dairy concessions, it not only solidified but calcified support among politicians for a system in Canada that was otherwise losing ground. Nonetheless he probably only delayed the inevitable.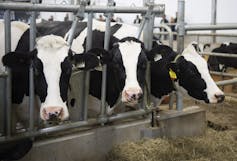 The number of dairy farmers actually in the system is down about 90 per cent since supply management's start in the early 1970s to around 11,500 from about 140,000 in the late 1960s and early 1970s, and they have been a key irritant in nearly all of the country's trade negotiations.
The political power of Canada's dairy farmers rests on a crumbling consensus about the value of supply management. The Institute for Research on Public Policy recently found many Canadians supported dismantling the system.
Nearly every other country has phased out similar supply-management systems. With Canadian concessions in the Trans-Pacific Partnership (TPP) with the Pacific rim, the Comprehensive Economic Trade Agreement with the European Union (CETA) and now the USMCA, it seems likely that supply management is something that will be increasingly bargained away.
Despite the promise of compensation from Ottawa, the industry needs to prepare now for long-term liberalization.
Section 32.10
Probably no section of the new agreement has raised as many eyebrows as Section 32. It compels each of the three parties to notify the others three months before they start trade negotiations with a country defined as having a "non-market" economy – namely, China.
A trade pact's text must be disclosed within 30 days of signing it for review by the other two USMCA partners. If the other two countries don't like it, they can kick that country out of the USMCA.
The provisions have been erroneously reported as giving the United States a veto over Canadian trade policy. It doesn't (but don't take my word for it, go ahead and read it).
Further, given that under Section 34.6, the USMCA allows for withdrawal on six months' notice from any country for any reason at all, the clause is more political than legal. Even without the China clause, if the U.S. doesn't like Canadian trade policy, it can just leave the USMCA under 34.6.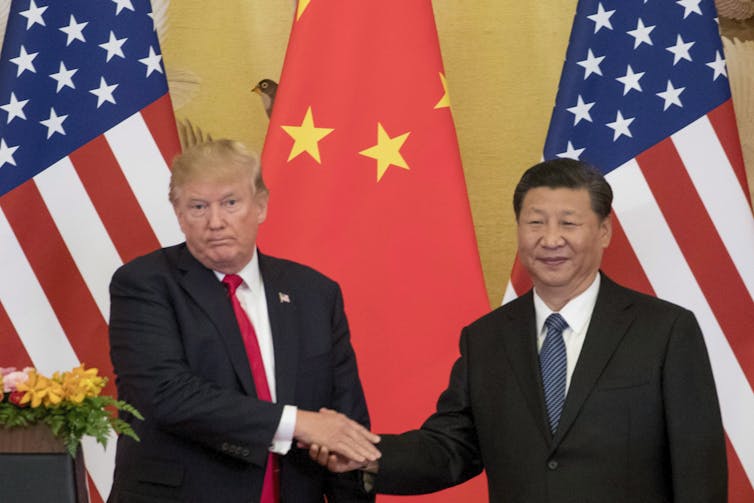 So who wins with this largely symbolic provision? Trump, for domestic reasons. The president can present this to his protectionist base as part of his wider trade war on China. This gives him a win as both the midterm elections and 2020 loom.
But longer term, Section 32 may actually serve Mexico's and Canada's interests more than America's. It symbolically ties the U.S. tightly to the USMCA by linking its global anti-China ambitions to the trade agreement. That's not a bad thing for Canada from a trade perspective.
Why?
'Political cudgel'
Presenting the USMCA to the world as a common front against China – the American intent with Section 32 – means abandoning the trade agreement is now more difficult for the United States. Any future threat to kill the agreement from Washington (and it won't come from anywhere else) can now be framed by supporters of the USMCA as being weak on China.
That will likely reduce any chance it will be scrapped, which benefits Mexico and Canada.
The agreement comes up for its first mandatory review in six years to decide whether it should be extended. At that time, Section 32 provides a political cudgel to Ottawa and Mexico City to remind the United States that the USMCA helps to cement their global leadership against countries it views as strategic competitors.
There was no similar provision in NAFTA, but if there was, there's no doubt it would have helped us at the bargaining table.
Does this risk our relationship with China? Not likely. Remember, we're nowhere near a trade agreement with China anyway given very different perspectives on environment and labour standards.
But that doesn't mean there aren't options, and Canada has every right to pursue an agreement if we want. Mexico has already told China that it doesn't see the USMCA as hindering any future agreements. Canada can and should do the same.
Canada can also use the USMCA to its advantage with China – a country many times its size. While NAFTA was in doubt, Canada was in a weaker position negotiating with China.
Now, by fully securing continental trade, Canada can leverage its more secure position at the bargaining table to more credibly insist on a deal that works for North America.
Sunset clause
The U.S. walked back its insistence on a five-year sunset clause on NAFTA. Now, the USMCA technically expires every 16 years, unless all parties commit to renewing it after the first six years.
Failure to do so will lead to an automatic expiry after 10 years, but with meetings held annually to work out the differences. The parties meet every six years otherwise to review the agreement.
Again, there is less here than meets the eye. The agreement can theoretically be terminated on six months' notice anyway. But this process has some potential upsides for keeping the deal up to date.
Overhaul was long overdue
Drama aside, there was nothing wrong with updating NAFTA. It was time; the agreement was 24 years old and included nothing on topics like the digital economy. Yet there was scant motivation by its three members to overhaul it.
We shouldn't wait for a crisis to break out every quarter century to review our most important trade agreement. The technical expiry dates of the USMCA can and should be used to make regular changes that will keep the agreement fresh and remind all three countries of its importance to their economies.
That means we may end up with a better, more flexible USMCA.
To summarize, the USMCA, while imperfect, is overall a positive development for Canada. It has a number of structural elements that may very well leave us stronger when negotiating trade pacts in the future.

Andrew McDougall is a sessional lecturer at the University of Toronto
This article is republished from The Conversation under a Creative Commons license. Read the original article.
The Conversation