A fake news story that was widely read during the U.S. presidential race
Did the Pope endorse Donald Trump for president? Did Hillary Clinton sell weapons to ISIS? Is Justin Trudeau actually the son of Fidel Castro?  
No. But that hasn't stopped these fictitious stories from spreading via fake news websites. 
In recent weeks there has been an outcry over the spread of fake news and its influence in the U.S. presidential election. This month, Google and Facebook decided to put restrictions on websites peddling fake or misleading content. 
Even university students can be fooled by bogus headlines. That's why University of Toronto librarians have made a concise online guide to verify news stories.
To help students think more critically about news stories, librarians Eveline Houtman and Heather Buchansky added a section to the library's FAQ page with links to myth-debunking sources like Snopes.com, PolitiFact and FactCheck.org. There's also information from Melissa Zimdar's site about spotting fake news. She's an assistant professor of communications and media at Merrimack College in the U.S.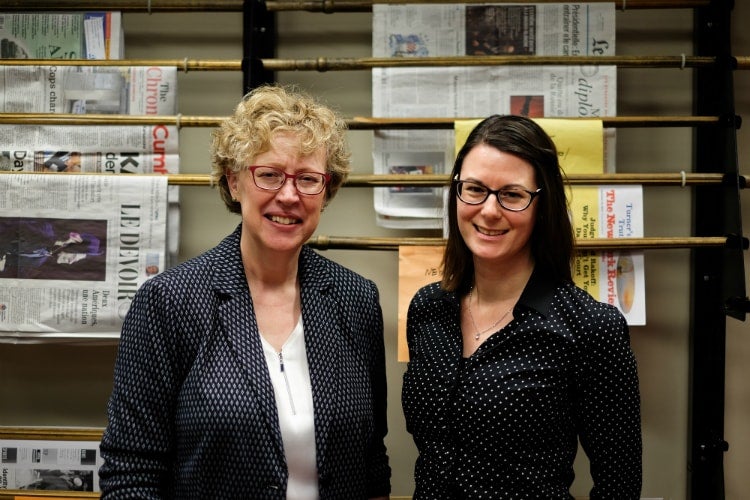 U of T Librarians Eveline Houtman and Heather Buchansky are helping curtail the spread of fake news by giving students online resources to spot bogus news sites (photo by Geoffrey Vendeville) 
"I think anybody can be fooled, to be honest," said Houtman, a reference librarian at Robarts Library and coordinator of undergraduate instruction. "Education levels seem to help, but we deal with a lot of students barely out of high school and they need a lot of help learning to be more critical." 
The librarians suggest checking a website's domain name and About Us page before taking what they say as fact. But that isn't always enough to tell if a news story is genuine. 
One clue is how the story makes you feel, Houtman said.
"Is it evoking outrage in you? Maybe just be careful of having your buttons pushed and being manipulated too easily," she said. 
The guide to spotting fake news was published Friday and has gotten positive reactions, said Buchansky, the university's student engagement librarian.
Jeffrey Dvorkin, director of the journalism program at U of T Scarborough and former managing editor at CBC Radio, says that even if students are highly media literate these days, they can still make mistakes like everybody else.
In a turbulent period and with a tidal wave of information online, readers can be overwhelmed, he continued. "And when they're overwhelmed, they retreat to the parts of the Internet that reflect their own concerns and biases.

Snopes.com disputes fake news stories that President Obama had called for the dismantling of the Statue of Liberty 
He added that media and universities have "an obligation to help sort out what is reliable information and what is not. Because without that kind of awareness, there's a lot at stake."
For example, in the final months of the presidential race, many Americans relied on non-mainstream sources of information, Dvorkin said.
One analysis by Buzzfeed showed that readers engaged with fake election news more than they did with stories from trusted outlets like The New York Times in the three months before election day. 
As a rule, readers should adopt a healthy skepticism of everything, Dvorkin said.
"We need to put all ideas to a certain amount of testing and do it in a comprehensive and humane way."
If a news story sounds too good to be true, it probably is, he advised.