How are cancer patients cared for during COVID-19? U of T's Fei-Fei Lu on the changes at Princess Margaret
Like many other aspects of society, the way doctors care for cancer patients has been transformed in the face of COVID-19.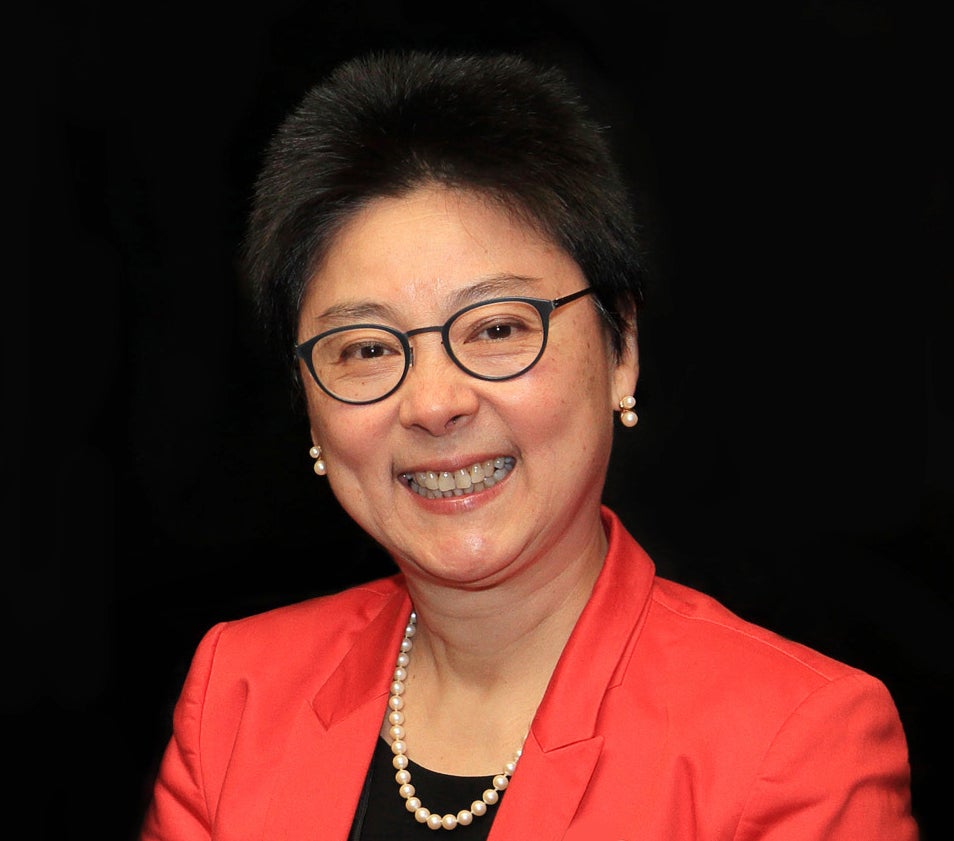 Fei-Fei Liu is the chair of the department of radiation oncology at the University of Toronto's Faculty of Medicine. She is also a professor in the departments of medical biophysics, otolaryngology, the Institute of Medical Science and the department of radiation oncology, and is the chief of the radiation medicine program at the Princess Margaret Cancer Centre.
She also served as the chair of the medical advisory committee at the University Health Network from 2018 to 2020.
Liu recently spoke to Faculty of Medicine writer Ciara Parsons about how the pandemic has affected patients with cancer and how the Princess Margaret Cancer Centre has responded.
---
Can you tell me about your role as the chief of radiation medicine at the Princess Margaret Cancer Centre?

As the chief, I help to manage and operate one the world's largest single-site radiation departments. We have a team of about 350 highly dedicated professionals, and the world's largest collection of cutting-edge equipment for radiation therapy.
At the Princess Margaret, we deliver more than 11,000 courses of radiation to patients each year. 
How has cancer care changed in the face of COVID-19? 

The way we deliver radiation therapy to patients has changed. Traditionally, radiation therapy is delivered to patients over several weeks. The patient comes in every single working day to receive their treatment. 
However, when COVID-19 hit, we started to think about how we could change this process so that patients have less exposure to hospital settings, especially for our older patients.
Emerging research has shown that we can actually treat patients using a much shorter radiation regimen, reducing the total time from the traditional five weeks, down to three weeks, or even one week in some instances.
Our team at the Princess Margaret worked extremely hard on modifying the processes in switching to this shorter delivery method, and have pivoted rapidly because of the pandemic. In mobilizing this approach, we are ensuring that we can still deliver the safest and highest quality radiation care for our cancer patients, but in a much shorter time period. 
What are some ways COVID-19 has impacted patients with cancer? 

One of the major ways COVID-19 has impacted patients receiving cancer care is the deferral of radiation and other treatments. This was done so that we could limit patients' visits to the hospital and keep them at home, unless it was absolutely necessary for them to come in. 
As part of our role, we look closely at the window of time that we have between patients' surgery and the time when we must start the radiation treatments and try to optimize that interval. We need to ensure that care is delivered safely. We also need to make sure it's done within the appropriate time frame and that it will ensure the best clinical outcome for our patients.
This can be challenging sometimes because some patients do not wish to defer their radiation treatments, even if it's safe to do so. I remember having a challenging conversation with a patient who wanted to have all of her radiation treatments over with and was upset at the idea of having to defer her care despite COVID-19. 
However, when patients need treatment urgently, we will treat them immediately. 
What has your experience with virtual care been like? 

Since we are trying to avoid asking patients to come into the hospital for appointments, we have rapidly switched much of our care to a virtual format, and are now having these appointments either through video or phone calls. Right now, approximately 50 per cent of the activities we perform in our clinics are being done virtually. To deliver virtual care, we have been using the Ontario Telemedicine Network (OTN). 

The OTN has been around for a long time, but with COVID-19 there has been a massive shift in our use of this platform. When we first switched to virtual care, there were a few technical issues to work through, but we have now landed on other solutions that also work well for our group of providers. 

Virtual care is a good solution to delivering cancer care under the right circumstances. However, there are some aspects of in-person care that it cannot replace. 

For instance, seeing new patients whom I have never met before and explaining radiation treatment to them is different when this meeting is now being conducted over the phone or on video calls. You cannot see the patients' body language or have as acute a sense of their anxiety or fear. 

I think this is difficult because the rapport that we have built with our patients over time has been developed based on face-to-face connections and this type of virtual interaction, particularly with new patients who have never met us, might potentially impact their sense of trust in us as physicians. 

There can be benefits, though. For patients with whom I already have established relationships, virtual care is proving to be very effective and follow-up clinics are a lot easier for these patients since they no longer have to come down to the hospital.  

What have you learned during the pandemic? 

Pre-COVID-19, we used virtual care mostly for patients who lived far away from the hospital.
Our use of virtual care has increased during the pandemic – in a good way. Everyone sees value in continuing with virtual care and integrating it as part of our routine workflow in a post-pandemic setting. This approach streamlines a lot of the care we deliver, and is definitely easier for patients. 
Of course, there are limitations to virtual care in that phone calls and video visits do not replace the type of in-person care that patients would normally receive. There is no question that for patients who are sick or who need to be examined, in-person care is the only way to properly assess and care for them.
Do you think the pandemic has highlighted any specific issues? 

I think the pandemic has underscored the harsh realities of health disparities. 
With data showing that specific populations have been more affected by COVID-19, it's clear that socio-economic status and geography play a large role in health outcomes. 
In cancer care as well, we sometimes see that patients who are economically disadvantaged might experience more distress as they may not have access to the necessary supports or resources they need. 
Fortunately, at the Princess Margaret Cancer Centre, we do provide access to social supports for our patients who require these services. As a health-care leader, it is really important to me that we address these gaps successfully and ask what we can do to help. 

I also believe the pandemic has shone a light on the racism that exists in our society. At the beginning of the pandemic, we heard a lot of concerns about how COVID-19 had spread globally, which led to a lot of anti-Asian racism. 
As an Asian physician, I want people to know that there are a lot of Asian health-care leaders and front-line providers who have been working extremely hard in treating patients during these very challenging COVID-19 times and trying our best to mitigate the effects of this pandemic on all of our patients.
Medicine