How 3D printing has sped up prosthetic development for people around the world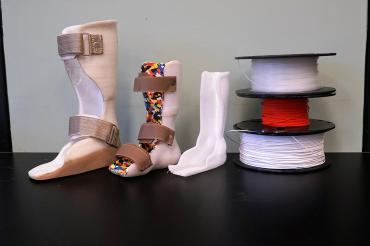 For alumnus Jerry Evans, every job is a custom job.
"The shape of a person's limb is as unique as their signature," he says. "You can't meet this need with mass production."
After graduating from the University of Toronto with a master's degree in civil engineering, Evans pursued an MBA and had a successful 20-year career in the financial sector. Today, he is the CEO of Nia Technologies Inc., a not-for-profit social enterprise that uses computer-aided design (CAD) software and 3D printers to enhance the fabrication of prosthetic devices around the world.
The company collaborates with clinics and hospitals worldwide, including in Canada, Uganda, Tanzania and Cambodia.
The idea was sparked five years ago when Evans was doing consulting work for
cbm Canada
, a charity helping children with disabilities in lower-income countries.
"They were very interested in the possibilities of 3D printing to enhance what they were doing already," he says. "They wanted someone who could understand both the financial and engineering aspects of the challenge."
Evans says that in any given year, approximately 38 million people globally need prosthetics or orthotics, but only about 10 per cent actually receive them. One of the challenges is throughput: It can take up to a week to create a single device by hand, whereas a 3D printer can produce a comparable device in about a day.
With Evans at the helm, the team soon developed a partnership with Professor Matt Ratto, an associate professor in U of T's Faculty of Information and an expert in 3D printing. In 2015, Nia was created to move the project forward, and Evans stepped up to become its CEO, with Ratto as chief science officer.
Using 3D printing combines the speed and reproducibility of industrial manufacturing with the artistry and customization of handcrafted goods. Prosthetics seemed like an ideal application for the technology, but Evans and his team needed to be sure that it was what their partners really needed.
"Before we spent any time in development, we spent a lot of time in prosthetic workshops and clinics in low-income countries," he says. "We discussed what their pain points really were, and how we might be able to enhance their processes."
Nia uses commercially available 3D printers, but the software used to design the devices, known as NiaFit, was custom-made by Nia with the help of another U of T alumnus, Ryan Schmidt. It is based in part on the Unity platform, which is widely used in the gaming industry to represent 3D objects.
"We took a gaming engine and overlaid our own mesh CAD routines on top," says Evans. "The clinicians take to it like ducks to water."
Most software used for prosthetics relies on users sending digital scans away to be manipulated by designers on the other side of the world. By contrast, Nia's solution is self-contained. Dubbed 3D PrintAbility, it integrates both the software and the hardware – scanners, printers, etc. – into a single integrated package.
"We train the users and provide them with remote support, but they do everything at the point-of-care," says Evans.
Nia recently completed a large-scale clinical study in which its technology was benchmarked against existing methods for more than 140 patients in Uganda, Tanzania and Cambodia. Production was much faster using Nia's digital toolchain, and patient-reported comfort and functionality of 3D printed devices, compared favourably to traditionally fabricated devices.
The project is now entering into what Evans calls the "early-adopter" phase, in which the team aims to partner with large foundations to fund the implementation of their toolchain at their partner clinics. By seeding the market in this way, they hope to create a self-sustaining system that will be affordable for clinics in lower-income and higher-income countries alike.
The project has come a long way in the past five years, but Evans will always remember the very first patient, Roseline, whom he first met at CoRSU Rehabilitation Hospital in Uganda.
"She was a shy four-year-old who had travelled for 35 hours with her 12-year-old brother, Cylus," he says.
Born without a right foot, Roseline was fitted with a prosthetic created using 3D PrintAbility. Evans next saw her 16 months later.
"She wasn't shy anymore – she was jumping, hopping, skipping," he says. "I'd like to think that we contributed to her well-being and her happiness."
Engineering