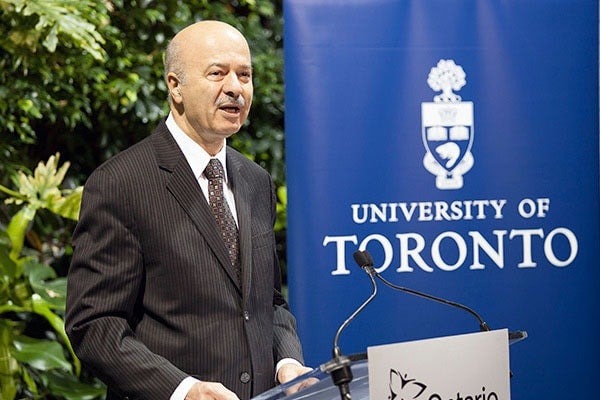 Honouring World Mental Health Day at U of T
On World Mental Health Day, Minister of Training, Colleges and Universities Reza Moridi visited the University of Toronto to announce continued provincial funding of the Mental Health Innovation Fund.
Funding will be extended for an additional two years, with the Ministry inviting a third round of project proposals, Moridi said.
"The Ontario government is proud to renew our support for the Mental Health Innovation Fund, which provides Ontario's postsecondary students with access to high-quality, coordinated mental health care," said Moridi. "The safety and well-being of postsecondary students is a crucial responsibility and this latest call for proposals will lead to new projects, which will help identify mental health issues and connect students to supports faster."
The Fund contributes six million dollars annually to support such projects. One example is the student-led initiative By Students, For Students, said Assistant Professor Marcus Law of the Faculty of Medicine.
In 2013 Dr. Law received funding from the MTCU Fund jointly with the Centre for Addiction and Mental Health (CAMH) for the project, which allows students to use their cell phone or computer to find mental health services such as primary care, specialized mental health or addictions services and peer support through an online, geo-located map.
Today, the project is run by 33 students from U of T, the Ontario College of Art and Design University and Ryerson University in a way that maximizes their talents, creativity and expertise, said Law.
"The work our students do has a powerful impact by de-stigmatizing and encouraging conversations about mental health and wellness and providing people with much needed information about the mental health supports and resources available to them across the GTA," said Law.
Trinity College student Kaleem Hawa sits on an advisory committee for U of T health and wellness services. A strong proponent of mental health initiatives at the university, he discussed some of the student-run programs designed to improve support on campus.
"One of the projects brings together a consortium of student council presidents who work on providing mental health training for student leaders in the community," said Hawa, co-founder of U of T's mental health action team. "This is particularly powerful as vulnerable students often turn to those in positions of responsibility. So it's crucial that our student leaders know how to talk about depression, anxiety and stress, and know what resources are available on campus." 
The next wave of proposals to the MTCU will focus on Aboriginal students, students with addictions, and those transitioning from secondary to post-secondary education, Moridi said.
"Here in our province of Ontario we so often focus on access and affordability to help as many students as possible get a world class post-secondary education. But we must never lose sight of our most important responsibility, to ensure the safety and well-being of all of our students," said Moridi. "It is crucial that we do what we can to ensure that students in this province are getting the support they need to enjoy good mental and physical health throughout their learning journey."
Among those in attendance was Moridi's parliamentary assistant, MPP Han Dong. The occasion marked Dong's first visit to U of T since being elected this summer in the Trinity-Spadina riding in which the downtown campus resides. (See a photo gallery of the event.) 
Lucy Fromowitz, U of T assistant vice-president (student life), said ensuring that strong mental health resources are in place allows students to flourish.
"Our work in developing the Student Mental Health Framework recognizes the relationship between the academic environment and student health, places a focus on promoting health and well-being as a foundation for academic and life success, and ensures we provide a range of programs and services to meet the continuum of student mental health needs."
Michael Kennedy writes about health and wellness for the University of Toronto.