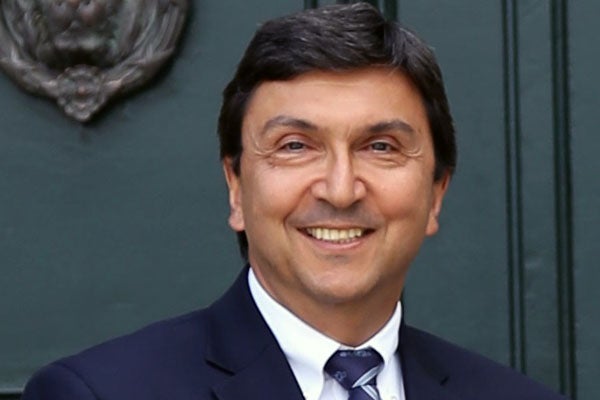 Honouring the accomplishments of David Naylor
C. David Naylor Building at 6 Queen's Park Crescent unveiled
University of Toronto President Emeritus David Naylor, a distinguished medical innovator, scholar and administrator at U of T, now has a building named after him on the downtown Toronto campus.
Naylor is President Meric Gertler's immediate predecessor, serving as president from 2005 until 2013. Gertler and Judy Goldring, chair of the Governing Council, were on hand on Oct. 21 for the official opening of the building, at 6 Queen's Park Crescent.
The address is significant – it is the original home of U of T's botany department, holding "pride of place on Queen's Park Circle since 1931," Gertler said.
"What a perfect location to honour the accomplishments of David Naylor – a person who has made important contributions to higher education, health research, innovation and public policy in Canada," the president told a distinguished group of guests. "I can't think of a better location."
Guests included Chancellor Michael Wilson, former chancellors David Peterson and Vivienne Poy, and Jack Petch and Richard Nunn, both past chairs of the Governing Council. Former Ontario Premier William Davis was slated to attend a reception following the unveiling of the monument on which the name "C. David Naylor Building" was written. 
As an undergraduate, Naylor attended University College. He holds a medical degree from U of T and attended Oxford as a Rhodes Scholar. He studied internal medicine and clinical epidemiology at Western before joining the Faculty of Medicine at U of T, becoming a full professor in 1996. He was appointed an Officer of the Order of Canada in 2006.
Naylor told the gathering that he was "deeply humbled by this honour." Both he and Gertler mentioned another significant aspect of the address. It is a "special corner" as the building is near: MaRS, established during Naylor's term; the provincial legislature; the Leslie Dan building and the Fitzgerald Building, named after the founder of the Connaught Laboratories. 
Naylor said those buildings and the Medical Sciences Building "are very familiar touchstones," going back to his days as a medical student in 1974. The former president said that while he is grateful for having the building named after him "I firmly believe it is I who has to thank the University of Toronto for all it has done for me in my life."
The university gave him, Naylor said, the chance to work with "a truly remarkable group of people."
Goldring said Naylor "devoted a great deal of time paying tribute to others" as president. He was known for "bringing the best out of others. He inspired us to do better."
Even during a time of "profound financial crisis," U of T made "some of its biggest strides," under Naylor's guidance, Goldring said. 
The building at 6 Queen's Park Crescent is the former home of the Tanz Centre for Research in Neurodegenerative Diseases. Its director, Dr. Peter St George-Hyslop, is internationally known for his research into Alzheimer's disease.