Honorary degree recipient Mark Tewksbury swam for gold, fought for justice – and had some fun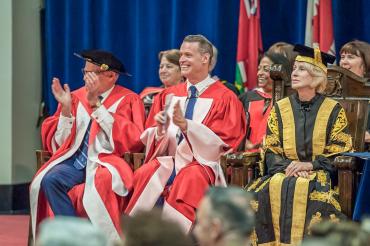 An Olympic champion. A broadcaster. A human rights advocate. An inductee to multiple halls of fame. Mark Tewksbury has had tremendous success inside and outside of the swimming pool.
"I've had such a fun life," he told the National Post in 2012.
Tewksbury's many achievements are being recognized on Thursday by the University of Toronto with a Doctor of Laws, honoris causa, for "his excellence in sport, as a record-breaking swimmer, athlete advocate, LGBTQ human right advocate and role model."
As a swimmer, Tewksbury was decorated. A winner of 13 national championships and four Commonwealth Games gold medals, Tewksbury achieved Olympic glory in 1992 by winning the gold medal in the 100-metre backstroke in Barcelona, Spain.
The achievement landed Tewksbury on the cover of Time magazine.
Watch Mark Tewksbury deliver his remarks:
Tewksbury later said he felt empowered at those Games because, privately, he came out as gay to a trusted coach. He told CBC Sports in 2018 the decision made all the difference to his personal integrity while competing. So when Tewksbury retired from competition and shifted his focus to motivational speaking and advocacy, he fought to make a difference for others.That included providing counsel to elite athletes who had not yet come out. 
His efforts made waves. In 2008, when France first introduced the first declaration to decriminalize homosexuality at the United Nations, Tewksbury addressed the General Assembly on human rights. In Canada, Tewksbury witnessed changes in the Canadian Olympic Committee Charter to ensure LGBTQ athletes are guaranteed freedom from discrimination, and real discussion at the board level about issues of inclusion.
But Tewksbury's LGBTQ trail-blazing also came at a personal price.
He made front-page headlines when he publicly identified as gay in 1998 – he was the first Canadian Olympian to come out – but it cost him a six-figure motivational speaking contract. When he spoke out about corruption at the International Olympic Committee in 1998, Tewksbury left the Olympic movement and didn't return until 2012, when he became chef de mission of the 2012 Canadian Olympic Team.
Since retiring from competitive swimming, Tewksbury has worked to empower swimmers across Canada through the Mark Tewksbury Junior Swim Bursary program, which he established in 1993. He is an active spokesperson for the Children's Miracle Network, AIDS Walk Canada and the Special Olympics, where he is the chair of its advisory board.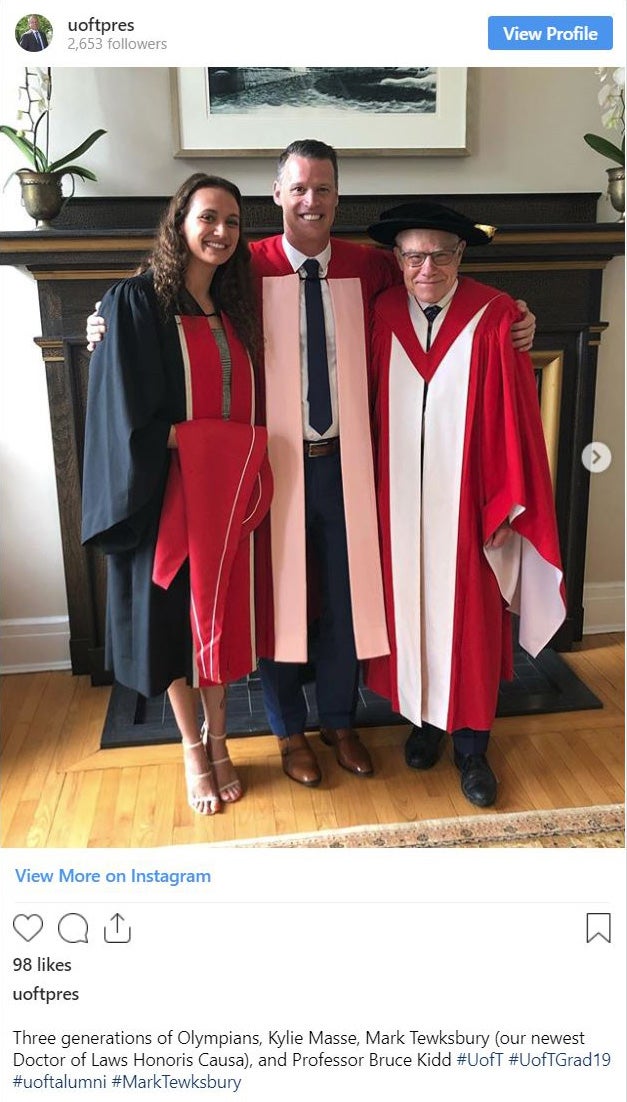 He's also had his share of fun. In addition to doing colour commentary for CBC Sports, he hosted the first season of How it's Made, a TV series that showed how everyday items are manufactured. 
While boosting LGBTQ inclusivity in sports has been a slow process, Tewksbury is confident progress is being made.
"What's cool is when history happens in such little, tiny, incremental steps, sometimes you don't see it and it feels useless and hopeless," he told CBC Sports in 2018.
"But when you have enough time – like 20 years – the steps start to add up and make some sense."
UTC