Honorary degree recipient Judy Goldring urges grads to 'give back and engage actively in your community'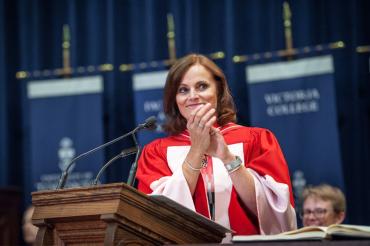 From the campus buildings that bear her family's name to her years overseeing academic, business and student affairs, Judy Goldring has helped build the University of Toronto into the world-class institution it is today.
One of Canada's most influential business leaders, Goldring has given back to her alma mater through significant philanthropy and nine years of service on U of T's Governing Council, including three as chair.
"It has been a great honour to serve the university," Goldring told U of T News in 2017 after a commemorative portrait of her was unveiled.
At U of T's Victoria College convocation ceremony today, Goldring will receive a Doctor of Laws, honoris causa, "for her service to the University, as an unwavering leader with a commitment to access and inclusion in governance, and as a champion for students."
Watch Judy Goldring deliver her remarks:
Goldring earned a Bachelor of Arts in economics at Victoria College and went on to study law at Queen's University. She was called to the bar in 1993 and practised law before joining AGF Management Ltd., a global investment firm founded by her father and U of T graduate, C. Warren Goldring.
The firm now manages nearly $40 billion in assets. 
At AGF, Goldring led the Women's Alliance Network, which provides women at the firm with opportunities to support one another. In 2015, the Women's Executive Network named Goldring one of Canada's most powerful women.
Goldring joined U of T's Governing Council in 2007, ultimately going to serve as vice-chair and then chair. A source of pride for her, she told U of T News in 2016, was the amendment to the University of Toronto Act to allow non-Canadians to serve as members of the council.
Goldring and her family have donated extensively to the university to enrich the student experience and support research. She and her brother Blake, who were commuter students in the 1980s, supported the renovation and expansion of a student centre at Victoria College, where students now socialize and unwind.The Goldrings also made a catalytic donation to establish a state-of-the-art athletics facility on the downtown Toronto campus. Completed in 2014, the Goldring Centre for High Performance Sport comprises a 2,000-seat facility for basketball, volleyball and other sports, a strength-and-conditioning centre, research labs and sport medicine clinic.
The symbolism-rich portrait of Goldring that hangs in Governing Council Chamber speaks to these and other contributions to the university. She's pictured in the Goldring Centre standing at the foot of a staircase representing the future. Next to her is a gown and chair, a nod to her years of leadership on council. 
Goldring once told U of T News that one of her favourite details in the painting is a discrete splash of pink.
"The neon pink that sticks out is a T-shirt that was given to me by the provost, Cheryl Regehr, which says: 'Behind every successful woman is a tribe of other successful women who have her back.'
"To me it's representative of the wonderful support I got from the administration, from the Governing Council members, from the president, the president's office and everyone at the University of Toronto." 
---
Judy Goldring's message to the Class of 2019
Receiving an honorary doctorate of laws from the University of Toronto has had me reflecting upon my time spent at U of T.  When I graduated, I was the third generation in my family to have done so –following in my grandfather and my father's footsteps. Three of four of my siblings also graduated from U of T, and I am also proud that three of my nieces have attended school here as well. 
My time at U of T was extraordinarily memorable. For most, going to University is a very formative time, and one that will shape you as you move forward.  For the Class of 2019, your experience at U of T now forms part of who you are and the friends you have made here will forever be part of your broader social community.
  
My father instilled in me a strong sense of giving back. For me, one important way of giving back came with the honour of sitting on U of T's Governing Council for nine years – three of which I served as Chair. This proved to be a tremendous experience and I would encourage you, the Graduating Class of 2019, to think about how you can make an impact, give back, and engage actively in your community – however that is defined for you.   
 
It is through these experiences that you will not only learn, but be challenged, and rewarded through personal growth. You will also form great friendships.  In my experience, it is not only our connections to our loved ones and friends, but those to our communities, including communities like U of T, that truly enhance who we are. They help us unleash our full potential. That may explain why one of my favourite sayings is:  "I am because of who we all are."
And finally, I'd like to stress the importance of engaging actively. Graduates, you are the first generation of digital natives where so much of your social engagement is done in online communities.  While this technology has opened the world to you, it is sometimes hard to know if the online persona that is portrayed is the true individual. When you engage actively, you are not waiting to be validated by "likes" on Instagram, or "streaks" in Snapchat.  You are experiencing it first hand and directly. It is richly rewarding and feeds the soul. 
 
So, to the graduates of 2019, go forward to live actively in each moment, with the courage to embrace the challenges and opportunities that stretch you, and the courage to truly be you, shaped by all that you have experienced.
UTC