Honorary degree recipient Carlo Fidani made a lasting impact on local health care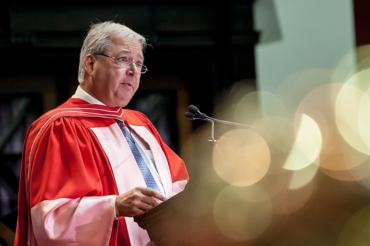 Carlo Fidani's generosity is making a difference in education, health care and research.
The chair of Mississauga, Ont.-based Orlando Corp., which owns, leases, and manages over 40 million square feet of industrial, office and retail property, has helped spearhead the growth of health care institutions throughout the Greater Toronto Area.
In 2010, Fidani made a $10 million pledge – via the FDC Foundation, where he serves as president – to the University of Toronto Mississauga and U of T's Faculty of Medicine. The gift laid the foundation for the Mississauga Academy of Medicine and inspired broad support from the community, including a $12 million gift from philanthropist Terrence Donnelly to complete the project.
"A well-placed gift made at the right time and to the right opportunity can have an exponential effect on donors and institutions," Fidani told the University of Toronto Mississauga Magazine (now M Magazine) in 2011.
Fidani today receives a Doctor of Laws, honoris causa, from U of T "for his "outstanding service for the public good, through his impressive leadership and vision, in education, health care and the sciences."
Watch Carlo Fidani deliver his remarks:
Fidani's leadership and vision was felt immediately when the Mississauga Academy of Medicine welcomed its first medical students in 2011. Considered the cornerstone of U of T Mississauga's Terrence Donnelly Health Sciences Complex, the academy adds about 54 doctors to Ontario with each graduating class. A 2013 economic impact report by consulting firm KPMG said the academy "addresses a pressing need for more physicians, including more family doctors, in the Region of Peel."
"It's gratifying to be part of something that's certain to have a direct impact on the community," Fidani is quoted as saying on U of T's Boundless campaign website.
"The Academy will contribute to the growth of local hospitals and encourage young medical students to work where they trained."
Fidani's philanthropic vision didn't stop there. In 2015, Orlando Corp. launched a gift-matching initiative on behalf of the William Osler Health System. The following year, the company gifted another $7 million for cancer research at the U of T Mississauga campus.
He's also a major donor to the Centre for Addiction and Mental Health, Princess Margaret Hospital and Credit Valley Hospital, where the cancer centre carries his name.
Fidani's philanthropic achievements are matched by his success in the corporate world. Orlando has a reputation for building quality and customer satisfaction, and is at the helm of a number of LEED-certified projects. Some of its clients include Amazon Canada, Walmart, Oracle Corporation and the Royal Bank of Canada.
In 2017, Fidani was named to the Order of Canada for his contributions to medical research and service to the country.
UTC