Historic U of T convocation ceremony to 'recognize strength and incredible talents' of Class of 2020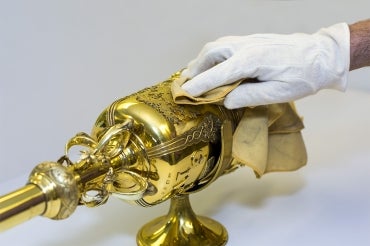 In just two weeks, more than 15,000 University of Toronto students will graduate at a convocation ceremony unlike any other in the university's 193-year history.
The "virtual" proceedings – necessary because of public health rules preventing large gatherings during the pandemic – will be viewed on laptops, smartphones and other devices as graduating students, families and friends tune in from the safety of their homes around the world.
The history-making Class of 2020 consists of 15,508 students hailing from 100 different countries on every continent except Antarctica. Together, they will be granted 75 different types of degrees.
"One of my great pleasures as president of U of T is being able to congratulate each new graduate personally as they as walk across the stage in Convocation Hall," said U of T President Meric Gertler.  "While that's not possible this year, I want all of our graduates to know the university is immensely proud of your achievements. We are eager to bestow the degrees you worked so hard to earn, especially under the very difficult circumstances of the last few weeks of the winter term.
"We look forward to celebrating your achievements when it's once again safe to do so."
U of T's virtual event, at which the president will present the Class of 2020 to the chancellor who then will confer the degrees, will be made available for public viewing as of noon on June 2 at U of T's Convocation Hub, where it will be archived for several weeks for those who are unable to view it that day. Students are encouraged to connect with friends, family and fellow graduates on social media, using the hashtag #UofTGrad20.
Meanwhile, academic divisions have begun preliminary planning of in-person celebrations for their graduates when it is once again safe to gather in groups.
Aaron Tsang is one of many working behind the scenes to make this virtual convocation memorable for graduating students who have worked long hours to earn their degrees amid an unprecedented global health crisis.
"I feel a sense of duty," said Tsang, a two-time graduate of the Faculty of Music who was commissioned to produce original music for the ceremony – a piece that conveys both the gravitas and joy of the occasion.
"It's a very special opportunity, but it's not about me. It's about being able to give something back to the school and to students during these very difficult times."
Tsang, who has produced music for everything from music videos to video games, plans to set an uplifting tone for the virtual convocation event with the feel of an anthem. The original score will accompany music that will be played by the university organist and the Toronto Symphony Orchestra's recording of "O Canada."
Rose Patten, U of T's chancellor, said the new musical composition is just one of the ways in which the university has sought to celebrate the class of 2020 and their resilience in the face of COVID-19, which required students to go above and beyond the normal – and not insignificant – challenges of earning a post-secondary degree from one of the world's top universities.
"It's very important to all members of the U of T community that we recognize the strengths and incredible talents of our students and everything they overcame this year," she said. "They really rose to the occasion."
At Simcoe Hall, Silvia Rosatone, director of U of T's Office of Convocation, organized the effort to print, package and courier tens of thousands of diplomas and ceremony booklets to all corners of the world, so that students will receive them by the end of June. The list of destinations reads like a roll call at the United Nations, running alphabetically from Antigua and Barbuda all the way to Zimbabwe.
In addition to their parchment, each U of T graduate will receive a convocation booklet that lists their name and program, details about the virtual ceremony, messages from university leaders, and is embellished with the U of T crest and its Latin motto, Velut arbor ævo (As a tree through the ages).
The virtual convocation event will incorporate several of the university's most cherished traditions. President Gertler and Chancellor Patten will preside over the ceremony wearing formal regalia and standing two metres apart. They will be accompanied by Claire Kennedy, chair of U of T's Governing Council, who will be serving as bedel, the individual who leads the procession carrying U of T's gold-plated silver mace, a symbol of the university's history and authority. There will also be a convocation speaker.
"Our adapting to these extraordinary times and challenges that we are all facing has resulted in our celebrating differently this year," said Patten. "But, while we cannot be together in person right now, the fundamental elements of convocation remain unchanged – the joy we share with our students as they reflect on their tremendous accomplishments and the deep sense of pride we share with their families in their success."  
"It will continue to give us such great honour and privilege to confer your degrees and recognize your milestones."
Wherever students are when they tune in to the ceremony, whether they dress up for the occasion or watch the proceedings in their pajamas from a different time zone, Bryn MacPherson, assistant vice-president in the Office of the President and chief of protocol, hopes they will connect with family and friends to mark one of life's important milestones, the end of one chapter and the beginning of another.
"It is an important occasion about honouring our students on their special day," she said. "We hope they will find creative ways to celebrate with their loved ones and supporters– and we will thinking of them and cheering them on."
UTC