'A historic moment': National charter on anti-Black racism, Black inclusion in higher ed moves forward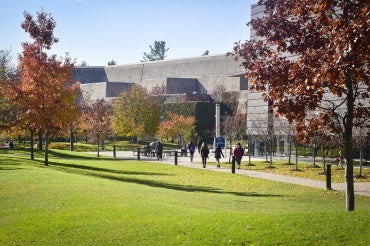 Canadian universities and colleges are moving closer to creating a national charter aimed at dismantling anti-Black racism and fostering Black inclusion in the post-secondary sector.  
The charter is an outcome of the first National Dialogues and Action for Inclusive Higher Education and Communities held in October 2020. More than 3,000 members of the higher education community – and more than 60 partner institutions across Canada – came together for two days of conversation focused specifically on anti-Black racism and Black inclusion.
The charter document, called the Scarborough National Charter on Anti-Black Racism and Black Inclusion in Canadian Higher Education: Principles, Actions and Accountabilities, will be a national plan of action that participants agreed was an important step to fight structural racism, according to Kelly Hannah-Moffat, the University of Toronto's vice-president, human resources and equity. 
"It's been a privilege to work alongside post-secondary partners from across Canada on this important document," Hannah-Moffat says.
"Addressing something as complex as systemic racism requires insight from a diversity of voices, and we're proud that's been the case in drafting this charter. The charter will inform our ongoing work on inclusion and inspire new initiatives at the university."
The charter co-creation process included input from people in the post-secondary sector and other partners across Canada. Drawing from participants' perspectives, insights and ideas, the national dialogues advisory committee, consisting of members from the post-secondary sector across Canada, drafted a charter that is currently being reviewed by partner institutions for their feedback.
Members of the U of T community can provide feedback on this form. 
Once the charter is finalized, there are plans to establish an association of institutions that will meet on an ongoing basis to sustain the commitments made in the charter.
"There's been good discussion and debate about the charter's contents, but it's been done in a spirit of co-operation and working towards a collective goal," says Robert Summerby-Murray, president and vice-chancellor of Saint Mary's University in Halifax.
One important lesson Summerby-Murray says he has taken away from the National Dialogues is the need to shift the conversation away from "equity-seeking" to "equity-deserving" – a phrase now being used at Saint Mary's.
"Understanding that distinction is a recognition that equity is something individuals deserve," he says. "We all have a role to play to step away from being equity gatekeepers and instead focus on what it means for people to deserve it."
Annette Trimbee, president and vice-chancellor of MacEwan University in Edmonton, hopes the charter can be a guidepost to help institutions work towards their own equity, diversity and inclusion goals, and help them to be held accountable for the goals they have set.                                                                            
She says local context and place matter, and that some institutions are further along in advancing the goals of the charter.
"I think the charter can serve as a North Star in guiding policies and strategies at universities and colleges across Canada," Trimbee says.  
She adds that both MacEwan and the University of Winnipeg, which she previously led, have made reconciliation with Indigenous Peoples a priority. However, she stressed that the National Charter is something that should work together with those efforts. 
"These pieces work together. Inclusion is inclusion, and racism is racism – whether it's anti-Black or anti-Indigenous racism. It's important to be mindful that this charter will only add to the work being done on reconciliation."
Barrington Walker, associate vice-president, equity, diversity and inclusion at Wilfrid Laurier University, hopes the national charter can inspire positive change in a similar vein as the Truth and Reconciliation Commission (TRC) Calls to Action, which seeks to address Canada's past wrongdoings and conflict with Indigenous Peoples.
He says the charter should provide a blueprint for addressing anti-Black racism in the Canadian post-secondary sector.
"I hope that universities and colleges will no longer be in a position where they can throw up their arms and claim they have no idea how to address these issues on their campuses," he says.
He's also optimistic that other non-partner institutions that didn't take part in the National Dialogues can use it as inspiration for work on their own campuses.  
"This experience has been unparalleled in my personal and professional life, and it's been an absolute privilege to take part," he says. "I also think it's a historic moment for Canadian post-secondary education, and one that I hope will leave a lasting impact." 
UTSC