'Highly conceivable' Trump will be stronger in 2018: David Frum discusses new book at U of T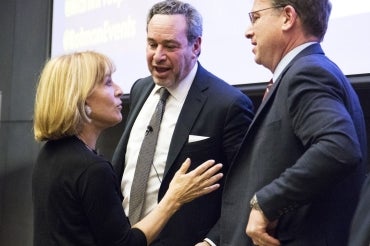 Toronto native and former George W. Bush speechwriter David Frum calls U.S. Special Counsel Robert Mueller's probe into Russian interference in the 2016 U.S. presidential election one of the biggest scandals in American history. But he says he doesn't expect any high profile indictments – of President Donald Trump, or anyone in close proximity to him – to come out of Mueller's investigation.
"To sit down to take a meeting with a foreign intelligence agency and say how can we work collaboratively to win this election against an American opponent – that is a great scandal," Frum said.
Speaking at an event at U of T's Rotman School of Management, Frum predicted we will see a series of indictments on technical infractions of election law and electronic communications law.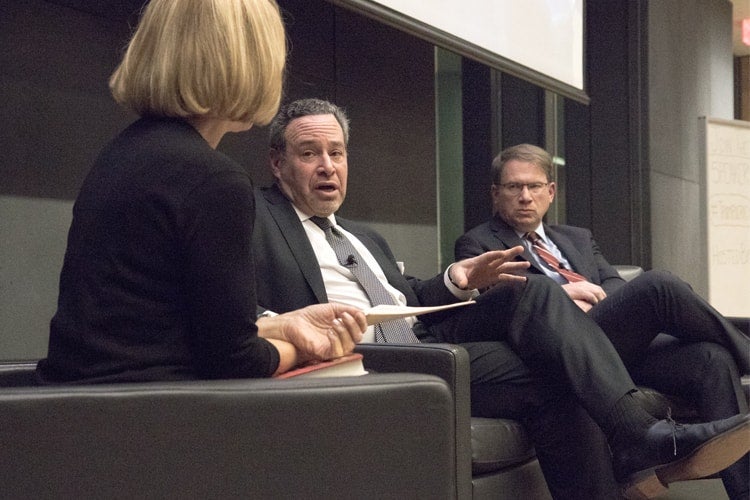 When asked about how much Trump knew about the meeting with Russian officials, Frum said, "Trump's son did. Trump's campaign manager did it. And if you believe Donald Trump Jr. didn't share the information – well we don't know he shared with his father – but it seems highly unlikely."  
Known for his role in creating the phrase "axis of evil," Frum appeared at the Jan. 24 event to talk about his newly released book, Trumpocracy: The Corruption of the American Republic. The hour-long discussion, organized by Rotman's Martin Prosperity Institute, The Atlantic magazine and Indigo Books, featured Jeffrey Goldberg, editor-in-chief of The Atlantic, and Heather Reisman, founder and CEO of Indigo Books & Music, who moderated the discussion.
Frum went on to predict that it's "highly conceivable" that Trump will be stronger in 2018 than he was in 2017. If he lasts eight years, Trump will be utilizing more authoritarian means, like more extreme presidential control of parts of the executive branch and pressure on voting registration, especially in contested states, Frum said.
"I think you will see a radicalization of the American left," he added. "A lot of that is going on right now in response. The Democratic Party will be pulled toward [U.S. senators Bernie] Sanders and Elizabeth Warren. ...You will see the politics of the country being divided, ever less by economics, and ever more by ethnicity and other forms of identity. Urban versus rural is going to be quasi-ethnic, and you will have an open door to Russian meddling because the President will not defend the country from that crowd."   
Goldberg said Frum's writings are some of the most important work in American journalism today on the subject.
"The real fear that I have, this is sort of the 100-year kind of fear, is that the epitaph of the Trump administration, or Trump himself, is 'He Made China Great Again.' That's what's happened every day, when we signal to our adversaries that we are irresolute, and we signal to our allies that we are bad friends."
He said his greatest fear isn't the nuclear threat.
"There was an international order created from 1945 on, that America set the rules of the road and enforced the liberal, democratic order from everything from international trade agreements to keeping the seas safe from piracy. Donald Trump is not interested even in understanding the historical role America has played as a stabilizing democratic force. He is accelerating the rise of the Chinese empire and accelerating the demise of what you might call the American empire."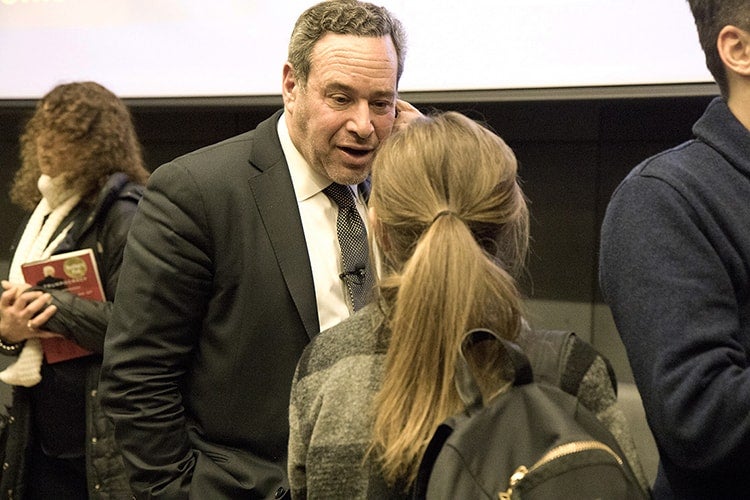 UTC