High school students dig into the past during Archaeology Centre summer program
"Archeology is the same as history; it tells a story," says Grade 11 student Scarlet Lowrie.
This summer, she joined four other high school students from across Ontario with a mutual love of history and curiosity about the past for a two-week intensive program offered by the department of anthropology's Archaeology Centre in the Faculty of Arts & Science.
Now in its fourth year, the program was led by PhD students Danielle Desmarais, Elliott Fuller and Emma Yasui.
"The program is a combination of ideas and activities, making it a great way for students to see how archeology is done in university classrooms, at museums, in labs, and in the field," says Yasui. "They also get to meet active archeologists with a wide range of interests and experiences."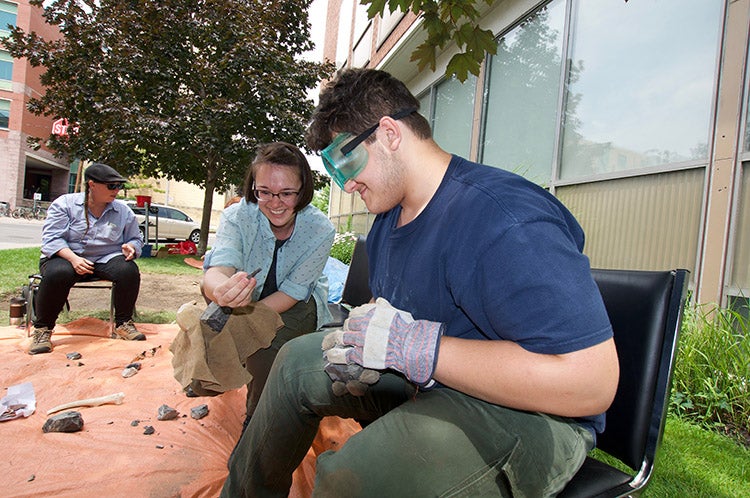 Instructor Emma Yasui shows Grade 11 student Patrick Green some features that are typical of stone artifacts during the flint-knapping workshop (photo by Diana Tyszko)
Several of the students said they were drawn to the program as a way to explore future careers or topics they could pursue in post-secondary studies. All of them agreed that history classes contributed to their interest in archeology.
"Archeology is the literal unearthing of the past, but this is pointless without learning from the past," says Grade 11 student Patrick Green. "The failures and successes of past civilizations reveal lessons and principles which can be applied to our own society."
The program provided an overview of fundamental archeological concepts, including lessons on zooarcheology (the study of animal remains), palaeoethnobotany (the study of plant remains), stratigraphy (a branch of geology that studies rock layering) and site interpretation. Activities included animal bone classification, artifact processing, and a flint-knapping workshop that introduced students to the ancient art of making stone tools.
"Some of the material and concepts are things that we teach at the undergraduate level," says Yasui.
For a field trip, students got a behind-the-scenes tour of the Royal Ontario Museum's backroom vaults, where they learned about ancient Greek and Roman coins from Assistant Curator Paul Denis.
The class also participated in a mock excavation outside the archeology building on U of T's campus.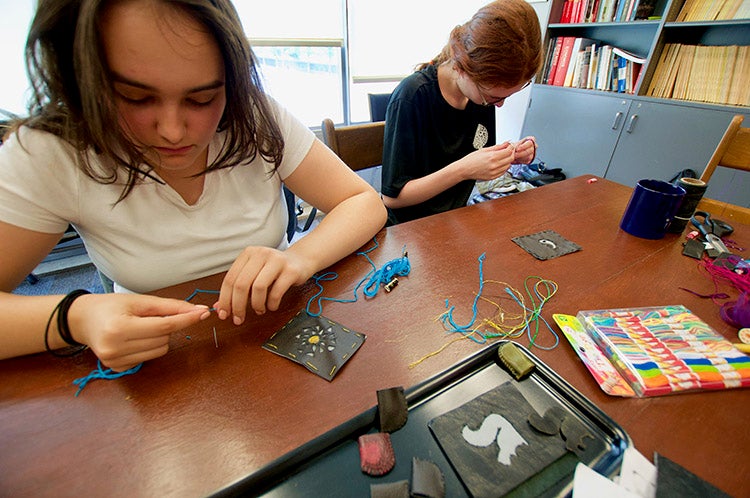 Students Giovanna Batti and Scarlet Lowrie try their hand at some traditional crafting techniques during a sewing activity (photo by Diana Tyszko)
Feedback on the program was unanimously positive, with all participants saying that they would recommend it to other students. Over several days, they learned excavation techniques and unearthed ceramics, glass and evidence of a fire at the site. Guest instructor Meg Morden from the Archaeological Institute of America, Toronto Society led mini-excavations that taught the class how to interpret human burials.
"If you are interested in archeology, the program is a good test to see if you are serious about it," says one of the student participants.
For the instructors, the program provided a rewarding opportunity to get involved with the community and gain experience teaching archeology to a broader audience.
"It's exciting to share something you love and to show people what archeology really is," says Yasui. "But the main reason I became involved was to provide this rare experience for high school students, since I wish I had something similar when I was their age."
Arts & Science