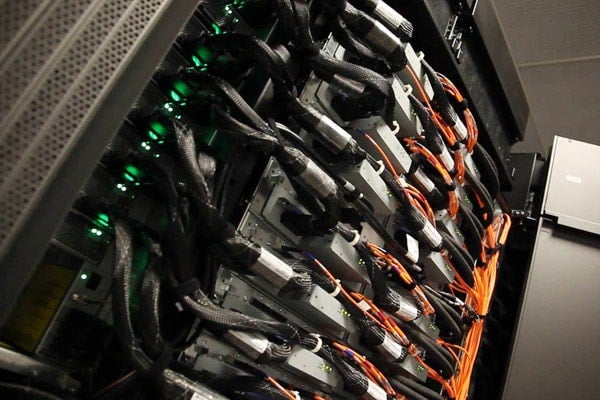 High performance computing at U of T gets a boost from CFI's cyberinfrastructure initiative
"This investment will enable researchers to really make strides on some of the most pressing questions of our time," says Vivek Goel
High performance computing at the University of Toronto – and across Canada – will benefit from $30 million in funding from the Canada Foundation for Innovation through its Cyberinfrastucture Initiative.
The program supports leading-edge research by providing the digital infrastructure and robust computational power required to make sense of big data.
Peter Braid, Member of Parliament for Kitchener-Waterloo, announced on July 30 the development of a national high performance computing platform, saying, "The country's research community needs advanced technology to investigate some of the most complex questions of the day."
"We live in the era of big data," says Professor Vivek Goel, U of T's vice-president, research and innovation. "So much of our scientific and scholarly inquiry deals in data sets so large that traditional processing methods fall short, effectively hampering our progress.
"This investment will enable researchers to really make strides on some of the most pressing questions of our time. At U of T, for example, we have researchers using high performance computing resources to model global warming and to investigate the origins of the universe."
The funding will be used to create hubs at four institutions – U of T, Simon Fraser University, the University of Victoria and the University of Waterloo. Together, they will form a national platform managed by Compute Canada and available to researchers at all Canadian universities regardless of location or discipline. 
Compute Canada is an independent organization that oversees high performance computing resources in Canada. Over the course of the next two years, it will use the funding to replace 24 aging systems with four new systems to consolidate resources and centralize services. The four sites were selected through a national competition and a panel of expert reviewers. Each site offers an expandable and modern data centre and on-site personnel. 
Scinet, the U of T system, will be upgraded thanks to the investment and will see its computing power increase by tenfold. The U of T hub is Compute Canada's largest and will be a "large parallel system," meaning it will be capable of  handling some of the country's largest computational jobs, ranging from hundreds to thousands of simultaneous processors. 
"U of T is extremely grateful to CFI and to the government of Canada for this investment," says Goel. "In addition to powering cutting-edge research, it will position on Canada on the competitive global stage, allowing us to attract and retain the brightest researchers as well as to pioneer made-in-Canada innovation."