High up in the Himalayan mountain range, U of T students explore Buddhism and environmental issues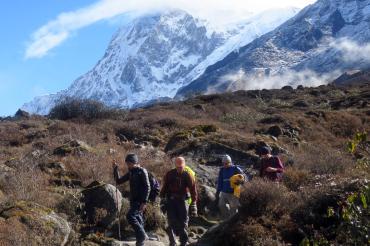 Prior to her trip to the Himalayan mountain range, Pavitra Giritharan's experiences travelling were limited to trips to British Columbia and California with family.
But a Faculty of Arts & Science course this summer took Giritharan and three other U of T students to the Sikkim region of northern India to study religious, cultural and environmental practices. The area is home to numerous communities, including sherpa, Lepcha, Bhutia and Nepali, and is the site of the UNESCO-designated Khangchendzonga National Park, where students participated in a gruelling eight-day mountain hike.
Buddhist monasteries dot the region, including the host monastery for the Kagyu Buddhist order, headed by the 17th Karmapa, who recently spoke at U of T about environmental issues.
Taught by Frances Garrett, an associate professor in the department for the study of religion, and history lecturer Matthew Price, the course required each student to submit a research paper in advance of the trip, focusing on a local issue of interest. One focused on traditional medicines and plants. Others explored creation stories, and ecotourism and development.
Damien Boltauzer, a third-year undergrad, majoring in religion and anthropology, researched sacred geography in Sikkim in the Buddhist and Lepcha cultures.
"I looked at sacred spaces in general, as well as the reasons that spaces were sacred there, including links to royal or political boundaries or to kinship and ancestry," he said.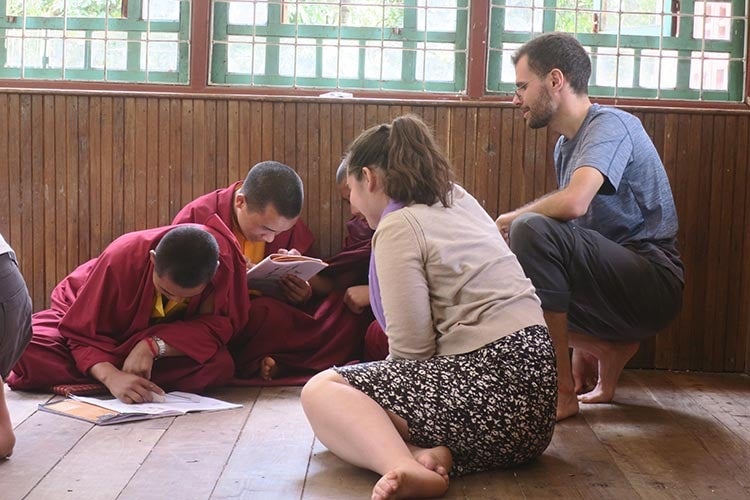 Undergraduate students Oona Nadler (second from right) and Damien Boltauzer (far right) with young monks at Lingdum Monastery. U of T students visited an English class at the monastery (photo by Frances Garrett)
During the three-week trip, the group stayed in monasteries and homes. Homestays are the region's preferred way to house tourists in this environmentally sensitive area.
"Families treated us like royalty," Giritharan said. "We ate dinner communally, and we had traditional home-cooked meals native to the different groups.
"At the monasteries, we saw how the monks lived, witnessed rituals and taught English classes to young monks."
Garrett, who heads the Robert H. N. Ho Family Foundation Centre for Buddhist Studies, was eager to bring the study of religion to life for the students.
"Living among monks is much different than studying Buddhism in the classroom because you can see what they are doing at all times of the day," she said.
Garrett and Price have strong interests in experiential outdoor education, and the mountain hike in Khangchendzonga National Park, a sacred site to both Buddhist and Indigenous people, provided the perfect opportunity.
"The physical challenge was necessary to have an expansive learning experience," Boltauzer said. "It forced us to come out of our comfort zones and ordinary routines."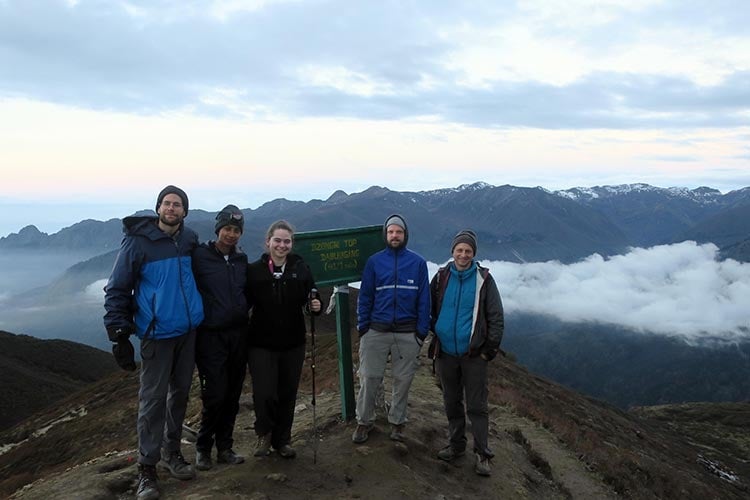 From left to right, undergraduate students Damien Boltauzer, Pavitra Giritharan, Oona Nadler, Joel Fisher and history lecturer Matt Price at the summit point Dzongri (photo by Frances Garrett)
The trip confirmed that studying religion is the right path for him, Boltauzer said.
"It was very inspiring, and it intensified my interest," he said. "I am more inspired to keep studying so that I can understand what I saw."
For Giritharan, the experience shifted her career focus from becoming a marketing professional to "doing something more globally engaged."
Since returning, she and a friend have successfully raised enough money to send 10 girls from Dharavi, India, to school, crowdfunding through their registered not-for-profit Love Pangea.
"I learned a lot about different people and belief systems, but I learned most about myself," she said.
Arts & Science