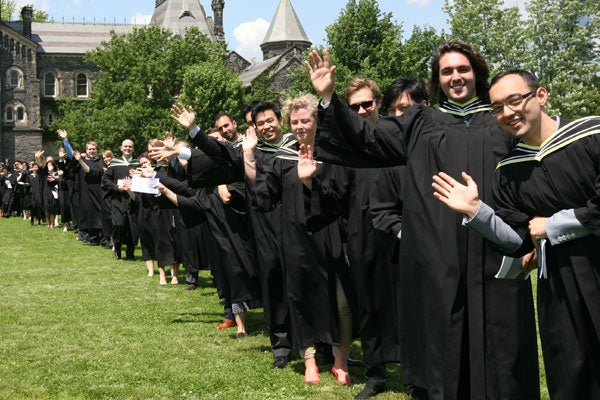 Here's to the class of 2012
It's the University of Toronto's biggest celebration of the year: convocation.
With the sounds of the carillon ringing out across the downtown campus, more than 9,700 graduating students have donned black gowns to cross King's College Circle in everything from drenching rain to scorching heat.
And they've done it with grace, good humour and flair.
A solemn occasion of pageantry and tradition, convocation is also a joyous family gathering. Friends, relatives, mentors and classmates meet U of T's newest alumni on the lawn or inside the white marquee known as Convocation Plaza to pose for photos after the ceremonies, frame their diplomas, post tweets, and watch as small children let off steam.
Ensuring the three-week series of 24 convocations goes off without a hitch requires a significant collaboration between many departments and groups on campus.
"The number of divisions and departments in the plaza has increased this year, and the general reception to our convocation plaza has been amazing," said Barbara Dick, assistant vice-president, Alumni Relations.
Bryn MacPherson, executive director of the Office of the President, said the vast amount of inter-department and inter-office collaborations makes a huge impact.
"It brings together many groups in the university, from the Facilities and Services to the office of space management to Governing Council, strategic communications the book store, Aramark, divisional representation, the Department of Alumni Relations, Campus Police, the president's office and Office of Convocation," said MacPherson.  "One of the new things this year was to have the combined group of convocation ushers and Convocation Plaza ambassadors. They are cross-trained and given guidance on our graduates' expectations, emergency procedures, etc."
Louis Charpentier, secretary of the Governing Council, said the large team of dedicated student ushers and ambassadors and marshalls help ensure events run smoothly and enjoyably "while reinforcing the warmth and friendliness" so important to convocation.
While sipping on a cold drink or nibbling on a light lunch, visitors to Convocation Plaza can watch the ceremonies going on inside Convocation Hall, streamed live to two giant screens set up at the south end of the marquee. And this year the tent – which takes a week to construct - included a solid floor and increased accessibility.
"Last year was our pilot for the plaza and throughout the past year we have had a chance to tweak it and make improvements," MacPherson said.
Jonathan Cheevers, alumni outreach coordinator, Division of University Advancement, pointed out the class banners added this year and said the notion of helping alumni feel connected to the university and their class is a continuing priority with convocation by the Department of Alumni Relations.
"Convocation is one experience that everyone does together," said Cheevers.  "We have a commemorative medallion this year to give to every single graduate.  It's a little memento to take home to remember this special day."
MacPherson said the university will continue to strive for a bigger and better Convocation Plaza again next year.
"The major difference next year will be to have more divisional participation. Every year we want to up our game and be as inclusive as possible."
See the convocation 2012 photo gallery here, watch convocation videos here and check out a slideshow of engineering graduates here.